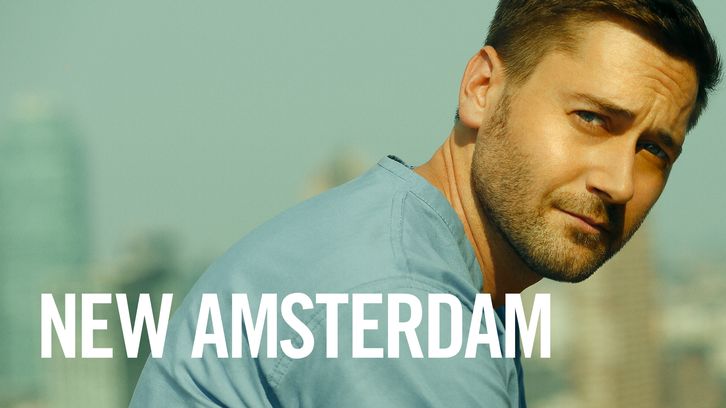 This week's episode of New Amsterdam had several plots, a few twists, and a new addition: Todd. I ended up really liking Todd, and I hope he sticks around the hospital.

At first Max reluctantly hires Todd as his new assistant, and he isn't completely sold. He has no medical experience and doesn't own a computer. I knew I liked him when he got Max to his board meeting five minutes early. At this meeting Max learns a new board member is needed, and Max replies that he has the perfect candidate. This is of course a lie as he has no idea who he wants on the board.
Max spends most of the episode trying to find someone to fill the spot on the board. Reynolds agrees, but the board rejects him. Next he tries Sharpe, and then he asks Bloom if her mom would want to be on the board. Bloom says her mom can't be trusted, and he'll just have to go with plan b.

"Plan B failed several plans ago."
Finally, Max decides Todd should be the new board member. I think he'll be an excellent addition to the hospital, and I did think his dog walker idea was pretty great. I hope we get to see more of Todd in the future as he brings new ideas and challenges Max.
Sharpe impressed me this week by how she was so willing to defend her patient and get him a new hip replacement. She put her career on the line to go on television and expose Wedlow Medical for poisoning their patients. I was relieved that nothing happened to her, though, and the company decided to meet her demands. We also learned one of the reasons that Max hasn't opened up to Sharpe: he was trying to shelter her.
I was happy that Sharpe did call him out for using his feelings as leverage especially after avoiding her, but I guess his reasoning does make sense. He doesn't want Sharpe to feel the kind of pain that he does. Hopefully, this conversation will help heal their relationship and get their friendship back on track. I miss them. But Georgia's death may have changed Max and Helen's friendship forever.
I also thought Iggy's story was interesting this week. I couldn't figure out what was wrong with his patients, but I knew right away there wasn't a gas leak. I loved that he gave everyone Mike and Ike's after he realizes that the patients have mass hysteria. I did feel bad that there was something wrong with Emily, but luckily Kippor and Iggy are able to quickly figure out she has a tumor on her brain.
Other Thoughts:
- I love that Todd pointed out that Max is rich. "Are you debt free and making six figures a year? Then you're rich."
- I'm just not feeling Reynolds and Evie together. Maybe because I've always wanted Reynolds with Bloom, but I just don't see any chemistry between him and Evie. I have a feeling that these two won't actually get married.
- Rohan is a real jerk. I can't believe he left town after learning Ella is pregnant. This will definitely change Kippor's life, but he seems to want to be there for Ella. I'm interested to see how this story plays out.
Did you all enjoy "Replacement"? What was your favorite story this week? Do you want to see more of Todd? Discuss below in the comments!