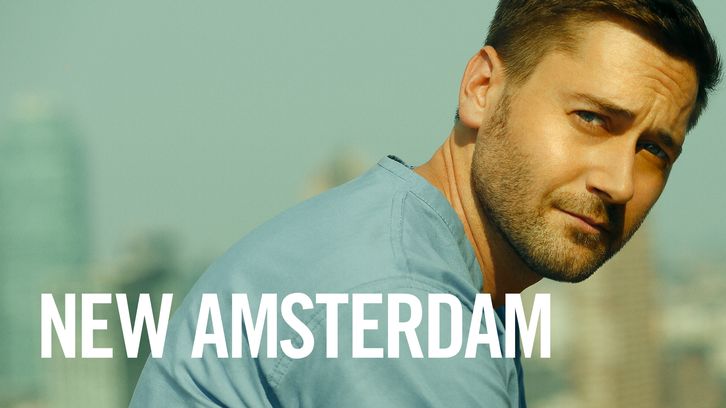 This week's episode, "The Karman Line", had some interesting cases. As usual, this episode had stories that were very emotional, but this week was somewhat different as one of the cases really freaked me out.

At the beginning of the episode, a young boy named Calvin is brought into the ED with bruises on his neck. Everyone quickly figures out it was Calvin's sister, Juliette, who tried to choke him because she wanted his phone. She definitely displays psychopathic tendencies, but Iggy wants to try behavioral therapy based on a rewards system. I have to admit, Juliette scared me. She was so creepy how she apologized to Iggy after she said horrible things, but only apologized so she could win something. I mean, I know that was the whole point of the behavioral therapy, but still.
Juliette was so believable when she apologized to her brother and said all the right things about caring about him. She's going to do this for the rest of her life, and I have to wonder, how many people in the real world are like this? Do people really just manipulate people to get what they want without having any empathy or compassion?
Moving on to the other big story this week: Barcroft. Sharpe's patient, Paz, has uterine cancer, and she was planning on having her sister be her surrogate so she could become a mother. However, Barcroft, the insurance company, decided they weren't going to cover surrogacy any longer. Sharpe talks to Max about this who is determined to help.
I thought it was hilarious and so relatable when Max was trying to get a hold of someone at Barcroft. I felt his pain when he was transferred to a bunch of different people on the phone, and just wanted to talk to someone not across the world. I laughed when the person on the phone said good afternoon, and Max replied with, "Is it?"
Max finally meets Anil from Barcroft and brings along Paz and her sister. Max thought if Anil met them face to face then they could get somewhere. Anil gets upset and tells Max that he hears heartbreaking stories everyday, but he has no power and can't change anything. I actually felt bad for Anil and thought this was a good lesson. Most people in the world do want to help, but sometimes they can't. The problem usually comes from someone higher up.
Max doesn't have any luck with other Barcroft employees and eventually gets escorted out by security. Luckily, this story does have a happy ending. Even though Paz does have to have a hysterectomy, she will be able to become a mom via surrogacy. Anil was able to get a trustee exemption for Paz.
The other patient this week was MacKenzie, an astronaut who is scheduled to go to space for the first time. After running several tests, Reynolds tells MacKenzie she needs a heart ablation to fix her problems. During the ablation, Reynolds recommends surgery, but MacKenzie gets upset at the possibility of not going to space. So, against his better judgement, he agrees to do two ablations, but only if she has a stress test afterwards.
The ablations work and she passes the stress test. Reynolds also has a talk with MacKenzie's husband, and realizes that it's okay if Evie loves her job, and tells her to take the time she needs. I don't know why, but for some reason I just wasn't that interested in this case. And I still don't care about Reynolds' relationship with Evie.
While I wasn't that interested in Reynolds this week, I loved Bloom's story. I liked that she meditated with Kipoor (can we have more interactions between the two of them?) even though she thought it was pointless. And for someone who thought it was pointless, she sure did have a few revelations including that she is replacing drugs with sex.
"If all of your instincts tell you to do something, why shouldn't you do that?"
"My instincts told me to bang my physical therapist, and it is not going well."
She decides to make an appointment with the other physical therapist, Dr. Parsons, and she decides to attend an NA meeting. But when she goes to NA, she is shocked to find Dr. Ligon. I was shocked as well, but now I think it makes sense since Dr. Ligon seems very similar to Bloom. I guess we'll see where their relationship goes now.
Other Thoughts:
- Max and Helen have the best friendship. She felt comfortable telling him that she tried IVF after the accident, and she was somewhat relieved that it failed because she doesn't want to do motherhood by herself. And Max felt like he could tell Helen about how he talks to Georgia's picture. I really wish the show hadn't killed Georgia off, and I hope that
New Amsterdam
keeps Max and Helen's relationship platonic. Because everyone needs a best friend that they can talk to.
- I thought it was sweet when Ella came to Kippor at the end of the episode. She said that in the future she would like to talk to him. I don't know if she's going to keep the baby, but I think these two are family, and I'm glad to see that she wants to still have him in her life.
- I want to say how exceptional I thought Emma Hong was. Her performance as Juliette was outstanding, and I know she has a bright future ahead of her.
What did you think of this episode? I'd love to hear your thoughts!