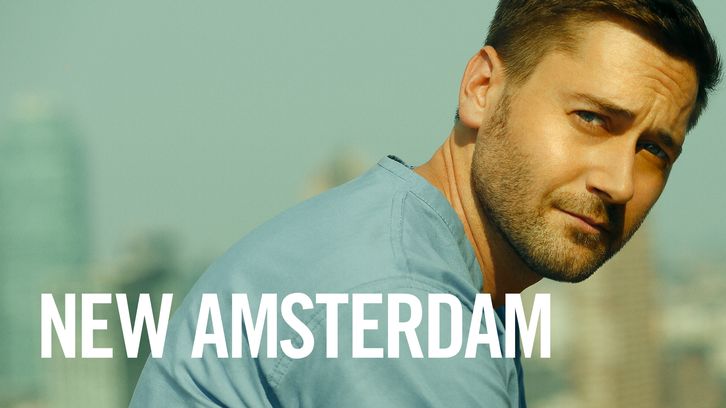 New Amsterdam delivered another memorable episode this week. "The Denominator" begins with Max playing basketball, or at least trying to play. He's not very good, and the daughter of Marquis, one of the basketball players, makes jokes about this. She was one of my favorite parts of this episode as I loved her sarcasm and humor.

Unfortunately, Marquis collapses after the game is over. At the hospital, Max informs Marquis he has hypertension, and we learn Marquis hasn't been to the doctor in a long time. Why go to the doctor when you're healthy, he asks? Reynolds gives him a few options with his heart, and when Marquis refuses surgery, Reynolds lets him leave with a device that will notify the hospital if he has any more issues. He has another episode, and Reynolds recommends surgery. Marquis is still unsure and wants the pacemaker instead even though it's not a cure. His daughter, however, changes his mind.

"There's a doctor telling you to your face there's a good option and a weak option and you're going for the weak option? Cause he just said the pacemaker's like the mid range jumper of medicine. So, do me a favor dad: finish out the rim or jack up a three. Go for the cure or go home cause I don't even want you in my house if you're not going to play right."
Did a mention that I love Harmony? She's smart and she knows her sports. Reynolds operates on Marquis, and while the surgery has complications, he survives. "Your dad hit the three," Reynolds tells her. I really liked that Max sat with Harmony while her dad was in surgery as this shows how much Max cares about his patients.
The other story Max was involved in was trying to develop heath care at Kenny's cuts. It doesn't go over well at first as Max ends up lecturing Kenny's customers and scaring them. He thinks Reynolds might be able to help, but Reynolds says that Kenny's customers won't listen to him just because of his skin color. They won't trust anyone who isn't part of their community. So, Max decides to train Kenny on how to check blood pressure at his barbershop and give medicine to anyone who has hypertension, under Max's supervision, of course.
I actually love the the idea of having Kenny check blood pressures at his shop. This gives the customers access to healthcare they might otherwise never have. This story also gave me insight on why some people don't have healthcare. I know some don't have access to hospitals or good doctors, but others choose not to go because they don't trust doctors or the healthcare system. I wish that there were more doctors like Max who thought outside the box and developed programs like this one.
One of the other stories this week was Zander. He comes in with a head wound which he got from banging his head against a wall. He admits to Dr. Frome that he's mad all the time and can't control his anger. Iggy and Kipoor discover he has neurological damage from lead exposure. The two doctors go to Zander's house to test for lead, and they realize the lead is coming from the city repainting. As Iggy said, the city poisoned the whole neighborhood.
When Iggy and Kapoor confront the city controller, he says they can't prove the city did anything wrong. What a jerk. Luckily, with the help of Zander's mom, they find proof of the lead contamination and are going to sue the city. Lead exposure is so dangerous, and I'm glad they can stop this before more people get sick.
Dr. Sharpe was busy with her own patient this week. Molly, who was formerly Dr. Castro's patient, has incurable cancer and has undergone seven drug trials. Dr. Sharpe confronts Castro about giving Molly these treatments even though they don't know if the medicines work. Dr. Sharpe then talks to Molly, and we learn that Molly misses being in control. I could tell the cancer has taken a toll not only on her physical health, but on her mental health as well.
Sharpe also realizes this and asks Molly if she still finds meaning in her life, and she says she doesn't. Then Sharpe gives Molly painkillers and tells her that if she takes too many her heart will slow and she will die. This choice is completely hers. Then Sharpe leaves the room, and we learn that Molly did leave the hospital.
Castro is obviously furious that Sharpe interfered with her patient. Do you all think Sharpe overstepped? She accused Castro of not caring about her patient because of all the drug trials. But in real life, when people do drug trials, they don't always know if the medicine will work. That's why it's a trial. That doesn't mean that the doctors don't care about their patients. I know that Sharpe cares about her patients, and Castro isn't exactly the friendliest doctor ever, but these two are going to have to learn how to get along.
Other Thoughts:
- I loved when Reynolds asked Max, "How can I help?" It was a good impression of Max. I also thought it was funny that Reynolds knew Max would get fired from Kenny's shop right away.
- Bloom is going to have a tough time now that her physical therapist is away. Will she be able to tolerate the pain? She wasn't doing such a great job of managing it this week.
- I hope Ella decides to keep the baby. Dr. Kapoor needs something good in his life now that his son left. I know it's not his decision, but I think having a grandchild would make him very happy.

Favorite Quotes
"First time playing basketball?"
"I would make a Floyd Mayweather reference, but I don't think sports is your thing."
"You got me. My pain level is jazz hands."
"The problem isn't you. Well, it's always just a little bit you."
What did you think of "The Denominator"? How did you feel about Sharpe and her patient? Did you love Harmony as much as I did? What did you think of Max's idea of patient care at Kenny's Cuts?