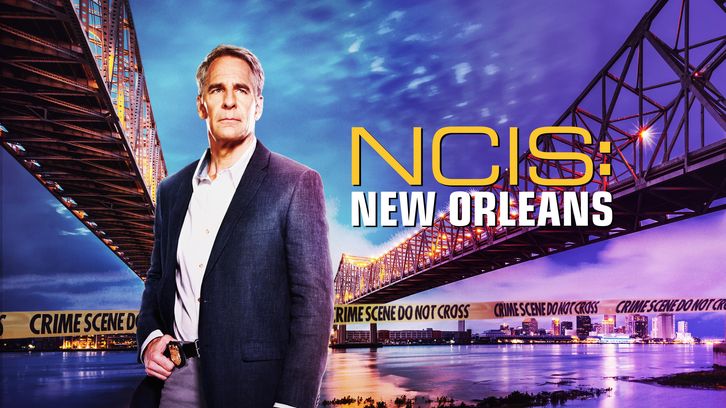 NCIS: New Orleans - The Terminator Conundrum - Review: "U.F.O."
6.2 - " The Terminator Conundrum"
Directed by Ed Ornelas
Written by Jan Nash
Reviewed by Kelly Anne Blount

Recap – "The Terminator Conundrum" opens with a Navy pilot watching in horror as a swarm of unidentified flying objects take down a private plane.

Pride is still suffering from insomnia and nightmares.

Gregorio and Khoury talk about Khoury's demotion as they clean out Hannah's desk. She's moving over for Pride to have the big desk. They're angry and feel that Khoury was demoted because she's a woman. How else do you explain Pride pulling the same stunts time after time and still having a job? Khoury admits she's staying for the sake of her daughter. Gregorio tells her to focus on building a life in New Orleans, not just work.


The crew is given a new case. Pride shares the details with everyone. The Navy is concerned that their pilot, Lieutenant Ella Meyer got to close to a civilian plane, causing it to crash. They don't believe Lt. Meyer's U.F.O. allegations. Sebastian gets excited at the mention of aliens.
Everything feels a bit awkward with Pride back in charge, but I'm sure they will all gel and be back on the same track soon.
Khoury and Gregorio visit Lt. Meyer. She describes the mass as angulating and states that it attacked the civilian plane before it crashed.
LaSalle and Patton get to work, but Christopher is distracted. His brother is missing and he's worried. His phone is off the grid and there's no way to track him.
The NTSB is trying to blame the Navy pilot for the crash. Pride and Sebastian investigate the scene, where Sebastian finds a shard of invisible metal. Secret cutting technology or aliens?
Sebastian identifies the metal as an expensive metal combination. He's disappointed that it isn't alien technology.
Pride encourages LaSalle to go to Alabama to look for his brother. They are worried that he is not taking his medication.
Dr. Wade says the victim's body is consistent, "with a high impact crash." She'll know more once the autopsy begins. Loretta asks Pride about his nightmares. During these dreams, a man in a red suit is leading him to past victims. He is exhausted and not sleeping. Dr. Wade tells him this could be due to the LSD he was given when he was kidnapped.
Khoury and Gregorio visit the victim's wife, Sheri Pruitt, who is now the CEO of the company she and her husband ran together. They are asked to sign an NDA, but Khoury and Gregorio refuse. Pruitt tells them that she'll get them anything they need.
Meanwhile in Alabama, Christopher tries to find his brother. He is told that he was doing really well. Christopher is scared that his brother stopped taking the medication.
Pride and Dr. Wade examine Mr. Pruitt's body. They find a piece of the invisible metal and part of a drone.
Sebastian and Gregorio meet with Lt. Meyer at HQ. They show her a clip starling murmuration. Lt. Meyers says that the U.F.O.s moved the same way.
There's a chance that the Pruitt's technology company is responsible for high tech drones, made from the invisible metal they've found. The drones could be used as a dangerous weapon if placed in the wrong hands!
LaSalle has a lead on his brother, but it isn't much. He sold his car for cash and left a receipt for a burger joint behind. Christopher is really worried about his brother.
Sebastian has found a way to locate the drones. The crew starts searching with the help of NOPD. Gregorio and Sebastian discuss Khoury's demotion and Pride coming back. Before they can get too deep, they investigate a warehouse with a souped-up electrical box. When they check out the inside, they find a drone. But, before they can call for backup, another drone flies into the air and attacks them!
Sebastian and Gregorio take shelter in what appears to be a supply closet. Doing their best to outsmart the drones, Gregorio sets off the sprinklers so they can escape. These two are great together!
LaSalle investigates a hotel room. He finds some of Kade's belongings, but he's not there. Instead, he finds a woman and her teenage son, Kelly and Will, hiding in the bathroom. Kelly claims that Kade is her boyfriend. She says that Kade brought them to the hotel room and told them he needed to leave to take care of something a few days ago. He never came back and hasn't been in touch since then.
The team heads to a meeting between Mr. Pruitt's stepson and buyer well known on the black market. It turns out that Pruitt's stepson hated his stepfather and used the drone swarm technology to kill him.
Luckily, they get to the meeting as the transaction is going down. Sebastian uses the drones to distract Pruitt and the buyer. Gregorio takes care of the buyer, while Pride chases after Pruitt. In a complete baller move, he whips his baton at Pruitt's legs, causing him to trip.
As both men are taken into custody, a fleet of SUVs show up. A man who appears to know Khoury gets out and tells Pride and the NCIS agents that they are taking over the case. They allegedly have a warrant.
Pride tries to cheer them up by telling them at least there isn't any paperwork to fill out. Ha ha!
Back at HQ, Pride has created a special desk and a shared space of importance for Khoury. I wonder if that will cause issues down the road?
Gregorio brings Khoury out for a night on the town. They get news that Lt. Meyer has been cleared and given an accommodation.
Pride has Dr. Wade over for dinner. She informs him that Pride's brain has been majorly impacted by the LSD he was given while kidnapped. Dr. Wade tells him that she'll put him in contact with her friend, who's a specialist.
LaSalle shows up at Pride's house. He fills Pride and Dr. Wade in on the details. Pride invites LaSalle in for dinner. Christopher wants to leave, especially because he brought Kelly and Will back to his house while he continues to search for his brother. Pride and Dr. Wade convince him to stay.
The episode ends with LaSalle pulling up a chair and Pride giving him his plate.
Review/Thoughts –
Another strong episode! I loved the scenes with Gregorio and Sebastian. The actors are so natural and authentic together. I also appreciated Gregorio and Khoury talking about the hypocrisy of Hannah getting demoted. I have a bad feeling about Christopher's brother. What do you think about LaSalle bringing Kade's girlfriend and her son back to his house? He has the biggest heart!
What did you think of this episode? I can't wait to hear your thoughts! Be sure to leave a comment below!

Also, have you missed an episode or two? Need to catch up or just want to refresh your NCIS - New Orleans memory? You can access all of my SpoilerTV reviews and interviews by clicking on the following link: http://www.spoilertv.com/search/label/KA