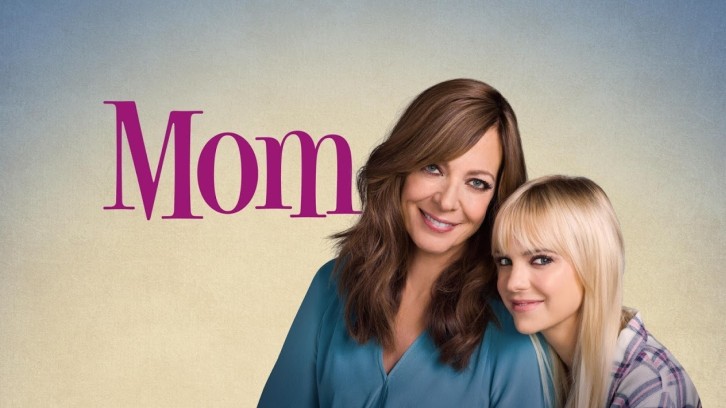 On this week's Mom, Bonnie and Christy each struggle with difficult tasks.

Bonnie's decided to take Adam's last name and officially become Bonnie Janikowski. (Although by filling out a government form there's a "small chance" she'll get arrested!) Adam's playing it cool though, pretending that he doesn't care one way or the other, because he knows that if he makes a big deal out of it, she'll have second thoughts. Turns out, she has second thoughts anyways. While at the dry-cleaners, Bonnie realizes she has issues spelling her new last name. (And honestly, I do too!) Of course, that's all Bonnie needs to spin out, so she reschedules her appointment at the social security office...and lies to Adam about it.

Christy's struggling to keep up with her demanding boss Veronica at her summer internship. As the only one in the office not who's apparently not hooked on Adderall, Christy finds it difficult to stay on top of the mile-long list of to-dos Veronica has for her. Even when she's not at work, Veronica's on her to complete tasks for her, some of which are...well...a little questionable - like going to pick up Veronica's weed!


When Christy leaves the AA meeting to go to Veronica's dispensary, the rest of the girls decide to come along for "moral support." The girls are floored when they arrive at the dispensary, which yeah, really does resemble an Apple Store. They observe that things have definitely come a long way since the last time any of them blazed up. Gone is the shame of sneaking some grass under a bridge. It's legal and they've put weed in everything - "cookies, cereal, crackers, pretzel bites, sodas" - all Tammy's favorite snacks! The girls all have a seriously hard time observing and not partaking, so they head straight to the bistro to drown themselves in a vice they are allowed to have - ice cream!


At the bistro, Christy spills it to the girls that Bonnie has dodged the social security office for a second time. While Wendy leads the rest of the girls in getting some good ribs in about Bonnie feeling strange about changing her name because she's so old, Marjorie encourages her to tell Adam the truth and talk to him about not wanting to change her name. At home, Adam surprises her with a gift - a welcome mat that says "The Janikowskis!" He wants the whole world to know that they're a family. Bonnie's forced to finally fess up. She explains that she spent so much of her life hating who she was - hating being Bonnie Plunkett before she finally got to the point where she liked who she was and liked being Bonnie Plunkett. She's not ready to let that go. And Adam's ok with that. Besides, they won't be using the welcome mat anyways. It's spelled "Jackinowskis!"

At work, Christy finds Veronica high as a kite, tripping on a mix of Adderall and gummy edibles. This is Veronica's first edible trip, and she's having what Christy calls "a classic too high/panic attack situation." It seems like there's no way Veronica's going to be able to meet with the next client (which she apparently really needs to, because she lets it slip that the firm's in serious financial trouble!). Fortunately, Christy's able to literally slap some sense back into her. (And she only gets slapped a few times in return!)

Random Thoughts:
-You could really see the old hippie coming through in sweet little Marjorie when they visited the dispensary ("Man. Those are some fat buds!")

-I love that Gus's last name is Woferton!

-The best line goes to Christy when talking about her future aspirations to be a Supreme Court Justice - "They seem okay with alcoholics now. So I could actually have a shot!"

Were you surprised by Bonnie's back and forth about taking Adam's name? Do you think Christy will make it through her internship unscathed? Let me know below!