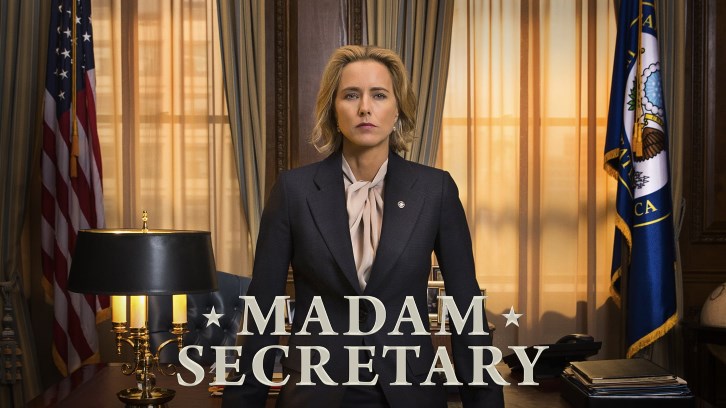 Madam Secretary
returned for its shortened finale season with "Hail to the Chief" written by Barbara Hall and David Grae and directed by Eric Stoltz. I don't think I was alone to be shocked, surprised and delighted to meet Madam PRESIDENT! The show opted to jump ahead and find a way to let us have our cake and eat it to. I know I was really looking forward to Elizabeth McCord (Tea Leoni) becoming President, and I'm not disappointed to have the campaign coverage shortened – there's enough of that to come in real life. While I understand the limitations of giving good storylines to so many regular characters in a shortened season, I'm still really disappointed to be missing Jay (Sebastian Arcelus) and Matt (Geoffrey Arend). I am happy to welcome Kevin Rahm (Mike B) as a regular this season.
The episode begins with a fundraiser, making it seem like Elizabeth is still on the campaign trail – and it's a nice way to illustrate that that fundraising issue continues while politicians are in office – there's always another campaign just around the corner… At any rate, we learn that this is Henry's (Tim Daly) event to shine at, and Elizabeth wants the night off. I do love how they keep inventing Henry's role and keep him relevant. I'm very much looking forward to the stories that deal with fostering and nurturing the arts!
The dance and kiss between Henry and Elizabeth at the end of the first scene certainly demonstrate that the chemistry between these two is just as intense as ever! One thing that we don't learn is whether Blake (Erich Bergen) and Stevie (Wallis Currie-Wood) are still a couple – though is seems likely as Stevie may or may not still be working at the Whitehouse… Blake is now the receptionist of the United States – because who else?
We learn that the fundraiser is Day 97 of the McCord Presidency – will we get an official name change for the series and not just the title card? Regardless, I did like the jumping back and forth between the two time periods, to set up how we will get both storylines. We also learn that Mike B is Chief of Staff because Jay left for love. He doesn't want the job and is quitting after 100 days – not negotiable.
I loved the giant picture of Gordon in Mike B's office, and one of the highlights of the episode was Mike's telling Elizabeth that Gordon made him reevaluate his life – and that's why he's quitting. He needs to be true to himself and to trust his gut. He's more comfortable working behind the scenes – and thank heavens that means we aren't losing Kevin Rahm too! Plus we'll also being seeing lots of him, no doubt, handling the legal issues…. AND this was a terrific way to bring back Zeljko Ivanek (Russell)!! Another very favorite character and terrific actor.
In another storyline that bravely rips from the headlines, it's discovered that Iran tampered with the election and tanked Elizabeth's greatest rival – Senator Miller (Guy Boyd). I also loved that Miller was such a clear avatar for the current person in the White House – right from his disgusting manner to his paunch to his shoveling fried chicken into his mouth… The scene between Elizabeth and Miller is terrific as she pulls no punches with him – even when in the end, she does have to offer concessions.
We get flashbacks to the campaign trail and Mike running in with the news that Miller cheated on his wife and fathered a child with an intern which he then covered up. Mike has no idea who leaked the information and doesn't care – he's focused on winning the election.
We get a fun scene with Henry appearing on the Stephen Colbert show. Daly is really terrific in this scene as Henry is clearly nervous about being on television – something I'm betting wouldn't bother Daly at all. Henry is clearly a little shy and a little uncomfortable. And of course, he ends up being the butt of a joke – but that's what he's there for after all.
Meanwhile, Elizabeth takes a hard stance against Iran. Ware (Clifton Davis) and the rest of the security members off her three solutions for retaliation, and she tells them to implement all three. Elizabeth also insists that everything is declassified, and while Mike presses her to wait a few days, she also insists on holding a Press Conference immediately. The transparency and dialogue with the press are certainly welcome breaths of fresh air – especially in contrast to the current reality of the White House.
It turns out that Miller isn't particularly hurt by the leak during the election. Mike suggests that Miller could eat a baby and not lose voters as long as he continues to spew hate (sound familiar?). Elizabeth then choses to promote unity – and extends this all the way to her running mate. It takes a while to convince him, but she brings Carlos Morejon (Jose Zuniga) on as her running mate! But we all saw that coming last season, right?
In the present, the Chair of the Senate Intelligence Committee – Senator Mark Hanson (Wentworth Miller) announces that he's going to investigate the allegations. Elizabeth is surprised and wants to cooperate – which is also Henry's opinion. I always enjoy the scenes in which these two discuss the issues as it's a wonderful way to tease out opposing viewpoints and options. In the end, Henry tells her not to focus on the fight – to "get out of the ring" – and to focus on her ESI Bill. He tells her to stay on point and give the public something else to talk about.
In the end, Elizabeth manages to get enough votes to pass the ESI Bill – though she has to make those concessions to Miller. We get a fun interlude as Henry and Elizabeth have a quickie – and then Mike has to point out that her shirt is on inside out….
I loved the scene in which Elizabeth goes to Russell – who is so not enjoying gardening and retirement! It really doesn't take any convincing for him to come running back to take over as Chief of Staff.
In the final scene, the show mixes past and present. We see Elizabeth on the campaign trail, emphasizing unity and campaigning that any democracy that attacks the media undermines freedom of speech – so true! She emphasizes that they should always fight for what they believe in, but that it should always be a fair fight – and then she introduces Morejon. It's more commentary on the shocking attacks on the press in our daily news feeds. Having Morejon as VP also opens up lots of room for providing that freedom of speech and exploring both sides of issues. In the present, we see Daisy, Blake, Mike, Stevie, and Henry all receive subpoenas…
I thought the season was off to a roaring start! I'm sad that it's so short and that it is the final season, but maybe the network will relent and bring back Madam President for a few more seasons?! While I understand the need to focus on fewer characters in this shortened season, I'm still sad to see some of those familiar faces gone. It's entirely possible that we will see Jay and Matt also have to testify, and Maybe Arendt will be back to direct an episode. Looking forward to both storylines playing out though. What did you think of the series final season premiere? Let me know your thoughts in the comments below!