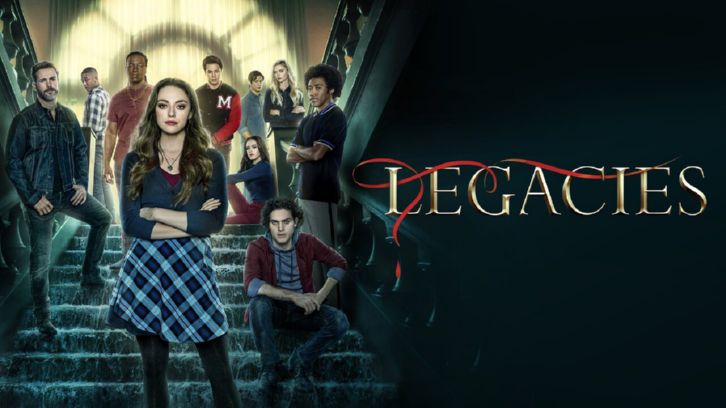 This week on Legacies Hope apparently spent an entire week looking for Wannabe!Hulk only to track him to Mystic Falls High where Alaric is now principal so she just decides to enroll. Landon and Josie have their first date but it doesn't go so well because they put way too much pressure on themselves to be perfect. Josie says she doesn't really know her role in the relationship because she's always been the caretaker (and Penelope's outrage could be heard from Belgium). Lizzie decides to say yes to everything including breaking MG's heart. She meets a mysterious stranger (stranger danger) named Sebastian. Hope and Alaric team up to fight Wannabe!Hulk who they initially thought was a Troll (good guess) but actually turned out to be a Cyclops in need of a haircut. They manage to kill him (while Landon channels his inner Stan Lee in The Amazing Spider-Man). Hope and Landon talk about relationships. Hope reveals who she is to Alaric. That creepy figure from last week is back, still lurking around a cemetery, and carves the same symbol into the head of a random guy they just killed.

This will not end well: I'm starting to miss season 1 Lizzie because this version isn't making the best choices so far. She was way too trusting of the new guy, who is clearly a vampire that just woke up from a very long nap (just look at his clothes). I was getting some majorly bad vibes from Sebastian so well know this won't end well. But where the hell did he come from? He must have woken up somewhere on campus otherwise he wouldn't have just wandered over there, right? And I get wanting to be more positive by saying yes to everything but if you know it'll hurt a friend, just don't. Lizzie was clearly aware of MG's feelings for her, she basically said as much, yet went out with him knowing she wasn't interested. I think it's time for MG to get over Lizzie and move on to someone who actually deserves him.

Why don't you just stab her, it would hurt less: I'm thinking of forming the Hope Mikaelson protection squad because the hurt just keeps piling on for this girl. I mean, she had a conversation with her ex-boyfriend, who does not remember her, about his new girlfriend and even gave him tips. All the while biting back tears. I think it's pretty obvious by now that Landon will continue to be drawn to Hope, despite not remembering her. I hate that this will pit the girls against each other. I actually really miss their friendship. As much as I hope that a few characters will regain their memory of Hope, I doubt it'll happen before the winter hiatus.
Did you cry too? It wasn't until this episode that I realized that Hope and Alaric's relationship may be one of my favorites on the show. The final scene where Hope revealed her identity was just so emotional. We've seen him act as a father figure to her last season but we never really got a truly vulnerable scene like this. And Alaric, despite not knowing her, immediately rolls with the surrogate parent role (just like with Elena). I can't wait to see more of these two in future episodes.
Made me nostalgic: Was anyone else reminded of early TVD days Alaric in this episode? Honestly, I'm not sure Alaric is cut out for the job of principal. I just can't picture him behind a desk when he's clearly still great in the field. I've kind of missed this version of him.
What's going on here?
I have a feeling that the writers are building up to something with Josie. We saw her start to stand up for herself last season and now they seem to be highlighting that she's becoming quite the powerful witch. I don't think that I like how interested the new principal was in her. It just came across as really creepy. Yes, I think the students should learn offensive spells. And yeah, it would probably be smart to start with the most advanced students but I just got a bad feeling from this. I really don't want to see Josie go over to the dark side, especially not when Landon eventually breaks her heart (which, let's face it, he will).
I haven't forgotten…: even though clearly everyone else has. Poor Rafael. Hope, turn him back already!
Best quotes: Kaleb: "Are you for real? You've never heard of "Old Mill and chill"?"
Hope: "Teenage boys plus monster. That's a special combo."
MG: "Lizzie, I had so much fun with you today. And I know you had fun with me too. We have great chemistry, we're both single. We should seize this opportunity and take our relationship to the next level." Kaleb: "Boo. What is that?"
That's it for this week. Check in again next week for an all-new review and let me know in the comments what you thought of this week's episode.
Please be respectful in the comments, any unnecessary rudeness isn't welcome.