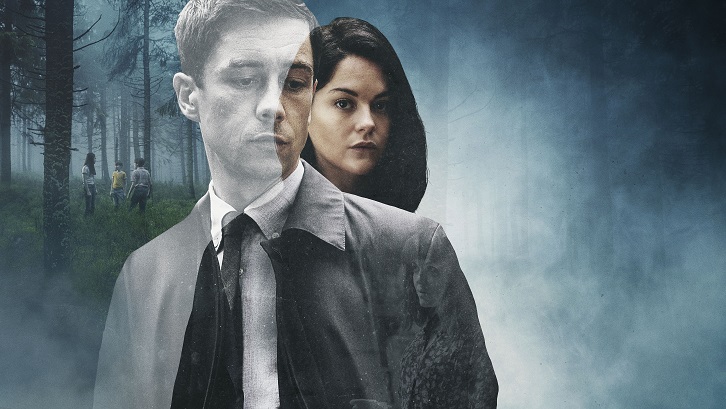 When I first heard about Tana French's books being adapted into a TV show, to say I was excited would be an understatement because 1. I couldn't fathom why they hadn't been yet 2. I had no idea there was even a project 3. That covered not one, but two of her books (!) and 4. the premiere was only weeks away. Indeed, her Dublin Murder Squad series is as intricate as it is enthralling and I say this as a girl who didn't particularly use to enjoy detective-type books, my previous experiences with the genre having been limited to Harlan Coben. Low and behold, the first two episodes have finally come out and I'm pleased to report they (mostly) deliver, so let's dig in.

Now, the experience will be a little different for book readers, since we already know the whodunnit of it all, but Tana French's talent also lies in the stories she weaves and the recurring characters' lives. Which is why, even though I know the basic storylines, it still feels fresh. Admittedly, I did have to refresh my memory a little on Wikipedia because I read In The Woods and The Likeness quite a while ago. If you haven't read the books, I can only recommend you immediately get your eager little hands on a copy, since they're more than worth the read. Then comes the age-old question of "Do I read the 'real' version first or do I let myself be surprised by the TV Show and dive in later?". In this case, I'd say watch the show first, and read the book(s) after, since with 2 episodes a week the series will be over quite quickly. I'm still a little baffled as to why the first 2 books are being combined, honestly, but I can only guess it's because The Likeness also involves Cassie Maddox and the showrunners wanted to keep the dynamic duo together.


Anyway! The first episode wastes no time in establishing how close Rob and Cassie are, with a very cute scene (which, I'll admit, makes you wonder just how close they'd get during the case) during which he provides a stool so she can get a closer look at the scene, and he holds her back by hanging on to her belt loop. The looks they exchange, the way they constantly rely on each other as more than partners, makes you question their respective relationships -with her actual boyfriend and his annoying rooommate-.
But Rob and Cassie aren't here just to play good cop - bad cop with low-lives who immediately confess (although that was an entertaining and obviously well-honed routine), a new case soon lands into their hands, and it's a particuarly painful one. Rob isn't exactly who he's pretending to be, and 20 years earlier was actually the only surviving (we assume) member of a brutal kidnapping/attack while he was with his two friends, in the woods. He has no recollection of what happened between when he lost track of his friends and when he was found, his feet covered in blood and screaming his heart out until the search party rescued him. The devastation of the other parents and pressure from the children and community led his family to flee -hence the English accent-, and decades later, his alias allows him to work in the murder squad, which is how the new case finds its way to him despite obvious connexions.
Back in the present, a 13 year old girl has been found dead in the woods, curled up on a stone, almost asleep-looking, amidst an archeological digging site that is on the brink of being torn down to set up a new highway. She is quickly identified as Katy Devlin, and coincidence, I think not, her father was interviewed during Rob's case all those years ago. Of course, the two cases are immediately linked. 2 disappearances and 1 murder in the same woods? Methinks people should probably stop hanging out there. We are introduced to the rest of the Devlin family and almost immediately, there's something off about the violent father, the depressed mother, the overprotective oldest sister and the little sister, the dead girl's twin, with a learning disability.
In this small town, it seems like at every corner, there's someone involved in both cases who isn't telling the whole truth. From Sandra, a washed out cleaning lady who used to hang out with Jonathan Devlin and Rob (or rather Adam), Jamie, and Peter, to the archeological site witness with an odd memory for very specific colors, who lives with his ailing mother. One can only wonder why Rob even came back after fleeing the place, since it bears so much sorrow and its story keeps getting darker. On a lighter note though: Rob and Cassie's boss (played by Conleth Hill), is a pure delight, cursing and (gently) berating them all while being the kind of mentor who probably made them want to work in murder in the first place.
However, add to that the odd stranger lurking around Cassie's place, who is revealed to be an old boss worrying about her undercover identity being used again -not by her-, and the two men involved in the worrying "He Rises" painted on billboards around the town, the atmosphere is heavy with dread at what will be brought to light.
So far, it's a good adaptation, very faithful to the plot from the books despite a few timeline alterations to fit both into one season. The cast, and especially the leads, are great and I'm excited to see more. That said, compared to the depth of the books, it feels a little too run of the mill, like your generic detective show with 'case of the week' syndrome. However, I'm hopeful that the new episodes will bring to light why these stories are so meaningful and stay with you, and while the show hasn't been particularly remarkable so far, it remains entertaining regardless.
Who do you believe killed Katy? Did she somehow get involved in the highway drama? Was it jealousy over her success into getting into the prestigous London ballet school? Or did the killer who led to the disappearance of the other children 20 years ago resurface and strike again? Also, any bets on Cassie and Rob being more than just work wife/husband? As always, comment below!