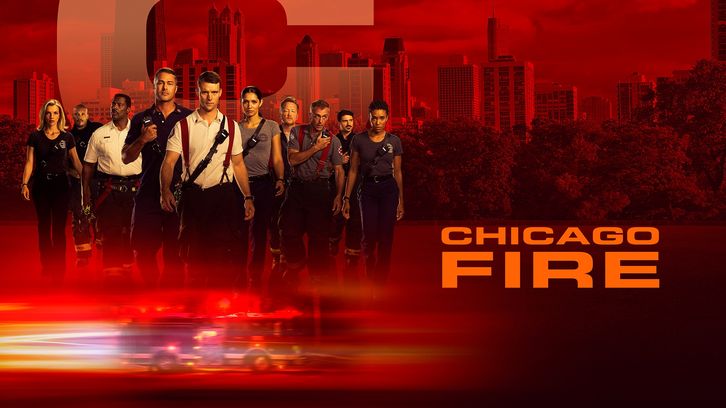 Episode five of Chicago Fire was a bit subdued compared to the beginning of the season. We saw Stella conquer the leadership conference after fighting off some self-doubt. Severide used his investigative skills once again to uncover a scheme involving multi-car pile ups. Hermann gave his son a bit of tough love when it comes to doing the right thing when no one is looking. We also got some filler in the form of fire house shenanigans . But, the the best moment finally gave Joe Cruz something to be happy about after so much heartache. Let's discuss.

You Got This Stella Kidd:

When Chief selected Stella for the leadership conference, I must admit that I pictured the type of work conferences I have attended in the past. The kind where you dress to impress, don a spiffy lanyard and get free food, but that is not what Stella was in for as she packed her nerves and kissed Severide goodbye. Stella felt hopelessly under qualified compared to all of the other attendees, especially since they were already established officers. As she navigated this, I have to admit that I wondered why Chief had put her through this knowing the type of firefighters that were attending. The simple answer became that one can have all the accommodations and collar devices they want, but straight up knowledge is all that matters.
Stella staying true to herself was what set her apart from all the rest, and that is exactly the reason Chief knew she was equal to the task. It was also very sweet to see her lean on Severide. These two have grown a lot and it is a nice thing to see. Could we be seeing the seeds of Stella advancing her career in CFD? I hope so!
I Know What You Are Doing:
Severide once again put his detective skills to work and helped to stop a scummy tow truck company who was causing multi-car pile-ups as a way to collect extra business. This was an interesting storyline because not only did it put Severide on the hunt, it showed a bit of vulnerability in Mouch. When Mouch second-guessed himself for using the scum bag tow driver to pull out the car in the first call, it led to some self-reflection on his part about things he could have tried harder at in his career. But it turns out he did do right by his instincts and couldn't have predicted that the tow truck driver he enlisted for help was behind the accident in the first place.
Back to Severide, we know that he can sniff out a scheme or suspicious call. My gripe with this one is that it just felt a little lazy. He did all of it on his own so I have to ponder, why couldn't he have enlisted Casey? It would have been a great moment to have a favorite duo work together. Instead Casey wandered around with his clipboard all episode when he could've easily been there to back up Kelly. Again I ask why? This case was not personal to Severide so he didn't need to make it his mission to go it alone. I just feel that they missed the mark to involve Casey and give him a more central storyline with his roomie and best friend. In the end, Kelly got his man so alls well that ends well but it felt like a big miss for this viewer, let me know your thoughts in the comments.
I Am Just Scared:
Last week I was seething at the writers for using Joe Cruz as their resident punching bag. He just lost his best friend, was left alone in an empty apartment to grieve for three months and then to top it off, he got dumped the episode prior. I felt that Chloe breaking it off last episode made no sense and it turns out there was more to it. Brett was able to find out the real reason and it actually makes a lot of sense.
Chloe was apprehensive after watching what Otis's girlfriend Lilly had just been through. Despite the heart eyes and sweet chemistry, Chloe needed to take a self-inventory about what being a first responder's wife could be like. That is the logical train of thought but life in and of itself is an unpredictable maze, we never know what can happen, so we can't live scared or give up on real love because of the what if. Brett helped Chloe realize this and Joe Cruz finally got a win. By episode's end Chloe was at his door with cake pops asking him to follow through on the big question and he did without hesitation. This was much needed for Cruz and I am glad that he finally gets something to smile about.
Odds And Ends:
* Brett is spinning a bit like we saw when she ended things with Kyle the first time. She threw herself into Mouch's newsletter (which was really just a play to get cake). I did like the idea of a newsletter, but it is probably not appropriate given what they tried to do with it.
* I was a little mad at Hermann for going in hard at his son Luke after the CPR incident but it makes sense. Doing the right thing when no one is looking is an important lesson, even if you saved the day after said bad choice goes wrong.
* So the blind item that Foster pitched at the bar to a clueless Ritter and Hermann is totally Brett and Casey right?
* Gallo and Ritter are a mini Casey and Severide to me. They are both chalk full of potential and I hope the show lets them grow in those roles.
* No Tuesday the dog this week.... Thumbs down!