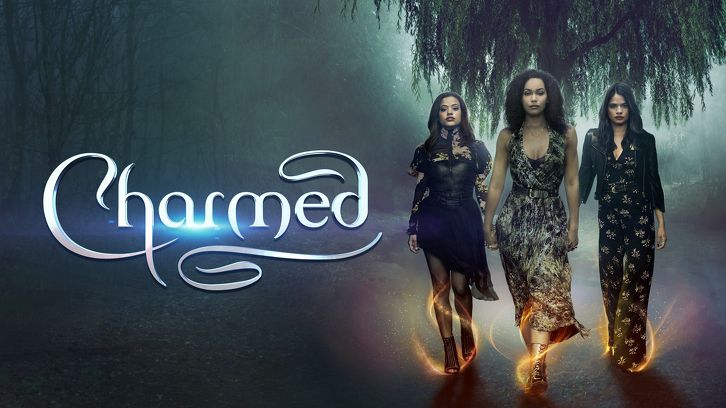 After a solid return from the summer Hellatus, Charmed`s second episode of the season put some truths, heartbreaks, and villains into the spotlight. The episode was written by Joey Falco and directed by Nick Gomez.
Let`s get down to business and talk that big smoldering sexy elephant in the room, called Hacy. The writers this season are completely embracing the duo that overcame a really dry season 1 run. Macy and Harry were all over the place this week, with the looks, all the words, and little touching. The chemistry between Madeliene Mantock and Rupert Evans is simply of the charts and it feels like time stops when they start glaring into each other's eyes. Nevertheless, things were a tidbit awkward between them at the begging of the episode. Macy couldn't shake smoldering evil probably Darklighter Harry out of her mind. The opening scene with Dark Harry trying to seduce the sister's location out of Macy was quite hot. I haven`t seen Rupert in too many other roles but his versatility is really impressive. The different shades of the two Harry`s he is bringing to light are just so unique and endearing. Like you wanna punch him and hug him no matter what version he is playing. Also, kudos to Madeline as she got that awkwardness down to the wire. Their road trip to safe Layla was sweet and the intimacy between them was certainly palpable. The two of them exchanging their secrets was a good moment, it just showed how close they were. Their scene at the end of the episode with Macy saying all she needs is one Look to know its Harry broke my melting point. The writers seem to be going for it and forgot about a potential slow burn.
Otherwise, Macy and Harr were on a mission to save Layla. Layla, a witch, and niece of the murdered witched from the premiere was taken by the 7th Circle. We`ve barely got to know Layla and that is fine. What we got to know is a bit more about Demon mythology. The One Percent of the Demon world was introduced and a potential leader for them. The Demon Bloodlines are the One Percent of the Demon World, split into 4 Groups ruling the Demonic world. I did enjoy this revelation a lot cause I am a sucker for rules and structure and I find convenient writing with mythology loopholes really annoying. So giving the demonic World structure and some sort of sense was just right in my opinion. Getting a greater sense of the power struggle within the demon World should be an interesting aspect to explore. And I am intrigued to see who is Garrick`s pick for Overlord, even though I have a guess. BTW the Demonic brawl caused by Mel and Maggie was a lot of fun.
Speaking of Mel and Maggie, the two remaining Vera sisters were sidelined to B-Team status. Both of them proved though to be anything less than A-Team. While I still, dig the aspect of the sisters being sort of powerless I hope they find a resolution for that soon, next week`s promo indicates they are going in the right direction though. This week Mel tried to surpass her powerless state with a bit of shoplifting and flirting. There are quite a bit of mixed opinions on Mel`s characters, I for once love the obsessed and strong personality yet I do get where people can get annoyed with her at times. Still, Mel is a good person at heart and becoming a witch gave her a new purpose in life. Her struggle with the fact she is powerless felt authentic and her quest to get her powers back should be interesting. So far I am a fan of Katrina, she is quite similar to Niko in terms of energy but being "part" of the magical world makes their interaction quite less tense. So I am excited to see where this interaction will go down the road.
While Mel was worried about losing her A-Team status, Maggie was worried about losing herself after the news that Hilltown thinks they are dead and the fact her father died. Completely shocked by the news her father suffered a heart attack after the news she passed, Maggie was fairly heartbroken. Her struggle to accept her father`s death was quite moving. Ray wasn`t the ideal father but he was the only father figure Maggie had in life and like most girls she saw herself as Daddy`s little girl. Maggie is naive and gullible at times, but it all comes from her deep emotional self-awareness and compassion. Her recklessly going to the funeral was such a Maggie moment, like I stan her for that. She knew she was risking her life but she couldn`t move on if she hadn`t said goodbye. Mel and Maggie sharing those tense emotional moments across the episode were quite beautiful. It is well known that I am a sucker for these sisterly moments and the scenes were just perfect from the tone and emotional intensity that they provided.
Other Tidbits:
- Jordan is still just there. Don`t really have an opinion. Not sure if I need Maggie to have a go at him at this point in her character journey.
- Macy looked fierce in that demonic outfit. I was literally like Harry captivating by her "energy".
- How proud was I when Maggie felt how fake Dark ass Harry was? Really proud. How proud was I when Maggie went right for the shovel to take him out? Daddy level proud.
The writers pulled a bit of the breaks this week but still were able to expand the world and built up the stories for a formidable future showdown. Feel free to sound off in the comment section down below. Till next week. . .