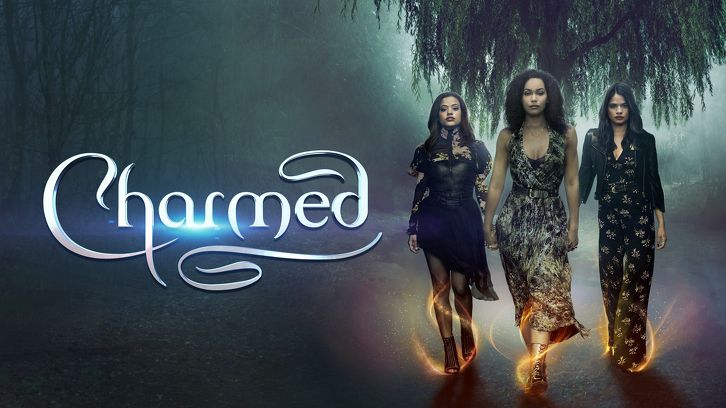 Still powerless and adjusting the Charmed sisters had a lot on of points to check on their to-do list. The intense and twisty outing put the witches on some tough test while meeting quite the interesting characters. Gina Lamar directed the episode written by Nicki Renna.
Let`s start with Mel, who was still on a path to crack the Book of Elders and regain her magic. The Mel-Harry team-ups are one of my favorite parts of the show, the opposite energies of the character/actors and approaches to their goals make out for quite the good scenes and character moments. The writers laid down a good set up for them and involved the precious Katrina to tell a really important story. On the path to meet the Sentinel, who was their only clue to potentially decipher the Book of Elders, Mel and Harry sought out Katrina as their bond to the Earth plane on a trip to the Astral plane. Katrina just as Harry is a great character for Mell to interact with. Mel`s rush and focused attitude just flatters when up against Katrina`s peaceful nature.
The meeting with the Sentinel went to well, so when they regaining their powers so fast it stunk from a mile away. The worms attacking Katrina upon return in that astral plane was quite the nasty move. Kudos to Shivan Kalaisevan though, she was very convincing. The debate between Harry and Mel about the consequences and the cost of regaining their powers was a strong moment. It is an interesting moral dilemma. Is the faith of one person more important than the faith of the whole world? It probably isn`t. But it isn`t either a Charmed or human way to start your path to regaining your power. Mel realizing it was only a ruse felt a bit rushed as the discussion about the Consequences was cut down too fast in my opinion. Eventually, the Sentinel gave Mel and Harry a way to decipher the book and regain the powers, but will it be that easy? Somehow I feel the sisters may stay powerless for a couple more episodes or midseason at least. I do appreciate this aspect, it robs the show from quick escapes and forces them to be more creative.
Maggie faced similar moral struggles during this episode. In an attempt to keep their access to the Command Center Maggie applied for an Assistant Manager job in Safe Space. A major obstacle surfaced on her path, in the form of a very handsome and accomplished Jordan Donica`s Jordan and an impending background check. In an attempt to skip all these obstacles Maggie cast a spell (thank you, Abigael, for that one) and broke one major personal gain rule on her way. In this version of Charmed, the personal gain factor wasn`t really dived into. It should be interesting to see how the show will handle it besides dumping a major bumper on Maggie. As a result of her spell, Jordan lost his gym but the sisters still have a way to fulfill their destiny and save witches. While Mel`s and Maggie`s situation isn't really to compare it has it`s similarities and it should be interesting to see what other consequences Maggie`s spell will have.
Last but not least an overworked Macy faced troubles on her own. The eldest Charmed and only Powerful one struggled with all the burden she carried on her shoulders. Afraid of dreaming and with more witches joining the fallen list, Macy`s struggle felt palpable. Madeleine was on top of her game once again. A great combination of an actor`s performance and directional choices made Macy`s struggle palpable through the screen. With all her sister`s on different paths Macy went on a rogue mission to safe Abigael, played Poppy Drayton. Little did Macy know it was a play all along. Abigael a demon-witch hybrid and seemingly the Overlord was gunning for the Charmed ones from the get-go. It was a nifty play on Abigael`s side and you can`t really blame Macy for trusting her, at the beginning.
The moment Abigael revealed herself as a Demon, she should`ve gotten a dagger in her belly. Like seriously, liar liar pants on fire. In another, not so foolish attempt Abigael tried to stick it to Macy and vanquish her with the salty dagger. Luckily Macy got aware of Callum´s shady remark towards Abigael and was ready for the gut punch. In the closing seconds of the episode, Abigael once again escaped a dagger to the belly when she showed Macy that both of them were marked by the Assassin. Won`t speak about Abigael`s faith but if you`ve seen the promo or read Charmed related news you know how that closing moment will end.
Abigael was an interesting addition to this episode and Poppy Drayton worked so well with Madeliene, they`ve shared strong on-screen chemistry and Abigael`s
fake
struggle worked well with what Macy is going through. After all these stunts Abigael pulled, I don`t believe her a single word, but I am interested to find out what is the real story behind her and if she really is the Overlord or just working for him.
Other tidbits:
- The Book of Elders pulling a Book of Shadows stunt and not allowing Demons to touch it was a nice call-back to the original.
- Macy using her intellect to escape the Demons was a smart move, yet it Abigael set it all up did they really had to go through all of that?
- Thx to @ecr21295 on Twitter for sharing the fact that the name Abigael means Father`s Joy seems like those rumors about her potential heritage might be true.
- Also, LOL at people interpretating so much into that Harry-Abigael handshake. #Hacy shippers ain`t happy. I just think she recognized the Assassin`s face.
The season is progressively improving with each outing and after adjusting to the new circumstances of the season the prospects of the new season look quite good. Next week the hunt for the Assassin intensifies, hopefully, we get some information on him as well. In the meantime sound off in the comment section down below and share your thoughts about the season so far. Till next week. . .