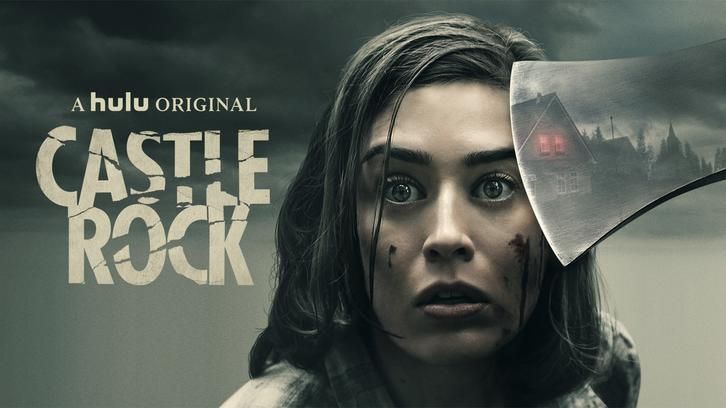 Castle Rock 2.01 Let the River Run - Review:


Watchmen
is pulling off one of the best remixes of the 2010s with just its first episode,
Castle Rock
has been doing that quietly for a year or so now. Its first season told the epic story of Henry Deaver and re-introduced the multiverse into the Stephen King mythology on screen, featuring an Emmy-worthy performance in episode seven by the legendary King alumni Sissy Spacek, and although it couldn't quite stick the landing, it delivered a memorable premise with episode seven standing head and shoulders above almost every other television episode in that year.
Now the show is back, adopting an anthology structure. Right from the start; we're reminded again, Castle Rock is not a good place. Kids vanish into thin air, and there's one massacre after another. Those who have watched season one will know how deadly it can be. Annie finds herself stranded in
Castle Rock
after a car accident, who at first we believe is an optimistic Nurse who we are introduced to through a montage set to Carly Simon's
Let the River Run
where she's singing with her daughter.
Masters of Sex's
Lizzy Caplan plays Annie Wilkes to perfection, offering a different yet dedicated counterbalance to Kathy Bates' performance.
Here Annie is committed to her new life with her ambiguous past in the forefront; driving and always on the road from one place to another, never staying in the same place for too long. It's almost unfortunate to see her arrive in Castle Rock because you know anyone arriving in
Castle Rock
is essentially doomed and this show goes out of the way to make that clear time and time again. She's joined by her daughter – appropriately named Joy, who wants nothing more than to have a normal life that she is missing out on so badly, played by Elsie Fisher, who once again terrific after her breakout performance in last year's indie darling
Eighth Grade
.
Castle Rock
brilliantly to make it as authentic as possible with little touches like these that keep it grounded in the Kingverse; giving it a twisted underbelly side to the classic Americana town that David Lynch fans are so familiar with in
Twin Peaks
and
Blue Velvet
.
Indeed;
Twin Peaks
is possibly the closest show to
Castle Rock
at the moment; both brilliant creations of their own. The small-town Americana feel is punctuated by the inclusion of Bruce Springsteen's
State Trooper
, when cops visit Pop Merrill, who's connected somehow with the criminal underworld and a someone important in it. Pop is played by another famous Stephen King veteran; Tim Robbins,
The Shawshank Redemption's
Andy Dufresne, and it's this collusion of the past and present alike that keep things so interesting and remind you once again just how prolific Stephen King is, and
Castle Rock
could run for over ten seasons and not run out of source material to draw inspiration from, still continuing after that.
Just like
Twin Peaks
,
Castle Rock's
premiere does a great job at establishing who these new characters are. A montage is all it takes for us to feel like we've known Joy and Annie forever. Both characters feel out of place among this new environment; scattered and nervous. Both Fisher and Caplan work in these mannerisms and clear body language really well, and there's an instant connection that binds them. Caplan's Annie is on the run for a suspected murder charge; and Annie's visions continue to get to her. She's forbidden Joy from using phones, and once again, there's no clear timeline as to where
Castle Rock
is set but it feels like it could just as easily take place several years ago as it could today, like
Gotham
, keeping the timeline ambiguous for its own purposes.
Misery
lie heavy over
Castle Rock
, there are other storylines too that play just as much an important part. Although Pop is an important figure in this episode he is still largely a background presence, with the focus more on his adopted kids Nadia and Abdi (
The Last Days on Mars
' Yusra Warsama and
Captain Phillips
' Barkhad Abdi), and although there is not always love lost between the family, none of them are as twisted yet as the despicable Ace, (
House of Cards
' Paul Sparks) who takes a violent approach to the growing Somali community in town that he looks down on and always has. His more radical persona is positioned carefully against the more optimistic characters; and the little touches like Nadia being forgetful as she leaves her keys at home constantly giving these characters all interesting complexities that help them feel all the more human, so we care more about them by the time that the show gives them a moment to be pushed over the edge. The first major character to fall victim to
Castle Rock
's deranged nature this season is Ace – burning down Abdi's home with a firebomb and then going after Annie knowing the truth about her identity, knowing who she really is.
However, whilst Ace knows that Annie won't call the cops due to her murder charge, he doesn't know is that Annie is capable of killing again; and dispatches Ace in a brutal way that Stephen King would be proud of, (even once she finally is able to take her pills) in an incredibly uncomfortable fashion; bringing the series full circle just after Annie told Joy that they can stay in Castle Rock for longer than normal, reminding her that their ideal home that they're searching for can be anywhere, it doesn't have to be where they initially wanted to go as long as they are together, but that predictably doesn't take long to be reversed.
For everything that is happening here, you need to remember that
Let the River Run
is just the first episode which acts as essentially the first chapter in a novel, and it feels very much how King would introduce you to the world of
Castle Rock
if you were reading rather than watching this series, which is what the show has proved to be very good at these past two seasons. How
Salem's Lot
fits into the series too remains unclear at this stage, but given the potential for the series to go all out when it wants to I wouldn't be surprised to see the show lean more into its otherworldly nature this season now that it has the trust of the audience.
Castle Rock 2.02 New Jerusalem - Review:
Picking up from where the first episode left off we saw Annie escape from the pit she had fallen into - beneath where she had planned to bury Ace, discovering a whole bevy of secrets that Castle Rock would prefer stay buried, and now goes back on her promise to Joy which creates a tension between the two. Joy is one of the few people that actually wants to live and remain in Castle Rock, and tells Annie that she can't go back on her promise. Suspecting something, Joy flees only to injure herself when distracted, taken to hospital where Nadia learns more about the relationship between mother and daughter.
Lizzy Caplan continues to get inside Annie's head and find out what makes her tick. Her nervousness and her past have all played a defining part in who her character is and already in two episodes she's firmly realised as being one of the most well developed characters of the year. Annie commands every screen, with Caplan out-acting Robbins in their conversation that the two shared. As much as the show spends time with the Merrills, this is still at its heart Annie's story.
Joy seems to start to get suspicious about who Annie is and it's hard not to blame her after she sees her arrive covered in blood to the house, and given that she runs away from Annie in episode two then it's easy to see that things are going to be worse before they get better, especially as Annie is now seeing visions of Ace on top of her past victim, haunting her from beyond the grave in a chilling end to episode two.
The series continues to use music brilliantly and I wasn't expecting K'naan's
America
to feature - demonstrating how varied the show's taste in music is, yet it fits perfectly despite not being quite as unified under one genre as say, something like
Peaky Blinders
. Spotlighting no more than one or two songs per episode helps, as the music finds a way to get into the characters' headspaces rather than just being background noise.
Salem's Lot
further in this episode which keeps things unpredictable and more terrifying arguably than the main storyline at the moment, there was a jump scare in this episode that caught me by surprise. The inclusion of the Marsten house leans towards the mystery surrounding the cult of witches and "satanists" that occupied the town, yet rather than a vampire that made the house its home in
Salem's Lot
, the series could reach even more complicated ground here. Bringing in the house so soon into the series creates a sense of surprise and danger; combining two seemingly disconnected King stories with an added twist on both means that book fans have no advantage over those coming into the series blind.
Castle Rock 2.03. "Ties That Bind" - Review:
And if episode two was intense, three continued that form in style, opening with a
Jaws
inspired trip to the lake for Joy and her friends, a location that was featured so predominately in Season 1 and had echoes of the King classics once again -
It
and
Stand by Me
most notably, but then with any kind of Stephen King work it's clear that there are going to be influences from other projects outside of the series. It doesn't take long for Annie to confess to Joy once she gets back; but Joy, instantly sceptical, gives Annie a taste of her own medicine whilst telling her that she loves her, and then ties her to her bed believing this is the best cause of action for her.
I loved how
Ties That Burned
turned the tables on the source material by having Joy be the one that tied down Annie, but you can't help but worry for her daughter at the end when Annie is warned that she should be killed. Yet despite this, Joy isn't quite pushed over the edge just yet (although as evidenced by everyone in Castle Rock going off the rails at some point, it's only a question of when not if), but her actions, unlike Annie's, are still committed in the right mindset with good intentions. And as brilliant as Caplan is here, Fisher is more than capable of holding her own, the two leads demonstrating clear and precise range that gets the right kind of emotions possible out of the series.
These emotions are made possible by her trip to Castle Lake, where she gets high and swears for the first time that help build up Joy's confidence. She's largely been dependent on her mother but over the course of the three episodes we've already seen her grow as a character. As much as
Castle Rock
Season 2 is a twisted horror story; Joy's inclusion makes it a coming of age tale; albeit one of the more disturbing coming of age tales around. It's safe to say that I don't see this series letting both characters have a happy ending. Nobody has a happy ending in Castle Rock.
Doctor Who
's chilling
The Waters of Mars
above anything else), but also more about the Marsten house and its sinister history, built by a rich mobster who went crazy in the 1920s. It's an undercurrent that makes things very clear to the residents of Castle Rock; this town has always been like this and based on these three episodes, nothing is changing anytime soon.
Bringing Ace back gives the townspeople something to fear; a clear and twisted enemy. It also complicates the relationship between Pop and his family further; Abdi could have easily left Pop to die when he escaped but he didn't, saving his father from a stroke and bringing him to hospital in an act of kindness that doesn't make this family dynamic as one-note as it could have been. Complexities are the nature of the game in
Castle Rock
and the series has done a fantastic job at giving depth to almost every character, aided by the brilliant performances that elevate an already strong script to another level.
If there were any doubts that this show couldn't replicate the form of the first season, then these first three episodes have convinced me that
Castle Rock
is still very much a force to be reckoned with, and I cannot wait for episode four.