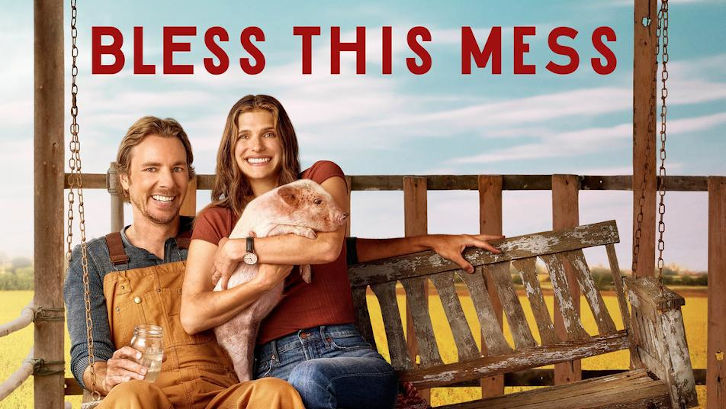 Another day, another zany tradition for the city of Bucksnort. This week, we're tackling Founder's Day and the birds and the bees. It's a two-for-one special this week, folks.


The all-too-willing Rio was selected to be the Maiden of Bucksnort and her equally excited husband Mike has been handed the entire town's newspaper, and they are nothing short of thrilled. I am constantly left in appreciation of the fact that this show portrays such a healthy marriage. This could partially be due to the fact that Rio is a licensed therapist, but every time Mike and Rio face a new challenge or experience, they endlessly supportive of each other. It's such a refreshing take on the usual couple dynamic that you see in sitcoms. In previous episodes, we've seen them face challenges, but they always acknowledge their flaws and work together to find a way to ensure that both of their voices are heard.
My absolute favorite plot-line of this episode was the Bowman family drama. Kay and Beau Bowman walked in on their teenage son, Jacob, and his girlfriend, Janine, acting up in the back of the family pickup truck. As one might assume, conservative parents from the middle of nowhere don't tend to handle scenarios like this very well, and boy, did the Bowman's handle this one poorly. Mr. and Mrs. Bowman immediately head to notoriously liberal Rio to ask for her to give their son the sex talk. Unfortunately for the Bowman's, Rio has a more educational perspective that she would like them to explain to their son, which is the exact opposite of what they wanted.
Throughout the episode, we see Jacob and Janine confiding in the Bowman's and trying their hardest to have an open dialogue, and Kay and Beau just don't handle it well at all. Kay, quite literally, exclaims that her son should just, "Just go do it, and we'll pretend we don't know anything about it." I don't know what it is, but watching these parents squirm was such a highlight. It's so clear that they were working way above their pay grade, and as bad as I felt for their son and his girlfriend, I couldn't help but laugh at the poor kid trying his hardest to have an open dialogue and his parents just not having any of it.
Like every episode, this show proves itself to have lots of heart. It's wonderful to watch these characters absorb out-of-towners Rio and Mike into their everyday lives. It's not normal for the citizens of Bucksnort to get new residents, but over time, they've let these two into their lives. This show is so charming and endlessly heartwarming.
Bless This Mess
keeps family at its core at all times, and it shows in the best way.