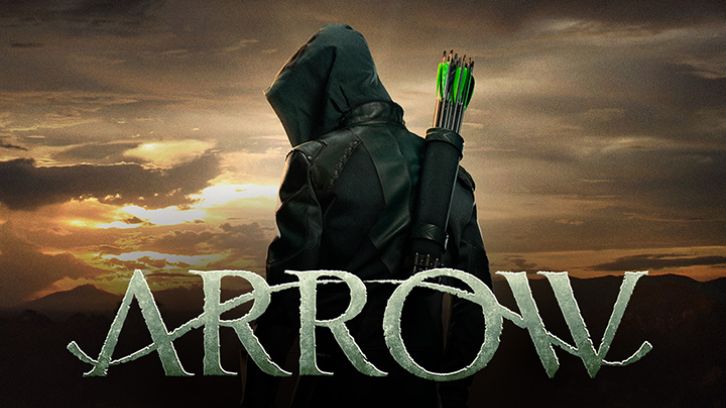 Arrow
returned for the beginning of the end with "Starling City" written by Beth Schwartz and Marc Guggenheim and directed by James Bamford. With Bamford behind the camera, it's no surprise that the episode is chock full of fights – most of which are terrific. I loved seeing so many great characters back and the re-imagining of the first episode/season on Earth 2. I'm still not a fan – like at all – of the flash forward storyline. It remains ill-conceived and difficult to follow. And with apologies to the Katherine McNamara (Mia) fans out there, she can't act and even her fighting scenes are poorly executed. It does not help women to feel empowered or garner them respect when Mia is a narcissistic, bratty, bitch. She is the epitome of someone who can't work in a team – and that is not a good thing.
What I really did love about this episode was seeing John Barrowman back as Merlyn Malcolm – and not as the Dark Archer. It was hilarious to watch Barrowman squeak as Tommy (Colin Donnell) and Oliver (Stephen Amell) fight in front of him! I also quite like that it looked like Merlyn and Moira (Susanna Thompson) had worked out their problems and formed a happy marriage. It also seemed like they weren't the ones behind the undertaking at all – and interesting twist having Tommy go dark over Thea's overdose at 18. And I also loved having Donnell back. Sadly, this is very likely the only episode we'll see them in.
There were lots of great moments in this episode for Amell, which was fitting. He's primarily responsible for the CW becoming the DC channel, and while I'm happy to see the show end because it lost its way so badly, I still think Amell deserves a great send off. So many terrific moments between Oliver and Diggle (David Ramsey) – I especially liked the reveal in the car that this is our Diggle.
I really liked Laurel's (Katie Cassidy) new costume – and seeing her really living up to her promise to be on the good team. She was terrific in the episode. Josh Segarra (Chase) on the other hand gave McNamara a run for her money for worst performance ever. Just wow. What was with the delivery of his lines? So far, I also have to say that LaMonica Garrett isn't impressing me much as The Monitor either.
For me, the episode wrapped up too quickly. Tommy just immediately sees the errors of his ways? But that seems to be what we can expect for this season. No doubt each episode will simply be more information for the Crisis Earth storyline. It was interesting that they destroyed Earth 2 – is this something that can be reversed? Or is this how Laurel is going to end up back on Earth 1 to somehow team up with Mia and Dinah (Juliana Harkavy)? Though how that timeline is going to work is yet to be revealed (though admittedly, I may have missed that). I really, really hope they find a way to either hire better make up people or ditch the truly horrendous aging makeup they have been using.
For this episode, I give a thumbs up to Barrowman, Thompson, and Donnell for their returns; Amell, Ramsey, and Cassidy for continuing to bring it for these characters, and the writers for the great call backs to the first season – thanks for paying homage to that wonderful season. Thumbs down to McNamara, Segarra, and Garrett and the entire future storyline. I still love Ben Lewis as William, Andrea Sixtos as Zoe and Joseph David-Jones as Connor. I think I could get into the future storyline if we could just follow them and kill Mia…. What did you think of the episode? Was this a worthy start to the final season? What else are you hoping to see? Let me know your thoughts in the comments below!