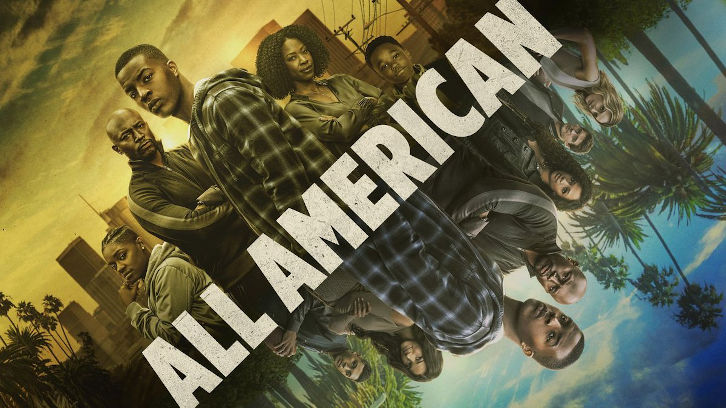 Another week, another emotional episode of All American. I definitely think this episode was my favorite of the season so far, and I can't wait to discuss it.

First off, it's Grace, Billy, and Corey's 25th high school reunion, and I knew right away things would get interesting. I liked how the show did flashbacks this week, and we learned more about Corey and Billy's past. When they were in high school they both liked Grace, but Billy pushed Grace, Corey, and everyone else away when his mom was dying. He only focused on football; and he said that was his way of dealing with everything. Corey got sick and had to take a break from football which pushed him even farther away from Billy. I did like that the two were finally honest with each other, and they decided to try to move on.

I didn't like that Corey left again. I finally thought he was getting his life back on track. His relationship with Spencer was moving in the right direction, and I thought I saw some sparks between him and Grace at the reunion. But all of that's ruined now that he decided to leave. I understand why he didn't want to coach at "Billy Baker Field", but he should have listened to Billy when he begged him not to leave his family again.
Why did he leave? The only reason I can think of is he's sick again. That would explain his emotional behavior and why he wanted to spare his family pain. But, he's not sparing them pain. Spencer and Dillon are going to think their dad abandoned them again, and I hate that for them.
I also hate that Spencer keeps trying to help Layla but all of his plans backfire. Last week he noticed the cuts on her wrist, but she says they're from her bracelet. Then he tries to get Coop to spend time with her which doesn't work, either. Layla finally loses it when she sees Spencer and Olivia in her room, and she breaks up with Spencer. I know his heart is in the right place, but he seems to keep making everything worse. I hope either Layla's dad does come back or someone else, like Olivia, can get through to her.
Now, on to my favorite story this week: Asher and Olivia. I'm going to try really hard not to sound like a complete fan girl here, but if you've read my other reviews, you know how I feel about Asher and Olivia. So just bare with me. Asher was super nervous when he met his mom, but luckily Olivia is right by his side. His mom asked if Asher and Oliva were together. I loved that Asher looked at Olivia before agreeing that they were not together.
"That's too bad. You look cute together."
The two look awkwardly at each other before sitting down. When his mom asks him to tell him about his life, Olivia thinks maybe she should leave them alone. But Asher says no; he wants her to stay. I thinks speaks volumes about how he feels. Olivia is the person he trusts most in his life, and he wants her with him. We learn that Asher's mom is getting married, and she wants Asher to serve his dad the divorce papers. I felt so bad for Asher in this moment. Olivia grabs his hand to comfort him, and then she puts her head on his shoulder. I'm so glad Olivia was there for Asher when he needed her. The show is doing the slow burn with these two, and it's killing me.
I think the scene where Asher gives his dad the papers and tells his dad they still have each other was some of Cody Christian's best acting. Asher loves his dad, but I can definitely tell his mom has taken an emotional toll on him. At the end, Asher's dad decides to sign the papers, but also, the viewers learn there was a deal. Asher's dad got custody in exchange for not telling Asher the truth about his mom. That's an interesting twist. I have no idea what secret his parents are hiding, but whatever it is, I really don't want Asher to get hurt again.
And, finally, I just want the Jordan from last season back. I'm tired of him making stupid decisions. You would have thought he would be careful since Olivia gave him her car, but no. And now he's grounded (for life based on how mad Laura was) and his birthday party is cancelled. As Jordan points out, that was Liv's party, too. I feel like Olivia got the raw end of this deal. Maybe she shouldn't have given Jordan his car since he was grounded, but she did it so he would spend time with their dad. She just wanted to help.
Other Thoughts:
- The scene at the beginning with Grace, Coop, and Dillon was so cute. "You got cancelled, too?" I think Dillon is adorable, and I hope we get more scenes with him soon.
- Denise was hilarious at the reunion. "It's Denise Patterson now. But don't you worry, I'm single." I think by the end of the night everyone knew she was single.
- I really hope the show isn't headed down another love triangle now that Layla broke up with Spencer. We do not need a Spencer/Olivia/Asher triangle. I don't think it'll happen as Spencer is still worried about Layla, but this is the CW after all.

I think that's all for now. What did you think about "They Reminisce Over You"? I would love to hear!