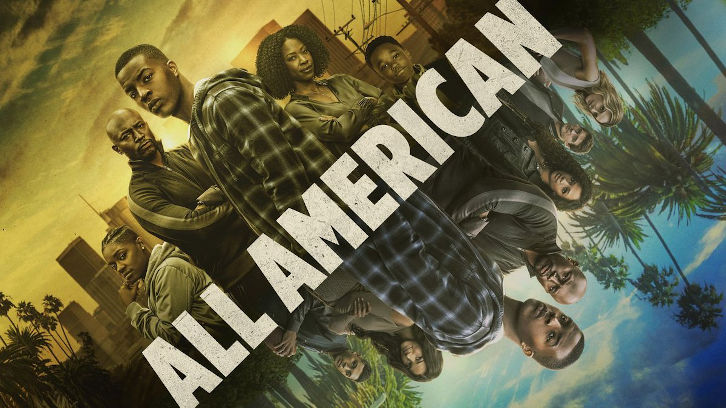 All American is back for its second season, and I couldn't be happier. It feels like we've waited a very long time for the show to come back, and I was pretty satisfied by the season premiere. I thought it did a great job in answering some of our questions from the finale.

Dillon's paternity was the biggest cliffhanger from last season. Throughout the episode we learn that Grace doesn't know if Corey or Billy is his father. At the end of the episode, Corey decides that they shouldn't find out. I was actually kind of shocked that he decided that, but I think he did it for the right reasons. He doesn't want Dillon to be punished any further for their mistakes. But, also, doesn't Billy have a right to know if Dillon is his? There are no easy answers to this, and I have a feeling that the show isn't finished with this story.

Where is Spencer going to play next season? That's the other big question from last season. At the beginning of the episode, Spencer pretty much made up his mind to return to Crenshaw, but he quickly has second thoughts. He's the most popular kid on campus at Beverly, and his teammates are excited for next season. You could tell he doesn't want to let Asher, Jordan, and the rest of the team down.
Spencer also struggles when someone leaks that he's not staying with the Bakers. I understand why Spencer chose not to stay with them: he wanted to give them space to deal with Coach's affair, and he didn't want to upset Laura. He tells his mom about this, and Grace decides to help her son. I loved the way that she apologized to Laura. Some might say "too little, too late", but I thought her apology was sincere. It takes courage to admit when you're wrong.
Laura listens to Grace's apology, and tells Spencer he is more than welcome to move back in. I loved how excited everyone was to get Spencer back especially Olivia. Olivia and Spencer's bond is still strong, and after seeing Spencer interact with Laura, Olivia, and Jordan, I definitely think he's going to stay at Beverly. It's where he belongs.
Before moving on, I want to talk about Laura for a second. She's obviously struggling with the affair, but she is such a good person, and I'm liking her more and more every episode. She was able to see that Billy and Grace's mistake was not Spencer's fault. Spencer, Olivia, and Jordan don't deserve to be punished for their parents' mistakes.
Olivia and Jordan, like Laura, are struggling to move on with their lives. Jordan just wants to ignore everything about his father, but Olivia is trying to fight for her family. I feel for her because she wants to fix everything, but she's in for a rough time. There's not an easy fix for her family. This is why I'm glad Spencer moved back in: she is really going to need someone to lean on.
I wish Asher had a bigger role in this episode, but I guess there wasn't enough time with everything else going on. But at least it was confirmed that he does have a crush on Olivia. JJ was hilarious.

"When are you going to tell her?"
"Tell who what?"
"Dude, you look at Olivia the way my mom looks at her Bentley."
I guess we'll get more Asher/Olivia scenes later in the series (hopefully sooner rather than later), and I am excited to see how this relationship plays out.
Other Thoughts:
- The Nipsey Hussle tribute was so well done! I knew they were going to do something, but that was better than I imagined. The mural was wonderful.
- I really don't understand why Layla is lying. I get why she moved in to a hotel, but why is she telling everyone her father is home? She clearly still needs help.
- I hope this season doesn't focus so much on violence. Coop just needs to lay low for a while and stay out of trouble.
I am so glad All American is back! What did you think of this episode? What do you think will happen this season?