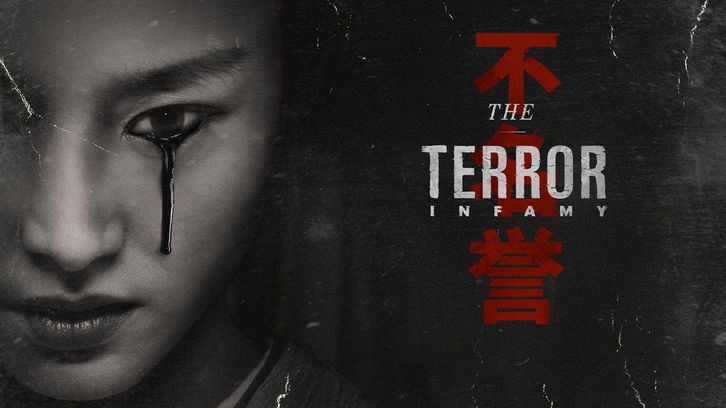 BEWARE - CONTAINS SPOILERS! DO NOT READ IF YOU HAVE NOT YET VIEWED THE TERROR: INFAMY 2x04 The Weak are Meat!
We might finally be getting somewhere in this story. In retrospect, 3 episodes of build-up might be working in
The Terror: Infamy
's favor. Sure, there have been complaints that the pacing is even slower than the first season's so far, but that glacial pacing was justified b/c the creators could justifiably gloss over something like WWII Japanese internment camps. I cannot even remember seeing any television series, let alone a basic cable horror series even attempt to mine that territory with the dignity that it deserves. Of course,
The Terror
is called, well,
The Terror
for a reason. It is a
horror
series, not a docu-drama about what drives prisoners when fear takes over. Of course, even the most liberal-minded horror viewers would be correct in being confused as to what the producers are going for with the second season so far. Is it a slow burn thriller building up to a gore show that tests the limits of basic cable censors? An traditionally Asian-style ghost story? George Takei's newest pop culture comeback? Even I started to feel a little lost following this story thus far, despite the strong performances from the supporting cast and nearly perfect cinematography. That pretty much ended with viewing
The Terror: Infamy
2x04 The Weak are Meat.
Here, we are starting to see the visceral supernatural elements that have been overtly promised but ultimately subdued by the tasteful writing. Several characters are falling prey to the yurei that hunts our protagonist Chester and the rest of the Terminal Island prisoners. I was not previously sold on the Yuko character before as her appearances did not gel with the rest of the narrative, as if the writers felt compelled to shoehorn into the developing narrative so the audience wouldn't fall asleep. In this episode, she finally seems to come into her own, even possessing a doctor and forcing him to perform seppuku on himself in the final moments. That scene was a masterclass in how to use gore effectively or a modern television audience.
For some season, I did not notice until now that Yuko is also Luz's midwife, as well as being this supernatural avenger. I am enjoying how the narrative is not taking the time to spoonfeed the audience simplistic explanations of what a yurei is, or what "bakemoko" or "obake" means exactly (do yer research, horror viewers!). It is better dramatically for the answers to come later, maybe even not at all. AMC must have a lot of faith in the producers here to allow such subjective storytelling, even if it means certain commercial suicide for the series itself, which continues to falter in the overnight numbers (I would imagine it does better on streaming and will continue to once it hits SVOD channels before AMC Premiere in the coming years).
Another mystery is if Luz's babies are giving Yuko her supernatural abilities? Why did Yuko kill Mrs. Furuya in the start of the season? Why is she punishing the doctor when they are born stillborn? We don't know yet, but it probably has something to do with her being wronged by certain characters who are now prisoners. Some of them have already been dispatched by Yuko, and it is probably building to a climatic show-down, but I'd rather not speculate too much into that yet. We know Yuko is decaying, as if she was a zombie or ancient demon-ess. Does she need the lifeforce of children to keep her looking young?
Yet another mystery is why Chester is being spared? I know he is our lead character and protagionist, but why is he spared when Sgt. Kessler lights his own men on fire in this episode? George Takei's character has done little else but give the audience breadcrumbs as to the rules of Yuko's hauntings? Can she be in two places at once? Did she just follow the prisoners from Japan to Terminal Island to protest the Japanese abandoning their home for a new life in the states?
While we continue to pontificate these mysteries, let us congratulate the actors on continue to give top-notch performances, like Cristina Rodlo as Luz. The scene where she uses the name "Enrique" to convince Chester's father was a keeper for sure. The scene where she loses her children in childbirth will assure any viewer that this season of the
The Terror
is definitely more than just a suspenseful gore show for those that may have missed out of the J-horror craze of the 2000s.