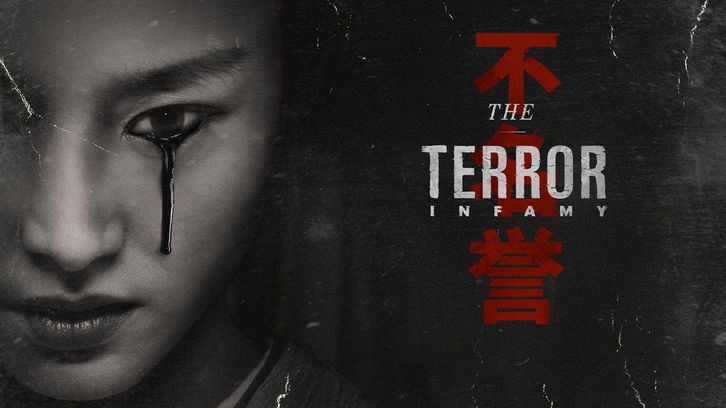 BEWARE: SPOILERS AHEAD! DO NOT READ BELOW IF YOU HAVE NOT YET SEEN The Terror: Infamy 2x06 Taizo!
Well, now that was really something, wasn't it?
And by that, I meant now that some of
The Terror: Infamy
's secrets have been revealed in an origin-story fashion, what more is there to deal with for the rest of the season?
One of the big complaints about the second season thus far has been what is Yuko's backstory had not been revealed to explain her powers as a yurei. The curses had not been defined enough to fully understand what she is capable of and why she is possessing older men and commanding them to commit suicide before her blackened eye holes.
This episode was the first to humanize our villain-ness and the creators should be proud of themselves for holding off on doing that in after the mid-point of the season and also not keep it until the end of the season. It also included a memorable, but not-too-unpredictable twist that I am sure some of you had seen coming for a while now, especially after what Yuko called Chester in the last episode.
In this time-hopping episode, George Takei finally gets to do something worthy of his legendary talents, he gets to attempt to exorcise the yurei by burning the house down (literally). However, that is not even close to being the most relevatory moment of the episode.
For me, that would be when Yuko decides to return to the world of the living after realizing that she will need to bring Chester to the grave with her to help her achieve peace in the afterlife. You see, Yuko committed suicide by throwing herself off of a bridge and wakes up in a purgatory-like idyllic environment. No, this is not a paradise, but more of a prison as the new character, Chiyo, has somehow brought Yuko here to keep her company as she is being held against her undead will for, possibly, killing her child when she was alive. Of course, Yuko is a mother and isn't going tolerate that, so she ends up "killing" Chiyo a second time. What exactly Yuko did in those sand pits, I am still not sure.
This brings me to the almost fatal flaw in the episode and that is that it really needed to be two separate episodes to create a more effective poignancy that the creators were clearly going for in this storyline. Here, we learn Yuko killed herself and was not murdered as most suspected and that Yuko is Chester's biological mother and that Asako is actually his aunt. I also must argue that Taizo is a better name than Chester. No wonder she wants him back. Yet, a lot of these revelations are diluted by the quicker pacing here. Up until the last few episodes, we were saying that The Terror: Infamy was too much of a slow-burn. not anymore. If anything, I wish they would've sped things up earlier this season so we could've had a 2 episode explanation. These ten episode seasons aren't always such a good idea, you know.
Since Luz is gone for the time being (but probably not gone for good), the best performance of the episode was Natsuki Kunimoto as Chiyo. She managed to beautifully convey both the caring and secret malevolent sides of this character in not a lot of time. I hope the character returns at some point, but that may not happen since those sand pits looked pretty painful for spirits to go through. However, Kiki Sukezane continues to impress as the undead Yuko. It is nice to know that Yuko will not be the one-dimensional villain that we were worried she was going to be. Seeing all of her character nuances tonight was enough to be glad to see those footprints being made at the end.
So, while the quicker pacing is not doing the series any favors, at least the occasional boredom the show was accused of in the beginning has all but evaporated. It might be too late the show's commercial prospects, but when the episodes are this good, who needs a mass audience? The series will hopefully rise again against the backdrop of a passing truck. Hopefully, it won't take the audience 21 years to come around to it.