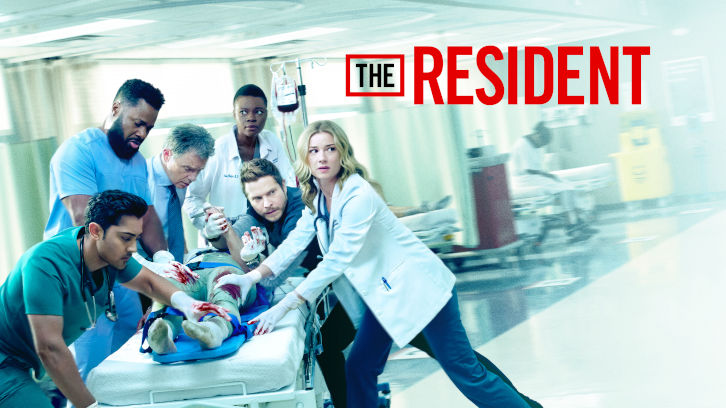 This week was The Resident's first episode to its third season, as it set up the show for another intense season. A great deal happened in "From the Ashes," as the show picked up one month after the tragic events following Nic's sister's and father's surgery. One of them was not going to make it, and the season premier starts off with Nic and her sister chatting in a meadow. For the first few minutes, the show manages to deceive the audience, as Jessie was only a figment of Nic's imagination. The guilt and the grief transpires through the scene, I just wanted to jump into TV land and give her a big hug, as Nic isn't ready to scatter her sister's ashes, isn't ready to say goodbye.


"This is not your fault" –Jessie
Nic continued to grieve throughout the episode, coming to terms with her sister's death. She blames herself, and believes everyone blames her too, transposing her insecurities onto others. Nic has yet to come back to the hospital; she can't bring herself to come inside. It's where her sister died. The gang misses her, they worry about her. Her friends want to help, but her father, on the other hand, does nothing to help her move forward. Kyle is easy to hate and it's hard to see if he is trying to help and being really bad at it, or if he really doesn't care. Again, he seems to only looking for an angle, only looking for a way to make some money off of his daughter's death. He's looking for trouble, and I'm afraid that after handing over Jessie's file to Conrad at the episode's end, he might find it.
While Nic left her father to go to his post-op alone, it's the fire at Chastain brings her back to the hospital. A gas leak in the basement causes an explosion that injures Conrad, a friend of his, and a young boy that had fled the ER. For a fleeting moment, we were not sure if Conrad was okay, but the uncertainty did not last very long. When Nic doesn't find Conrad in the emergency room, she rushes straight towards the explosion, straight towards danger. She's not worried about her own safety only worried about her boyfriend's and I was surprised the firefighters let her in the area without proper protection.



"I'm not going anywhere, you're stuck with me. I love you." -Conrad


Conrad's injuries turned out to be minimal, but that doesn't stop Nic from worrying about him, from caring for him. She stayed with him, or close by for the remainder of the episode which lead to some cute interactions between the pair. She was scared to lose him, and wasn't afraid to say so.

Mina is also there for Nic, one of the only one's Nic feels can understand her. The nurse practitioner feels guilty for her sister's death, and Mina can see where she is coming from, as she's also lost her sisters. Nic has felt responsible for Jessie her whole life, it was her job, but as Mina explains, it was not her only job, and in my opinion it's not a job any sibling should inherit. I loved the sisterhood between the two leading ladies, how they support one another, and loved seeing her be there for her friend. Mina is direct, yet gentle. She does not want Nic to live her sister's death like she did her sisters' and she was what Nic needed at that moment. It's easy to see how well Nic seems to be doing well in the hospital, doing well when she is doing something.

The free clinic was closed when Red Rock Mountain Medical took over, their funding revoked. It was Nic's baby last season, what she coddled. If she came back she and Mina could fight for the clinic. They did it once, they could do it again. I understand the system is broken, but how can a country impose car insurance, but not mandatory health insurance?





"You, you need your patients. Work, Nic, is the only way out of grief." -Mina


It has been a month since Bell signed over the hospital to Red Rock Mountain Medical, and while it's still only a murmur within the hospital, everyone knows no good will come out of the acquisition. Profits over patients, it's all a business. With Bell's growth over the past seasons, I hope this doesn't cause his character to regress. He is not the big bad wolf he used to be, he actually seemed to care about the patients. He cared about those injured during the explosion, but he still values profit and wants to keep his job.

The CEO must hire a new neurosurgeon, pushed by the new conglomerate. Cain bills over 80 million. It's an insane number when compared to Vaus' mere 2 million per year. Only 2 million dollars, and she is a brilliant orthopedic surgeon, so it's easy to see right off the bat that something does not add up. She's good, and she knows she's good. In this week's episode, she managed to reattach the head to the spin of the young boy who had been internally decapitated by the blast. She takes no bullshit from anyone, especially not from someone she doesn't respect, which I can respect. His wealth doesn't impress her, it actually infuriates her. If Cain bills 80 million, it is because that means he runs multiple ORs at once and over treats. It means he doesn't care about his patients, and if Bell wants him on the team that mean he doesn't value how she works. It will be interesting to see how this turns out knowing how deeply Bell cares for her. Will he stand up for her when the time comes?



"Speed usually isn't the virtue in surgery." –Austin


The neurosurgeon is put to the test when, straight out of surgery Conrad and Austin discover Annie also has a brain tumor. He's competent, there is no disputing that, but he's also arrogant and disengaged. With everyone watching over Annie's surgery, Cain is in and out of the operating room in under 5 minutes. He lets a resident close. When he is no longer needed, he is gone, off to do more important things. Bell admires that, but the other doctors aren't sure this is the safe way to go. In the end, Annie survived the second surgery, and it seems like Cain did a good job, but he can't always be that lucky, especially when he works on the brain. It seems like playing with fire.

It was talked about lightly in this episode when Cain and Bell joked about the fact that Red Rock Mountain Medical might be the ones behind the proton beam facility explosion. The facility had cast millions to build, and the income projections were nowhere near where they thought it would be. With the explosion, they would recover millions from their insurance. If this is really the case, the implications could be huge.

On a mostly unrelated note, there is a new sub-intern at the hospital, and it's a familiar face. She was the recipient of the triple transplant in the last season, she has cystic fibrosis. Devon seemed to be the one put in charge of her, and this was most of his storyline for the episode. I didn't really care for the storyline, but I completely understood how everyone was worried about her, and pushed her aside during her first day. It's understandable, but for her, being a doctor is in the same range as sky-diving and white water rafting. She lives dangerously, and she understands the risks. She wants to be treated as a doctor in training, not a patient. I have no idea where this storyline is going, but I'm still curious.





"You can't stop living your life, because someone you loved lost theirs. You have to remember the good times, get rid of the bad times, and go on." -Annie


In the end, Nic was not alone as she said goodbye to her sister, as she scattered her ashes. All her friends were there, and it made for a beautiful scene. She still sad, but at least she's grown enough last season to not live this trying time alone. It was very emotional, and made me teary eyes as memories from her sister flooded through Nic. The musical score of the show continues to inspire and move.

I really enjoyed this episode, as I felt the personal and the professional part of the show was well balanced. I give the episode a solid 8/10. I am curious to see what is to come, and excited for things to get moving which usually takes at least a few episodes with this show.