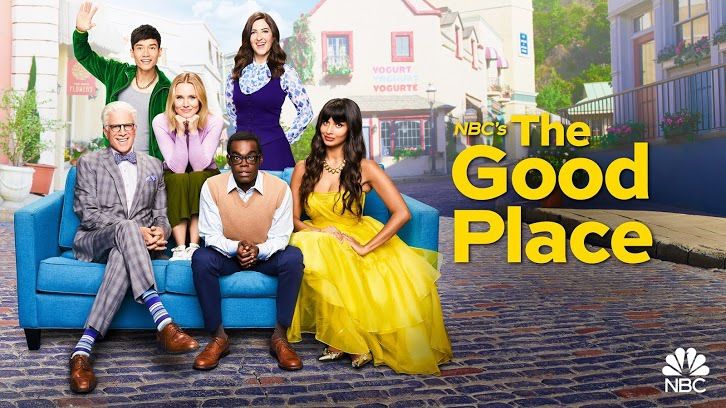 Hey everyone, I'm Lexi and I'm going to be reviewing NBC's The Good Place for its final season. I hope you enjoy my reviews and I'm looking forward to chatting with you all about this amazing show throughout the season.

Well, this feels incredibly bitter sweet. We're at the start of the end of a show that could have gone for 10 years and nobody would have complained.
Considering Mike Schur's history of TV shows that have had incredibly long-running seasons, it's surprising that he thinks the creative length of the show has run its course, but there's nothing we can do about it. Except for maybe wonder why this season isn't 16 to 18 episodes instead of an incredibly quick 14 episode run.
Firstly, I'd just like to make a quick note about The Good Place: The Selection, which I thought was rather hilarious and great to see the show from the perspective of The Bad Place group more.
This is what I mean by the show could do so much yet they're holding back, so it was nice to see some extra titbits from what could have been included in an episode.
Favourite parts:
"Yeh but I wasn't listening because she's a woman. Good point, wait, why was I listening?" - Love some good irony on sexism.
"More important than the time we stuffed a globe up Christopher Columbus's butt."
"I don't think I could eat an entire baby, but what if I got a baby for the table."
"Who are without twisting?"
"How about Johnny Depp? … He's still alive, he uses giraffe blood transfusions to prop up his diseased organs." – This is probably true.
I didn't think this episode was amazing, more just setting up the season with one plot twist being Chidi having to be the 4th participant but still there was nothing particularly special about the episode.
Anyway, let's get to catching up with our favourite soul squad peeps; Eleanor, Michael, Chidi, Tahani, Jason & Janet, and see what's happening in the new experiment.
It's a nice camera shot to start on, considering a lot of the episode is slight facial expressions and tone of voice changes from Kristen to explain that Eleanor really isn't okay despite the façade she is putting on in order to stand brave and strong as the leader of the team.
She truly has turned from the most selfish character on the show to the most selfless.
It was hard enough that she had to give up Chidi but to also not have grieving, sad, downtime away from Chidi rather than him being in her face all the time makes it extremely difficult but also emphasises how far she's come in truly being able to put other's needs before her own.
When she returns to the group, they all have the most sympathetic, puppy dog facial expressions and particularly Tahani who's usual overbearing and over the top comforting hug is adorable and justified.
Michael is the most innocent, pure character ever making the rounds complimenting every team member, except for Jason of course, which is obviously hilarious considering he is still a demon underneath all the soft teddy bearness.
Eleanor's sly advertisement of another NBC show, Law & Order: SVU airing next sounds like a car ad.
The next participant is just a little bit suspicious, Linda, who has a dumb facial expression, doesn't have a large vocabulary, doesn't seem very intelligent and asks if there's a fitness centre.
If you want more clues she's actually the shirtless demon guy, I don't think we could have been given more if they tried.
I don't really know how the bad place sent a demon if the demon wasn't somebody who had just died recently, but whatever, the rules have always been a little confusing on this show.
That baby elephant sure did reveal some hilarious world secrets.
My favourite line people say who don't think they're racist is the classic, "I'm not racist, my [insert person you don't really know here] is black," so this made me laugh a lot.
Little sweetie Michael telling Brent he's not on his side for being a white man was hilarious and cute, Michael is truly the best.
Well with the introductions out of the way, Eleanor has settled on John being here to annoy Tahani, Simone for Chidi, Linda for Jason and Brent for Eleanor, though a few Jeremy Bearimy's ago, Brent and Eleanor were almost one and the same.
The continuity between the finale and this episode is terrible, which could have easily been avoided if the start of the new experiment was only properly started in Season 4 when the writers had decided on the entire storyline for the rest of the season.
For instance, Simone was introduced previously as acting completely normal and accepting of being in The Good Place but now she thinks its fake and a figment of her imagination caused by being in a coma on the brink of death, which of course causes a lot of problems carrying on, and disheartens Eleanor slightly as she was supposed to be the easy one to figure out.
All I'm going to say is Simone's party outfit and her little chant made my mum laugh a lot next to me, which I gotta agree was pretty amusing.
A quick check in of the other participants goes to show that the soul squad have their work cut out for them, as these guys are certainly not decent human beings.
Simone's carefree attitude reached peak comedy though when she pushed those two people into the pool.
The side storyline happening involves Derek trying to get closer to Janet to win her back, but Jason refuses to let that happen going as far as resetting Derek to stop him.
The banter within the 3-way group call with everyone is pretty funny and deep down it's nice to know that Eleanor hasn't lost all her original qualities, especially with her hilarious comment to the demon Chris, who was of course underneath the Linda skinsuit.
Judge Gen reveals that Chidi will instead be the fourth participant, much to the concern of Sean, as it helps the soul squad incredibly, as Chidi is obviously capable of changing and being a good person.
And with that, the first episode of the last season of The Good Place is done!
It was a nice little introduction into what's going to transpire over the course of the season and I look forward to watching the tension, drama and comedy pick up.
Tahani name drops count
=
3
Robert Downey Jnr, Nelson Mandela, Patrick Stewart
Best Lines:
"I was an equal opportunity offender, ok, I made jokes about everybody."
"You know what im saying." "Oh I'm not a part of this."
"Are we still boyfriend and non-girlfriend?"
"We'll just like sprinkle some cocaine on her peppermints or something."
"All due respect your honour, keep it in your robe."
Hope you enjoyed my first review of The Good Place!
What was your favourite part/line of the episode?
Did you think it was a good opening episode?
Would love to hear your thoughts, comment them below! :)