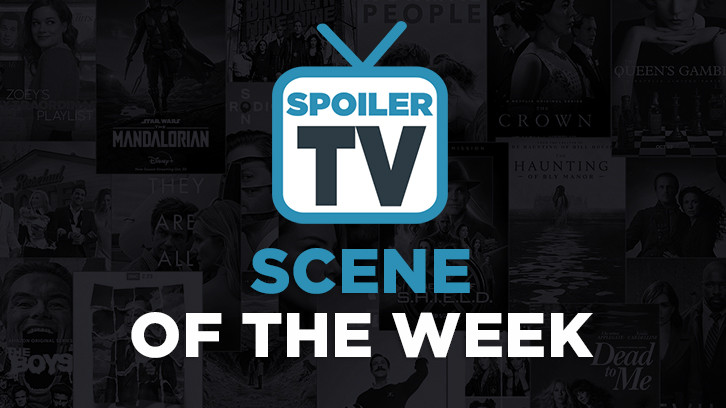 A weekly feature in which we're trying to find the most compelling, best acted, written, directed and just generally great, memorable scenes that we've seen in past seven days on TV.

9-1-1, "Kids Today", September 23, 2019, Actors: Oliver Stark, Gavin McHugh
The Scene: Christopher tells Buck he is going to be okay
Beth: This kid is just the sweetest and his words are what Buck needed to help him see the bigger picture. As Eddie said 'he never feels sorry for himself' and it is true, how can anyone be sad when in the presence of such a sweet little soul? Hopefully this gives Buck a boast and we all know he is going to need it with what is coming up.

A MILLION LITTLE THINGS, "Coming Home", September 26, 2019, Actors: Grace Park, David Giuntoli, James Roday and more, The Scenes: Katherine tries to be strong for Theo & The boys steal a crib
Justyna: Katherine has been through such an emotional and powerful journey last season. After learning about her husband's betrayal she struggled with moving on but also ended up showing the viewers what a strong and wonderful character she is. Near the end of the season an impossible thing happens, somehow she and Eddie are starting to find their way to each other and there's actually a chance for their family to be together again. After everything they've been through it's no wonder that the truth about the baby turns out to be Katherine's breaking point. I can't even begin to imagine what it must be like for her but the part that hit me the most wasn't any of her interactions with Eddie. It was the moment when we see just how hard she tries to be strong for Theo, the way she keeps hiding her tears from him and be the best mom possible. I can certainly relate to her struggle to keep her true emotions hidden. It's absolutely heartbreaking, every little gesture, every word said carefully, everything she does not to worry him, even though she's falling apart on the inside. A simple activity, such as baking cookies, feels like the most difficult task in the world, especially when she's reminded about Delilah and the baby. Grace Park did a wonderful job in this season premiere. I can only hope that things will get better in the end, as hard as it might seem at the moment. Kudos to cast & crew!
Jamie: The boys steal a crib. This episode had a lot of heavy stuff but this scene was just brilliant and exactly the kind of light-hearted moment the episode needed.

AMERICAN HORROR STORY, "Mr. Jingles", September 25, 2019, Actors: Todd Stashwick, Matthew Morrison and more, The Scenes: Daddy peeks in the shower & The Wedding Day Scene
Prpleight: We learned a little more about Xavier in this episode. His 'I'm a serious actor' dialog, that made me chuckle in the pilot, came across a little different in hindsight. Turns out Xavier was a down and out straight guy, who made a gay porn video. His shame about that decision adds to need to become a real/serious actor. Unfortunately, the producer of that video, who (creepily) wants his talent to call him "Daddy", shows up at the camp to take Xavier back; to make him a porn star. Out of desperation, Xavier offers Trevor (and his "baby elephant trunk") as a replacement. I was trying to figure out how "Daddy" was going to get Trevor to agree to work for him and how bad that would be for Trevor, when Daddy started peeking into the shower. The spike through Daddy's skull caught me completely off guard. My first thought was 'Well, Trevor dodged that bullet.' I've been worried that once we got into the slasher part of the story it would be a disappointment. This scene made it clear that, while I'm going to get slasher kills, I am not going to be disappointed. That's why this scene was a standout for me.
DarkUFO: The Wedding Day Scene.

CHICAGO FIRE, "Sacred Ground", September 25, 2019, Actors: Joe Minoso, Eamonn Walker and more, The Scene: The memorial for Otis
Zandarl: Such an emotional start to this season. The scene at the end with all of them standing behind Joe Cruz as Chief Boden reveals the memorial for Brian 'Otis' and tells Cruz what the translation is of his final words "Brother, I will be with you always". Cruz breaks down and all of his fellow firefighters stand behind him remembering their fallen friend.
Beth: Boden unveils the memorial for Otis to the entire house. Losing any character, especially one that had been there for 7 seasons is never easy. Otis dying was tragic and when Cruz worried that his best friend would be forgotten, the ever thoughtful chief came up with a way to ensure that would never happen. The scene also revealed the last words Cruz had been fearful to hear and it turns out what Otis said in Russian was, 'Brother, I will be with you always'. Hearing this was heartbreaking and beautiful at the same time. These moments are why I have stuck with this show since the start, it is truly something special.
Jessica: The entire episode of the Chicago Fire was intense and extremely emotional, especially the last scene. Chief Boden brings the entire house outside to show the new memorial for Otis, and he reveals what Otis' last words meant: Brother, I'll be with you always. Cruz breaks down and kneels at the memorial as Boden tells everyone this is sacred ground. All of 51 kneels with Cruz as the show ends. This scene was amazing as everyone, especially Cruz, continued to grieve their fallen firefighter and friend. Even though Otis is gone, he will always be a part of 51. Joe Minoso and Eamonn Walker were both outstanding.

EMERGENCE, "Pilot", September 24, 2019, Actors: Allison Tolman, Alexa Swinton, Donald Faison and more, The Scenes: Someone breaks into the house & Police Chief Evans handles the fake parents
Jennifer: Someone breaks into the house. I wasn't even sure I was going to check out this show, but good word of mouth and my love of Allison Tolman swayed me, and I'm so glad it did. While I've definitely enjoyed the pilots I've seen so far this fall, all of them felt so rushed and/or packed. That's not really their fault, since a pilot is an audition for a potential series. But it was so nice to have a show that built up the atmosphere and tension, and then delivered a scene like this. An elite squad doesn't descend on Chief Evans, Piper, and Evans' family; there's no showdown with someone with powers or a specific terrifying figure hunting them. There's just darkness, then a shadow at the door, the sound of a window breaking - and the camera swings up from Tolman's face to see on the floor above, there's someone stepping across the broken glass. Yes, the scared, potentially powered person sending things flying off the walls is a bit cliche, and yes, we can figure out that the likely attackers are the fake parents. But this scene makes it clear that not only is there a real threat to Piper and Evans, but makes it all the creepier by keeping it hidden in the shadows. Neither the characters (except Piper, probably) or the audience has any idea who these people are or what they want, and it sets up the atmosphere of the series so well without having to show its hand too much. I kinda miss a slow build, or at least a medium one, and it feels like this show is ready to deliver.
Laura B: Jo Evans protects her family when an agent invades. For a mystery show, Emergence's Pilot does a great job setting up the mysteries by generating a fair amount of suspense, while also establishing the characters. This scene in particular does a great job at doing both, showcasing Alison Tolman's true blue and courageous screen presence, while not knowing if anyone was going to get hurt or abducted.
Prpleight: Police Chief Evans handles the fake parents. Allison Tolman's casting has always left me wondering if she had the screen presence to draw in an audience. Her performance is terrific, but I wasn't glued to the screen when she was on, until the scene where she deals with the people claiming to be Piper's parents. Watching her manipulate their underestimation of her intelligence and savvy, made me like her more. It showed me why she's perfect here. This scene got me on board with the character and started drawing me into the mystery.

EVIL, "Pilot", September 26, 2019, Actors: Katja Herbers, Marti Matulis, The Scene: Dr. Bouchard knows it's a dream
Laura B: Kristen is able to try to prove to herself that George is nothing but a night terror in his second visit! I knew the moment I read the script that The Kings would make something semi-new, but special by fixating on subjects only gleamed over in other works, but would still be as smart and creative as ever about approaching it! This scene was one of the great scenes where Kristen has already made a plan to take on her new night-time villain, George, by making a poster that she can't read, while she was in a certain state of sleep to prove to her psyche that this is just all in her head. Whether that will remain true or not remains to be seen, but just that a Pilot episode would attempt to have its main lead tackle this also newly introduced entity straight on, was brilliant and bold - an overall reflection of the Pilot itself!
Prpleight: I don't know if I've ever had night terrors per se, but I have had dreams where I couldn't move. I have come to understand the physiological aspects of this phenomenon, but that doesn't make the memory of those dreams less disturbing. So, those dream sequences were pretty unsettling for me. During the first dream sequence she kept telling herself that she was dreaming, but her fear kept her from being certain of it. When Bouchard finally looked at the sign on the ceiling and began to talk herself out of her fear the science gave her the certainty that allowed her to take away George's power. Her relief was palpable. So was mine.

GREY'S ANATOMY, "Nothing Left to Cling To", September 26, 2019, Actors: Caterina Scorsone and more, The Scene: The reveal that Amelia is pregnant
Klutzy girl: It's not something I saw coming but I'm thrilled and excited for her, especially after all she went through on Private Practice and her first few years on this show. The fact that Amelia went in to ask her for a threesome and ended up finding out she's pregnant was a bit surreal (and I hope the former happens at some point!). Also thankful that Link is the father, even though their relationship is still so new.

LAW AND ORDER: SPECIAL VICTIMS UNIT, "I'm Going To Make You a Star", September 26, 2019, Actors: Mariska Hargitay and more, The Scene: The homage in the opening scene
DJRiter: In a blink and you'd miss it moment at the opening of this show's record-breaking 21st season the producers respectfully paid homage to the show which record they broke by having a scene from Gunsmoke playing on a television in a bar during its opening moments of the season. It was an extremely classy move by the producers of SVU.

NEW AMSTERDAM, "Your Turn", September 24, 2019, Actors: Janet Montgomery, Freema Agyeman and more, The Scenes: Helen finds Lauren on the roof & Dr. Bloom is alive
DJRiter: Helen finds Lauren on the roof. The results of last season's cliffhanger ambulance accident has left everyone in a position of needing to heal in many different ways. This quiet moment when Helen comforts her friend Bloom on the rooftop. Bloom finally gives in to the pain of her injury that she will not allow herself to take painkillers for and Helen being there to comfort and hold her is a prime example. It's a major step forward in healing the broken friendship of these two women and was played perfectly by these two actresses.
Ellys: In an episode that sweeps through the aftermath of last season's cliffhanger, it seemed there wouldn't be room to handle the trauma, as all the characters talked around it or treated it as a distant figment. The entire weight of processing the horrific accident thus rests on this scene with Lauren and Helen. Lauren, determined to avoid pain medication, comes close to crumbling in agony due to the damage to her leg. Helen being there and holding Lauren and saying she's there for her gives Lauren and the audience the ability to let the tears out.
Jessica: Dr. Bloom is alive. New Amsterdam did a very good job of convincing me Bloom was the one who died, especially after she flatlined and the screen went black. Luckily, Reynolds saved her and she was able to return to work. I loved her reunion with her fellow doctors. I especially loved when Reynolds hugged her and said: "Told you I got you." I'm glad that the viewers get to have more time with Bloom and see her character and her relationships further explored.

PEAKY BLINDERS, "Mr Jones", September 22, 2019, Actors: Tom Hardy and more
The Scene: Alfie Solomons' return
Milo: The whole episode was a rollercoaster for me but a standout scene was probably Alfie Solomons' return - as if it was going to be anything else. Tom Hardy's Alfie is one of the best supporting characters of the decade, and even though his scene had little relevance in terms of the overall plot it felt like it set up Season 6 nicely, and bringing back a major fan favourite in such a cool way really helped make this finale extra special.

PREACHER, "Overture", September 22, 2019, Actors: Dominic Cooper, Graham McTavish, Mark Harelik, The Scene: The Saint of Killers sides with God over Jesse
Milo: This was a nice counterbalance to the normal deus ex machina that comes with a heroic rescue attempt from a last minute intervention, although William seemed like he was going to save Jesse for a moment, there was still one episode left of the series to go so it seemed only natural that Preacher was going to keep God around for the last episode, who has by default become the show's main villain. So setting up the promise of one more showdown between Jesse and the Saint in the middle of the chaos was too tempting to resist, and it ends the penultimate episode on a fantastic cliffhanger that sets the stage for the finale where the stakes couldn't be higher.

SANDITON, "Episode 1.5", September 22, 2019, Actors: Charlotte Spencer, Mark Stanley, The Scene: Babington proposes to Esther
Laura B: Esther walks with Babington and he proposes! This episode really had a lot of interesting things going on in it. From Charlotte playing cricket with the men on the beach, to Tom trying to keep things from falling apart, to Miss Lamb putting everyone out again. But one of the other interesting aspects of the episode was also showcasing the Denham step-siblings' toxic relationship, when for the first time in the series we see Esther begin to be happy when she walks alone with Babington and he asks the magic words. It's so sad to see her ultimately reject him in a later scene, but it highlights Charlotte Spencer's acting chops as she goes from blunt disillusionment, to warm and hopeful and back again.

SUITS, "One Last Con", September 25, 2019, Actors: Gabriel Macht and more
The Scene: Harvey's last scene
Jessica: Harvey Specter looks around his office and remembers his time at the firm. Suits gives us flashbacks of Harvey, Donna, Mike and Rachel, and then Harvey sets his glass down and walks down the hall as the episode ends. I liked the flashbacks as they reminded me of the wonderful relationships and moments Suits had throughout the years. Macht did a wonderful job of portraying Harvey's emotions during the last scene, and I think this was a fitting end to the show.

THE CONNERS, "Preemies, Weed and Infidelity", September 24, 2019, Actors: Lecy Goranson and more
The Scene: Becky visits her daughter
Klutzy girl: Becky visits her daughter for the first time after giving birth. It was an emotional moment and also a funny one, especially after the reveal that the baby was named after her great-grandmother and late grandmother. Jackie's reaction was perfect and made me laugh.

THE GOOD PLACE, "A Girl from Arizona" (Part 1)", September 26, 2019, Actors: Kristen Bell, William Jackson Harper, The Scene: Chidi forgets Eleanor's name
Jennifer: Chidi forgets Eleanor's name. In usual TGP fashion, the final season keeps powering on from where it left off last season and setting up the new one. That means that most of the scenes from the premiere were functional rather than introspective or character focused, or at least fit the introspection and character focus between a lot of forward momentum. But this scene towards the start still got to me. It starts out fun, because we've never seen Chidi's version of paradise before. Of course it's reading lamps and summoning books like Thor's hammer, and Harper exudes such glee at Chidi's new nerdy superpower. And then he tells Eleanor that, given his overwhelming day, he forgot her name. It's such a small but heartbreaking moment. Eleanor knows that Chidi forgetting her is going to hurt and that she's going to have to smile and take it, but this is the first time she has to experience it. The way Kristen Bell rocks a little like she just took a punch, chokes a bit on her name while keeping her voice cheery, the smile plastered on her face - in an episode that feels like it's racing to get us set up for the rest of the season, this small moment still bowled me over.

THE POLITICIAN, "Pilot", September 27, 2019, Actors: Ben Platt, Lucy Boynton and more, The Scene: The memorial
Ellys: In its premiere, Ryan Murphy's first Netflix show introduces heaps of characters whose souls and motives are nearly inscrutable. Platt's Payton Hobart and Lucy Boynton's Astrid have little in common besides increasingly ruthless ambition. For a few minutes, though, they are mutually joined in grief. Platt's performance of "River" is heartbreaking and ironic and a perfect excuse to show off his voice. It's just as important for his character too who has just voiced his own fears that he may not be able to feel things like a normal person should. In his song, though it's a strategic move for his campaign, he finds a space to release some of his very real sorrow. Astrid watches from the audience, genuinely moved and stricken, with tears running down her face. Afterwards, she takes the stage but those uncontrolled tears are gone, replaced by a very deliberate dab at her eyes with a tissue as she announces her own candidacy. Boynton and Platt both walk a very fine line in this scene between the serious drama and the absurd dramedy, and they are a treat to watch.

THE RESIDENT, "From the Ashes", September 24, 2019, Actors: Matt Czuchry, Emily VanCamp
The Scene: Conrad tells Nic he isn't going anywhere
Beth: This scene was very subtle but is the essence of why I love this pairing. They bend, but have not broken even when things are bad. It was a sweet moment to remind Nic that she hasn't lost everything and that Conrad will always be there no matter what.

THIS IS US, "Strangers", September 24, 2019, Actors: Blake Stadnik, Jennifer Morrison and more, The Scenes: The end reveal & Cassidy returns home
Klutzy girl: The reveal that the blind singer is Jack Damon. Despite the fact that he's had very little screentime so far, I already love him and can't wait to find out more about his life. I'm so happy he got to achieve his mother and grandmother's dreams and made it. And flashing back to the moment Kate and Toby find out he was blind as he goes on stage to sing was an amazing moment.
Jamie: The reveal at the end of the episode. After watching an entire episode with people we didn't know, the writers finally showed us how everyone was connected. I loved how they revealed that the blind singer was Kate and Toby's son. The scene was just so heartwarming.
DJRiter: In the season premiere of NBC's most acclaimed drama we met several new characters but perhaps none more intriguing than Jennifer Morrison's character of Cassidy. We spent time this episode getting to know this conflicted soldier, woman and mother, and one of her most impactful scenes was her character's return home from war to her husband and young son, and him sitting down to have the breakfast together she longs for as the first thing to do when she got home. The entire scene was done without significant dialogue and its impact rested solely on Morrison's expressive face, you could see every emotion Cassidy was feeling. She is going to be a strong addition to this cast and it is going to be intriguing watching how this character will interact with the Pearsons.

YOUNG SHELDON, "Quirky Eggheads and Texas Snow Globes", September 26, 2019, Actors: Iain Armitage, Zoe Perry and more, The Scene: Mary tells Sheldon the truth about Dr. Sturgis
Justyna: After Mary and Sheldon spend the episode worrying about (and then accusing) each other of different mental health issues, they end up on a therapy session where they are forced to confront their problems. The situation takes a turn when Sheldon asks the important question - his behavior hasn't really changed, so why did Mary suddenly start to worry about his state of mind? That's when she finally admits what happened to Dr. Sturgis. After his crisis at the end of season two he has been admitted to a psychiatric hospital and is currently under the doctors' care. We don't need to see any emotional reaction to know that the news hits Sheldon hard. Dr. Sturgis is his friend and the one person in his close proximity who truly understands his love for science. What's especially beautiful about this scene to me is how quickly Sheldon realizes the cause of his mother's concern. Their fight is clearly over and he even apologizes for making his mother worried all the time. She assures him that there's no reason to apologize and in the end, they comfort each other. "No credit" for the therapist. I continue to really enjoy this story and heartwarming moments like this one keep me coming back each week. Kudos!