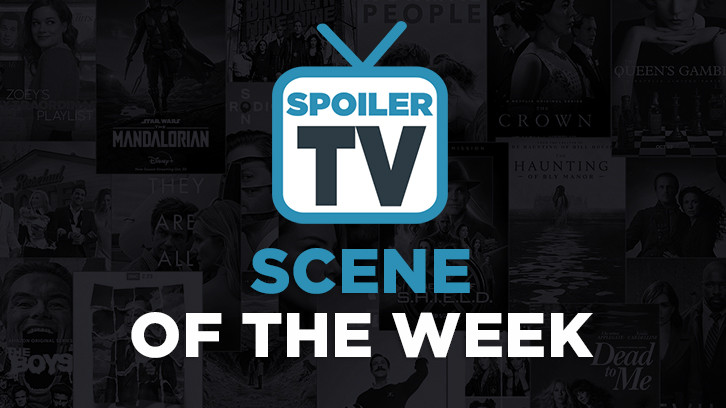 A weekly feature in which we're trying to find the most compelling, best acted, written, directed and just generally great, memorable scenes that we've seen in past seven days on TV.

KILLJOYS, "Last Dance", September 20, 2019, Actors: Hannah John-Kamen, Aaron Ashmore, Luke Macfarlane and more, The Scene: The ending
Justyna: It's a really difficult task, to end a years-long story in a satisfying way. It's impossible to make everyone happy with the ending so it's generally best to allow the story to follow its characters and the journey they've been on. For me this was certainly a good ending, even a genuinely happy one. The fight isn't over, the enemy isn't completely defeated but it's as good as it gets, with a bit of a mystery still left for these characters to explore. The Lady is alive, but trapped and left to learn what it means to be human. Pree is named Lord Governor of all Westerley and gets to enjoy this honor with his husband by his side ("I made it, Ma!"). Aneela and Delle Seyah get to rule together, at least trying to be good, even though certainly not nice. Khlyen gets a chance to find his wife and is only a step away from the reunion in his final scene. Finally, there's the main trio. Johnny didn't forget about his previous agreement with Dutch and as hard as it is for her to let him go, they agree that he will take Lucy and go on his own journey for a year. "If it's what you need, then it's what we do." It doesn't mean that he won't stay in touch or ask for help if needed. They are still a family and can never say goodbye. "One for the road" is where we end. Dutch also finally gets her chance to say "I love you" to D'avin. In their own way of course, with "no big deal" statement and all. And so the series ends, with Dutch, Johnny and D'avin ready for another fight. Side by side and stronger than ever. I will definitely miss the show, the entire cast & crew, but certainly these three the most. It's been quite a story. Glad to be there for its run. Kudos!

MARIANNE, "Tuesday", September 13, 2019, Actors: Victoire Du Bois, Tiphaine Daviot, Ralph Amoussou and more, The Scene: The shipwreck kids reunite
Kollin: If Stephen King's IT had a baby with The Exorcist mixed in with the setting of King's Haven, you have Marianne. This French horror show is about a writer who goes back to her hometown to confront a witch that she believes has come to life from the pages of her own book. There she reunites with her old childhood friends and together, with a cop, they face the evil head-on. In this scene, we are first introduced to her friends as they reunite by the wrecked boat (thus the shipwreck kids) on the beach that they always used to hang out by. Here they reminisce, drink and also remember one of their own who committed suicide (a brutal scene that's akin to how IT Chapter 2 started). This scene is heartwarming and sweet, and gives extra depth, soul and heart to an addictively, scary supernatural series, showing us what IT could've been if it had been given a TV treatment rather than a rushed 3-hour movie.

PEAKY BLINDERS, "The Shock", September 15, 2019, Actors: Paul Anderson, Aidan Gillen and more, The Scene: Arthur and Aberama are ambushed
Milo: Arthur and Aberama are ambushed in Chinese territory. Few shows look as good as Peaky Blinders and this scene pinpointed the stunning cinematography of the series at its best, with an incredible battle playing out before our eyes. This was Arthur's episode - thanks in no small part due to the brilliant performance by Paul Anderson - who is often overlooked when compared to the brilliance of Cillian Murphy and Helen McCrory - and the show more than delivered.

PREACHER, "Fear of the Lord", September 15, 2019, Actors: Dominic Cooper, Mark Harelik, The Scene: Jesse confronts God
Milo: This is everything that the show has been building towards and it more than delivered on the payoff as we enter the final few episodes, the series opting to be as intense and as insane as ever. Knowing that Jesse had failed before he had even started and God wasn't going to change his mind was powerful to watch, with a brilliant performance by Dominic Cooper.

SANDITON, "Episode 1.4", September 15, 2019, Actors: Rose Williams, Jyuddah Jaymes, The Scene: Charlotte apologizes to Otis
Laura B: Charlotte apologizes to Otis for not treating him well at first. Charlotte was a bit cross after being deceived by Georgina, when she uses Charlotte in order to sneak away and find time with her forbidden love interest, Otis. Charlotte then treats the man badly, but after getting to know him a little, she apologizes and he returns the sentiment. It's unclear if Otis will turn out to be a "Mr. Wickham" of sorts or if Sidney's concerns are purely racist via economic welfare, but I love that Andrew Davies continues to diversify and turn some Austen tropes on their heads by having certain kinds of characters not normally seen in Austen-fare, let alone most English Period pieces.

THE AFFAIR, "504", September 15, 2019, Actors: Julia Goldani Telles, Jonathan Cake and more, The Scene: Whitney caves in and has sex with her ex
Laura B: Whitney succumbs to the whims and exploitation of her ex. This season of the Affair has been full of surprises, giving characters like Whitney, whom was pretty much absent last season, her very own POV. The scene where Whitney finally caves in and has sex with her ex, and then his friend watches, was truly disturbing, because of how we have come to see Whitney struggle with her current job and her current love interest. The episode did a good job at not only highlighting a theme of generationalism, connecting us to Joanie's purpose in the future, but also alienation through exploitation, as Whitney is treated like an object, and not a person.

TITANS, "Ghosts", September 20, 2019, Actors: Anna Diop, Teagan Croft
The Scene: Rachel asks Kory for help
Marko: The dynamic between the core 4 is what sold this show to begin with. Their interactions and the amount of love they have for each other is keeping the show alive. The connection between Rachel and Kory is like between two sisters and the way they communicated through this scene was just captivating.

UNBELIEVEABLE, "Episode 8", September 13, 2019, Actors: Kaitlyn Dever, Eric Lange
The Scene: Marie confronts Det. Parker (picked by Marko)

WHY WOMEN KILL, "Practically Lethal in Every Way", September 19, 2019, Actors: Lucy Liu, Jack Davenport and more, The Scene: The Dinner Scene
Marko: Everything went deliciously down the hill as the secrets were too much to bear for Simone. The cast chemistry played well when the truth bombs started dropping from every Grove family member.