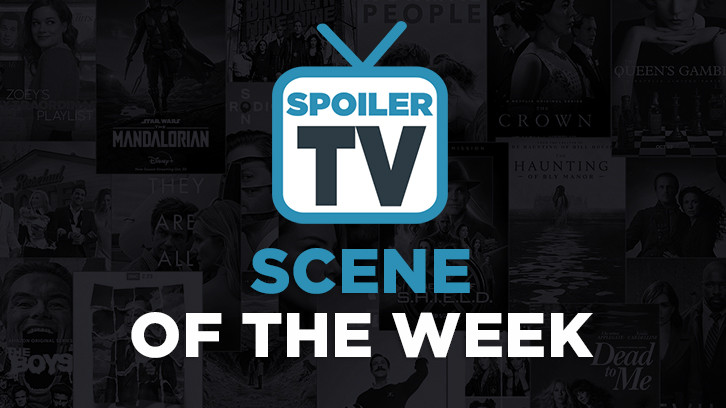 A weekly feature in which we're trying to find the most compelling, best acted, written, directed and just generally great, memorable scenes that we've seen in past seven days on TV.

13 REASONS WHY, "In High School, Even on a Good Day, It's Hard to Tell Who's on Your Side" & "The World Closing In", August 23, 2019, Actors: Dylan Minnette, Devin Druid, Kate Walsh, Brenda Strong, The Scenes: Tyler tells Clay what happened to him & Mrs. Baker talks to Mrs. Walker
Beth: Tyler tells Clay what happened to him last year. Simply put, this scene was so powerful and extremely emotional. After Clay listened to Tyler, he very sweetly asked him if he could give him a hug because he knew he didn't like being touched and I was an absolute mess.
Marko: Mrs Baker talks to Mrs Walker.

CARNIVAL ROW, "Some Dark God Wakes", August 30, 2019, Actors: Orlando Bloom, Cara Delevingne, The Scene: Vignette visits Philo
Justyna: I've only just started the series but it certainly seems interesting. There's a whole new world to discover in the story and so far we've been watching it mostly through the eyes of its two main characters - Vignette and Philo. It's clear that there's a lot of history between the two and their story was abruptly interrupted leaving Vignette convinced that Philo was dead. When we're introduced to her character she's still in mourning (years later), so the pain is most certainly still fresh in her memory. That is why the news that he's alive hits her hard, even more when he tells her that the lie was intentional. I can't help but feel there's more to this reveal than he is saying but for now there doesn't appear to be any reason good enough for Vignette to forgive him. She seems almost ready to hurt him at one point, struggling with all her mixed feelings, before deciding that he's not worth her pain. She even wishes he was truly dead... It's quite an emotional introduction to the relationship between the two and both actors did a great job during the scene. I'm interested to see what's going to happen next. Kudos!

KILLJOYS, "Cherchez La Bitch", August 30, 2019, Actors: Hannah John-Kamen, Aaron Ashmore, Luke Macfarlane and more, The Scene: The reunion at the end
Justyna: This was such an entertaining episode. A brief chance to take a breath before the final battle, it would seem. Between Zeph, Pree and Turin opening the box and Johnny, Dutch and D'avin undercover or trying to get out of their restraints, there were a few fun moments that I could include in the article, but I decided to go with the more heartwarming option - the reunion at the end. The team is finally getting back together and it was nice to see them genuinely happy, even for a short while. Some of the show's best duos got their chance to shine. There's D'avin and Fancy, not willing to admit that they missed each other but still going for the hug. Then we have Dutch and Zeph, happily reunited and already planning to go back for the rest of their friends. Finally there's Johnny and Lucy. The fireworks were a nice touch and the rest of their conversation was both sweet and hilarious. Just a good scene overall. Kudos!

PEAKY BLINDERS, "Black Cats", August 26, 2019, Actors: Cillian Murphy and more, The Scene: The opening scene
Milo: Stunningly shot and fantastically directed by Anthony Byrne with an utterly brilliant Anna Calvi soundtrack, this show looks wonderful and has never looked better. Cillian Murphy's acting is top notch, and the scene announcing the Billy Boys (like the Peaky Blinders, a real gang) intentions for Tommy Shelby was just terrific. That is how you make a scene a tense one.

POWER, "Murderers", August 25, 2019, Actors: Omari Hardwick, Naturi Naughton, The Scene: Jamie and Tasha talk about Angela's death and its consequences
Naomi: Jamie and Tasha discuss the death of Angela and its consequences for everyone. This scene was short but extremely explosive. In a few short moments, the priorities of each person was easy to see. Jamie continued to put his feelings above all else while Tasha tried to keep some semblance of a life together for their children. When Jamie told Tasha to think about how he feels because he lost the woman he loves, that was the final crushing blow for Tasha. Not only was Angela dead, but the marriage of Jamie and Tasha met its end as well. Fiercely acted and so entertaining!

SANDITON, "Episode 1.1", August 25, 2019, Actors: Rose Williams, Theo James, The Scene: Charlotte gives her opinion to Sidney and he berates her for it
Laura B: Finally my favorite Jane Austen novel, although unfinished, comes to life on screen in this wild adaption from Andrew Davies. I chose this scene at the ball towards the end of the episode, because of the way it both called back to Emma & Mr. Knightley, but also in some ways juxtaposed it, as Charlotte's analysis seems so spot on despite her lack of experience, making Theo James' wonderfully overdramatic reaction as Sidney, all the less undeserving towards a somewhat overly trusting Charlotte. Although Charlotte should be careful with what she says and shouldn't give her opinion so freely, really if you don't want someone's opinion, then you shouldn't ask!

SUCCESSION, "Hunting", August 25, 2019, Actors: Brian Cox and more
The Scene: Boar on the floor scene
Saloni: The whole "boar on the floor" scene. It was complete madness.

THE TERROR, "Gaman", August 26, 2019, Actors: Kiki Sukezane, Eiji Inoue
The Scene: Yuko Tanabe kills Hideo Furuya
DarkUFO: The Yuko Tanabe (evil spirit woman) bites out Hideo Furuya's tongue and kills him.