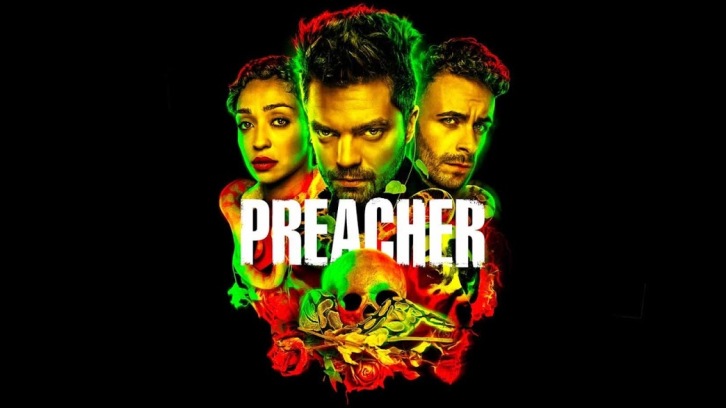 Preacher's penultimate episode saw the team lay siege to the Grail HQ for the second time this season in a last ditch bid to stop the apocalypse, but the characters were going up against one thing that they didn't have to face the last time; God, and that's a pretty big addition to the equation that they have to fight. He's acting as security for The Grail, and one by one, he takes down Tulip, Cassidy and finally Jesse.

God's the manipulator in chief and this episode shows it. He rejects his son Jesus in favour of Humperdoo who has the complete devotion of the Grail soldiers, begging him to bless them in a frantic party of indulgence, with the countdown clock for the apocalypse gets under way. He pushes Tulip and Jesse into an escalator (it's never a good idea to take an escalator when God's in the room) and he kidnaps Cassidy, taking them away from the rest of the group. He tempts Cassidy with images of his homeland and his past, able to live as a human again, and time and time again, Cassidy says no. Until – eventually, he says yes, and that's when Jesse finds him again, with the bottom half of his body missing. His defence of humanity was an inspiring one, mustering up Paul Newman and Season Two of The Love Boat as one of the reasons why it should be saved.

Tulip is up next, and her famous temper of hers comes back to bite her. It's almost as if Preacher was telling the audience what the flaws of the three lead characters were this episode, one more time, putting them in scenarios where they would all be tested and one by one they failed. Jesse of course – has already failed the test, so his storyline is slightly different, but Tulip and Cassidy haven't been put through their own tests yet and God knows exactly how to get under Tulip's skin. He brings up Dallas again, taunting her about her lost child. He doesn't even remember why he decided to take her from her mother, and that's a good reason as any to pull two guns on God, especially for someone as short tempered as Tulip.

Jesus and Hitler continue to come up with a way – not to stop the apocalypse – but to help Jesus gain God's respect so he can become the Messiah again. It's hard not to sympathise with Jesus, asked to take a photo of his own son rather than star in it, and no matter how hard he tries to impress God, God isn't buying it. So Jesus finally gives up, not wanting to resort to murder, but Hitler says that whilst he won't be able to pull the trigger, the Nazi can do it for him. He never gave up, not even after Stalingrad, and wants to come out on top. Hitler will – to nobody's surprise – do what best suits Hitler, and that puts Jesus and Hitler at odds when Hitler accuses Jesus as being pathetic, and the two go ahead to head in a brawl. I know I've mentioned this in last episodes' review, but come on. Jesus and Hitler having a fight. If that isn't one of the most insane concepts on American drama television ever, I don't know what is.

Furthermore, the whole live televised countdown and brief catchup with Hoover Two's partner - with performances from fire-eaters and comedians was suitably entertaining, and Starr and Lara's eventual hookup felt about as odd and as unromantic intended. Lara was quite happy and willing to die with Starr to go to heaven, but Starr has other plans - that would have been put through had he not killed Hoover Two – namely ensuring that he stays alive in a selected apocalypse, something that God will no doubt take issues with as he wants a complete cleanse. Lara seemingly coming to Tulip's rescue at the end was a nice surprise, but she just could quite as easily be coming to kill her. In an episode full of exciting moments this could be a hell of a reunion.

Eugene is still lurking around too, released from prison with dreams of becoming a Rockstar. We get to see the life he could have had, a drugs-induced ecstasy, before he's hit by a Taxi? It was admittedly a bizarre moment, why bring him back only to kill him off immediately? Unless of course, Jesse winds up wherever Eugene is going and they are forced to have what will no doubt be a rocky reunion. Because the reappearance of The Saint of Killers – initially teased as William coming to the rescue to kill God – was an exciting prospect, combined with the knowledge that Genesis might rival God himself (although God seemed to be laying it on too thick for him not to have some counter plan in place should Jesse decide to use Genesis), but it ultimately gave way to an even more exciting cliffhanger that put Jesse seemingly in a position from which there is no escape from. It's hard to imagine Cassidy, Tulip and Jesse getting out of any of the tight spots that they're in right now – and it's hard to imagine that any of them will have a happy ending, but whatever happens in next Sunday's finale, it's going to be an explosive one, with higher stakes than ever before.