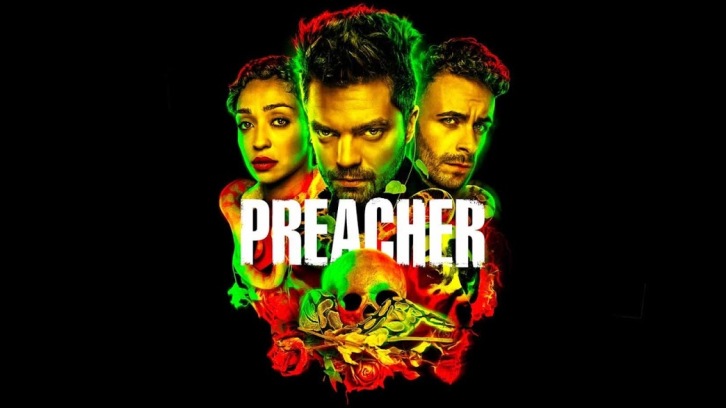 Preacher made a bold move in killing off Jesse Custer last week but as we know in this show death is not the end and we almost immediately picked up where we left off with Jesse in hell, tricked into thinking that he was in heaven with a proposition placed against him by apparent rebellious angels who want him to take God's throne. It's a hallucination of course, designed to engineer him into a position of eternal torment by taking on a sacrilegious idea, but it's something that Jesse is understandably reluctant to do until he is shown how Genesis' escape proved to be the final straw that led to God leaving and giving up on humanity. Genesis' departure led to him becoming a carefree hippie biker, wearing a dog costume - which is admittedly a bit of a weird decision, but it's cool all the same to get a flashback that brings the series full circle and explores the origins behind Genesis' departure, even if we don't know a hundred percent the reason behind its escape. It was a delight to see Tom Brooke's Fiorie back in play for the final episodes of the show too, as his first stint was very much entertaining and one of the bright spots of the first season. I did love Fiorie's and Jesse's early interactions, with Jesse asking Fiorie to do a better job at explaining himself, as he'd only told Jesse that Jesus isn't Hitler, which predictably, wasn't much to go on.

The death of Jesse was something that both Tulip and Cassidy don't take well and found themselves immediately out for revenge. Their quest leads them to the real home of the real Messiah, Humperdoo, who was being kept hidden by Jesse in a church full of devout followers. Unconvinced by Humperdoo's tap-dancing abilities, Tulip and Cassidy decide that they plan to kill him and then God, bringing an end to everything that he has in mind, even if their first plan to blow up a Church fails to grab his attention. It's about time because God too has given up on humanity like he has done with the dinosaurs, and plans to forge a new race to replace them. This gives the series a sense of urgency running down into the final episodes, as we see the true schemes of the apocalypse coming to fruition and the lengths that the characters have to go to stop it.

One of the best surprise reveals was that Hoover 2 was actually a double agent on a deep cover duty inside the Grail trying to find out their plans for the apocalypse, admitting his duty to the badge which was an effective and unpredictable twist, but unfortunately we never got to see anymore of him in his new role as he was immediately killed by Lara Featherstone, who had been posing as a Starbucks Barista all this time with a disguise to rival Tulip's, with a permanent hatred for Hoover 2. But this could potentially throw a wrench in The Grail's plans as now Hoover 2's partner is aware of what they're up to, even if he has no proof himself of the grand schemes, and it's going to be hard for him to inside the Grail HQ and recover them in time before the war between Australia and New Zealand escalates to a global conflict. But there's hope at least, and the Grail may not be in the clear just yet. There's also the possibility of seeing Hoover 2 after death if he ends up in hell with Jesse, and would have a sufficient motivation to be aligned with him against the Grail, so hopefully the show brings him back int othe equation as in this show, even a bullet to the head does not mean the end.

Jesse was not the only one whose fate was left hanging after the previous episode and it's good to see that we got questions answered about Starr's fate, he may now be sporting another gruesome injury that even further disfigures him, but he's alive, and in pain. How his role will factor in is unclear but it's highly unlikely given everything that we know about his character so far, he's not going to be as a devout follower of God as before, if he ever was and was just using him as a means to his own end. Hitler is stepping up his game with plans of his own, showing Jesus the clone Humperdoo before killing him, and introducing Jesus as a plan to be the Messiah rather than the son, something that God will likely not take kindly too.

Will Jesse be able to give up his own morals in favour of becoming God? It seems like a dubious choice, but it would give him the powers needed to go head to head with the current God. Giving the characters clear motivations has helped a lot this episode and reminding us once more where everyone stands has helped the pacing flow pretty smoothly, proving that Preacher has plenty of story left to tell in the final few episodes. Once again, the pairing of Tulip and Cassidy continues to get the best results out of Ruth Negga and Joseph Gilgun, and Dominic Cooper is doing an excellent job at helping the audience get inside Jesse's headspace and exploring the reasons behind why he makes his own decisions.

If Messiahs was a big, game-changing episode then Fear of the Lord is likely to be even bigger. Preacher's final few episodes are shaping up to be incredibly bombastic, and I'm all here for it, as despite a few missteps early on this season that almost brought the show to a grinding halt, Preacher has found its groove, and it's unlikely to snap out of it with so few episodes left to go.