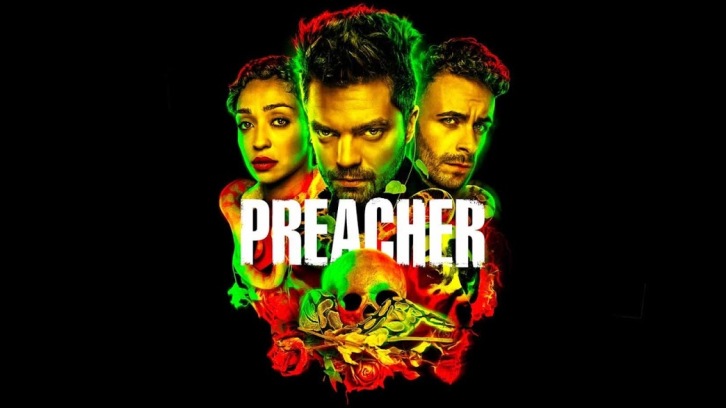 The final episode of Preacher brought things to an appropriately satisfying conclusion that was promised at Comic Con by Seth Rogen earlier in the year, wrapping up pretty much every loose end and seeing Jesse, Tulip and Cassidy ride off into the sunset – quite literally in Cassidy's case, having saved the world from God's apocalypse. From the start, the episode picks up from the cliffhanger that saw Jesse in mortal peril, confronted by the Saint of Killers, and we immediately find ourselves with pretty much every major character in some form of brawl that is cleverly designed with the screen being cut up ala pages of a comic, showing us respective panels that zoomed in and out to show the carnage in a creative way that the Preacher creative team have always brought to their fight scenes.

The first encounter was Jesse, the Angel and the Demon lovers vs The Saint of Killers, which was as brutal and as bloody as any fight with the Saint has been. He is unstoppable and has been throughout the series and not even the Angel and the Demon united can stop him, as although he is wounded, he kills them both. But Jesse gives him a get out clause that the Saint wants, a route to heaven, being redeemed on his death bed by none other than a Preacher. It's befitting that the last episode sees Jesse perform his duties, and that paves way in turn for the Saint to get a confrontation with God himself later in the episode.

The other main fight of the episode was Cassidy vs. Tulip, with Cassidy having been brought into protecting Humperdoo and forced to choose between him and Tulip. Both go head to head in another messy brawl, but unlike the Angel and Demon the two friends walk away when they realise that Humperdoo has to be killed to save the world, and naturally, Cassidy is devastated. He felt like he was being a better person around Humperdoo, who in turn had last minute stage fright and was killed in his changing room, never getting his moment in the sun. "So much for second chances," Cassidy says, labelling Humperdoo as the best and most innocent person that he ever met, once Jesse walks through the door to greet them.

This forces God to turn to Jesus, acting as the father who has finally acknowledged his son's worth but in reality, just needs another person to use, another person to love him. Jesus says no to God, having killed Hitler and emerging on top of their own brawl, as equally messy as the ones before. Starr meanwhile is trying to cancel the apocalypse or at least program his own instructions, but in a rather effective turn, Lara finally stands up to him and he is forced to flee having killed her. He's not the only one running though, as God, recognising that his plan has gone wrong, takes to the desert on his motorbike as well, never wanting to fix his own mess and always leaving it to the betterment of others.

It's therefore down to Jesse to break the news to the Grail fascists that the world is not coming to an end and orders people to switch off their television sets and return to their ordinary lives, in a powerful speech that saw Dominic Cooper lend one more commanding performance to the role. Using Genesis to turn all the Grail soldiers into his own personal army, he sets them out to find God, not stopping until they do so, two years later.

In those two years Cassidy has left the group and Jesse and Tulip are back on their own in America with a daughter escaping from gangbangers when Jesse gets a chance to finally, have a sit down and talk with God in one of the more powerful scenes of the episode. Jesse is getting the conversation that he imagined, the one that the entire series was leading towards, but for the first time, he's in control. He knows that Genesis can be used on God and he's not backing down, and after being asked the reasons behind Kids with Cancer (it's a test), life on other planets (of which there is none), the fate of his father, Jesse's original sin (who apparently is in heaven despite Jesse's prayers to send him to hell) and what happens to believers of other religions when they die (the answer is ambiguous).

Naturally, given the series' strong western influences, Preacher's final confrontation takes place at the Alamo in San Antonio, and it wouldn't be any other way. We see the show prove that all God wants to be is loved by his subjects, which is why he's so shocked when Jesse rejects him, tossing him around with Genesis like he was nothing before letting it go free, realising that he doesn't need to use it to be better than him. It's a moral victory for Jesse, who gets to have his grand hero moment, telling God that he should be happy for humanity as flaws and all, they're still some kind of miracle before going to watch a movie. It seems oddly appropriate given the messy nature of Preacher itself that this is how it ends, yes – it has had its ups and downs along the way and hasn't been the most consistent show around, but the fact that it was made and turned out as enjoyable as it is, was some kind of miracle in its own right. Oddly enough, the ending of Preacher is perhaps most comparable to that of Battlestar Galactica's, only unlike the reimagined series, Preacher offers more concrete answers and won't be as divisive.

The series itself wraps up every little piece of the story that it has left to tell in a nice little bow; The Saint of Killers is in Heaven having killed God in a lightning storm and decimated his heavenly host with apparent ease. Jesus is working as a retail assistant in a home hardware store, and is unsurprisingly good at what he does. Eugene isn't killed, but rather than taking the easy way out (he's already died once) after his Doctor offers him mercy, he decides to get through life the long way round and keep fighting, performing on the streets as a busker who gets people to listen, one step closer to that career as a rock star that he imagined in the previous episode, made all the more believable by a brilliant performance by Ian Coletti who particularly got to shine in the delivery of his emotional monologue – and he even gets to be on people's T-shirts that Jesus sees when he's in the retail store, clearly having made it. 40 years later, we get time for one more epilogue, with Jesse and Tulip's daughter watching over their graves with Cassidy, ever eternal as the vampire, not having aged a day. Their daughter is now a banker, and asks Cassidy why he never came back to see them again before they died. He brushes it off, and says goodbye, walking out into the sunlight, hanging up his umbrella.

It seems befitting that Cassidy outlived both Jesse and Tulip and the epilogue, was a nice memorial to all three lead characters, who got their own hero moment and saved the world in circumstances that few others have done in their universe. One thing that felt a little surprising was the fact that Starr is still out there in the world, his fate unknown, when it would have been the easy route for Lara to kill him or God to take him out of the game when he tried to escape. Letting Starr live raises questions, but despite it all, it feels befitting that both him and Cassidy made it to the end of the series, cockroaches themselves of their own nature, always surviving.

Sam Catlin gave Preacher a more than appropriate if busy farewell in an action packed episode that saw the series go out on a memorable high. It's clear that the writers cared about the source material even if the series diverged from it at times, and the arc that Jesse went on over the series saw him earn "One of the good guys" being listed on his tombstone. Right to the end the series kept up the anarchic, balls-to-the-wall insanity that the comic more than delivered upon, and it proves that the series will well and truly be missed, every character getting one last moment to remind the audience just how great they are, and it's safe to say that television just got a little less weirder with Preacher no longer on our screens.