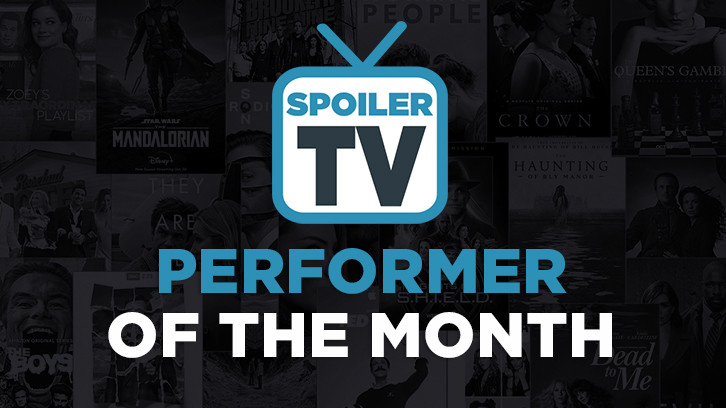 Results

This turned into quite an interesting round of voting. The Readers' Choice nominees were in a fierce battle for the top spot for most of the voting period. Cait Fairbanks, Marie Avgeropoulos, and Jason Dohring all gave the ultimate winner a fierce challenge for the title. The Staff side was just as fascinating with the winner not being determined until just prior to voting ending. It was a wild round, so thank you to everyone who turned out to nominate and vote. The August round usually tends to be a bit low-key because of the transition from Summer shows to Fall, but this turned out to be one of the most captivating rounds all summer.


Hannah John-Kamen flawlessly portrays both Dutch and Aneela on Syfy's
Killjoys
allowing her to showcase her vast range. Playing one character is hard enough, but trying to breathe life into two very different characters is a whole other level that not many performers can rise to. John-Kamen has not only risen to the challenge, but she has found ingenious ways to differentiate the two characters and give them each their own very distinct personalities and traits. In
Three Mutineers
(5x6), John-Kamen was tasked with complex stories for both of her characters. She was front and center in both main storylines and delivered flawless performances every second she was onscreen. With Dutch, she had to take the fiery Killjoy on a complicated journey to liberate the prison vessel and obtain ships to further their cause against The Lady (Alanna Bale). Then there was Aneela who was given a complex emotional and physical story as she reunited with Kendry (Mayko Nguyen) and Jaq (Jaeden Noel) and had to protect her family. The tones of both storylines were vastly different and yet she was flawless in her portrayal of both of these fierce women. Her performances as both Dutch and Aneela made her a very worthy winner of the title of SpoilerTV's August Readers' Choice Performer of the Month.
Cara Delevingne's performance in
Kingdom of the Moons
(1x3) of Amazon's sumptuous new drama
Carnival Row
, is one for the ages. She plays Vignette Stonemoss, a fae caught between duty and love in a time of war. Every one of Delevingne's scenes is electric, as her complete immersion in Vignette's personality makes every heartbreak and thrill contagious. In this single episode, Delevingne conveys not only her character's own dauntless spirit but also builds a connection for viewers to Vignette's entire world and enables them to feel every shred of her grief and yearning when everything that matters to her is lost. The brighter moments are just as wonderfully performed; Delevingne soars enthusiastically through even the most peaceful scenes. In short, she creates magic. For this performance, the SpoilerTV Staff chose her as August's Outstanding Performer of the Month.
Look for Hannah John-Kamen and Cara Delevingne's winner articles later this month. In the meantime, be sure to use the comments to discuss these two gifted winners and all of their amazing fellow nominees.
Original Post
August is usually a month full of surprises because most summer shows have wound down for the year and Fall shows have yet to premiere. That lull leaves the door open to surprises for this feature and this round saw us have our first-ever daytime performers nominated. After careful review of the rules of the feature we determined that there is nothing preventing them from being on the poll with their fellow nominees. They join the ranks of a list of talented performers and it will be interesting to see who will prevail this month from this list of powerhouse performers.
2018 Staff's Choice Performer of the Year: Sandra Oh
2018 Reader's Choice Performer of the Year: Alycia Debnam-Carey
January Winners:
Readers' Choice: Jared Padalecki (Sam Winchester) - Supernatural
Staff Choice: Andre Braugher (Captain Raymond Holt) - Brooklyn Nine-Nine
February Winners:
Readers' Choice: Jensen Ackles (Dean Winchester) - Supernatural
Staff Choice: Hale Appleman (Eliot/The Monster) - The Magicians
March Winner:
Readers' and Staff Choice: Camilla Luddington (Dr. Jo Karev) - Grey's Anatomy
April Winners:
Readers' Choice: Matthew Daddario (Alec Lightwood) - Shadowhunters
Staff Choice: Jodie Comer (Villanelle) - Killing Eve
May Winners:
Readers' Choice: Tom Ellis (Lucifer Morningstar) - Lucifer
Staff Choice: Chyler Leigh (Alex Danvers) - Supergirl
June Winners:
Readers' Choice: Suranne Jones (Anne Lister) - Gentleman Jack
Staff Choice: Jared Harris (Valery Legasov) - Chernobyl
July Winners:
Readers' Choice: Alycia Debnam-Carey (Alicia Clark) - Fear The Walking Dead
Staff Choice: Nicole Kidman (Celeste Wright) - Big Little Lies
Please remember that a performer can only win once in 2019. After that win, they will be ineligible to win again in 2019, but they will secure a spot in our year-end Performer of the Year contest.
Now comes the hard part where you can
only vote for 1 performer
. The poll will be live until
Wednesday, September 11th at 6 pm ET
. After you vote be sure to make a pitch in the comments section for what the performer you voted for most deserves to win.