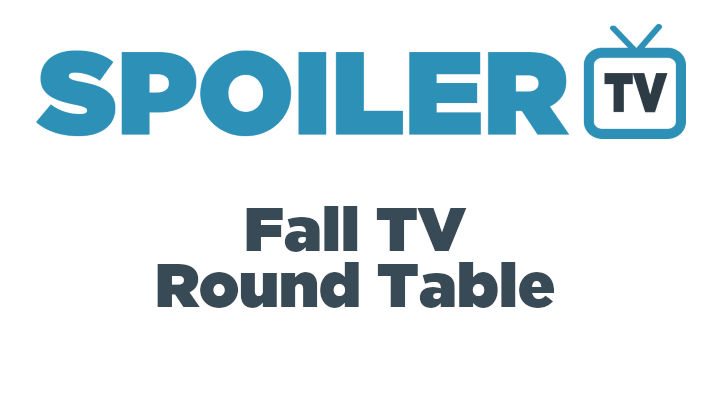 The SpoilerTV team joined together to wade through the imperfect yet mighty storm that is Fall TV to bring you our takes and what you shouldn't miss and what you shouldn't forget from this year so far. We've even shared survival tips.
This Round Table was edited by Ellys Cartin (EC). Thanks to Andy (DU), Abby Crofton (AC), Vaughan Grey (VG), Zandarl (DC), KathM (KM), Diana (DM), Giulia Del Buono (GB), Andy, William (WK), DJRiter (DR), Lisa (LM), Jamie (JC), Laura (DL), Prpleight (JH), Cecile (CL), Lip (PS), Milo (MJ), Thomas (TC), Jennifer (JP), María Sol (SO) and Kollin Lore (KL) for contributing.

For clarification, Fall TV generally refers to shows that premiere September-December and either go on hiatus in December or release all their episodes before December ends. There are a few shows we mention that will be starting in 2020 as well.

Please be aware this round table contains light spoilers for the last seasons of shows returning this fall. That section is designated, so you can scroll quickly past it.


DC:
Fasten your seatbelts.
AC:
New episodes!
VG:
Excedrin, please.
KM:
Exhaustion. Too many things to watch!
DM:
New season, new episodes.
GB:
So. Many. Shows.
DL:
Brand New Series!
SO:
So many shows, so little time
EC:
The exact feeling you get leaping into a pile of leaves.
MJ:
Chaos. There's never a dull season, and with so many shows airing at once it's always good fun.
DU:
God I better get that Cancellation/Renewal Spreadsheet ready!
PS:
Finally. It's like the January 1st of TV shows.
KL:
Christmas for TV junkies! Every year I can't wait to see what gifts the networks have in store for the new fall season and whether those gifts live up to expectations!
TC:
Excitement for new and returning shows, although the latter is tainted by a touch of dread because new seasons often mean cast changes.
JH:
Yay! My favorite time of the year has finally started!! (Seriously, The Fall TV Season is ahead of Halloween, Christmas, and Thanksgiving on my list of favorite times of the year.)
BW:
Fresh possibilities. There's the possibility of new shows to fall in love with and the possibility for returning shows to reset with fresh storylines.
JP:
It's half excitement for new and returning series, half dread of seeing the ratings. The ratings are not anyone's friend these days.
WK:
The words that come to mind when I think of Fall TV include excitement, anticipation, and security. For most of my life September also marked the return to school. Now that I'm embarking on my final year of my masters, there's a level of satisfaction knowing that my favorite stories are returning as they serve as a buffer amidst a rather intense workload.
LM:
New shows! New episodes! I'm SO old that I still remember when the big fall edition of TV Guide was a big deal and there were so few networks that they could have a page on every single new show!
DR:
The first things that come to my mind are the return of original episodes of favorites, a fresh start for show I want to like but somehow let me down last season, and a chance to find that hidden gem of a show that no one has said a lot about yet.
JC:
Help. I've had a look at my TV schedule for the next few months. Rather than have everything nicely spread out, most of my shows are airing on Tuesdays and Thursdays. So I have no clue how I'm going to keep up with everything. Don't get me wrong. I'm excited for the new fall season (summer was hella boring) but I'm also mildly panicking.
CL:
Fleabag
of course,
Big Little Lies
,
Younger
(even with that mess of a love triangle, it still delivers some laughs & nice moments) and I think the real revelation here was
Euphoria
, which kind of blew me away. There are a bunch of summer shows I'm planning on watching or catching up on (still) but haven't gotten around to yet: namely
Stranger Things
,
The Boys,
etc. Some of these summer shows have shorter episode orders and are often better constructed than shows that air during the regular TV season.
DU:
Mindhunter, The Terror S2, The Boys
. (I might have missed The Boys, glad I didn't)
JC:
I didn't really have a favorite, except
Agents of SHIELD
of course (and
The Handmaid's Tale
). I was kind of disappointed by the summer shows. I had high hopes for
Pandora
(because it sounded cool) but it turned out to not be that great. I did enjoy
Grand Hotel
, so I guess that out of the new ones that would be my favorite. Total guilty pleasure.
MJ:
Chernobyl, The 100, Succession
and
Stranger Things
DL:
Legion, Big Little Lies, The Handmaid's Tale,
and
Stranger Things.
They are all IMO excellent shows that I was excited to see!
GB: Euphoria, Euphoria, Euphoria
I didn't anticipate I would love Euphoria that much. To me, the pilot is one of the most solid pilots I've seen in a long time. Zendaya will sure win some awards for her portrayal of Rue. She's spectacular, the best performance on television along with the cast of Big Little Lies. I really liked season 2 of
Big Little Lies
. The cast knocked it out of the park, in spite of writing that wasn't (in my opinion) as strong as season 1. I was very late to the
Fleabag
party, but I'm glad I got there eventually. What a show! The dinner scene in the first episode of season 2 is probably one of the best television episodes ever written. And PWB is a genius.
AC:
Derry Girls
, I'd been waiting since the end of season 1 for it to be released on Netflix.
JH:
Reef Break, Grand Hotel,
and
Swamp Thing
were the first season summer shows I watched.
Siren
and
Stranger Things
, both in their later seasons were also on my summer viewing list. I also watched
Blood & Treasure
, but it wasn't must see. (I still have 8 eps on my DVR. It's a genre I really love, but the actors' banter never reached the
Whiskey Cavalier
level.)
VG:
On Being a God in Central Florida
because it speaks to our national condition so much more than it is being given credit for.
SO:
My favorite new show of the summer was
Blood and Treasure
. It took me a couple of episodes (or a bit more) to get invested in the story but I end up really liking it. The returning shows that I enjoyed the most this summer were
The 100
and
Agents of SHIELD
WK:
Pose
remains my top tier series for the summer. The road leading up to S2 felt long, but once it finally arrived I felt relieved. The time jump as well as the sole focus on the queer characters recalibrated Pose for the better by tightening its focus on what we loved about the show to begin with. S2 definitely had weaker moments (I still loathe 2x04 and Elektra's story this year lacked), but as a whole I felt content welcoming the legendary children back into my life.
Why Women Kill
is a new summer series that I embraced with open arms. The moment I learned about the plot, I was immediately drawn to the project as I was already a fan of Marc Cherry and I LIVE for stories about murderous betrayals. What stood out to me the most was the performances. All three of the leading ladies carry their own. Ginnifer conveys sincerity through her portrayal of Beth Ann, Lucy owns the room by devouring every scene as the fabulous Simone, and Kirby shines through her relatable yet grounded work as Taylor. Having lost both Devious Maids and Mistresses, Why Women Kill fills the void of summer soapiness with a playful yet dark outlook on the plights surrounding married women.
Euphoria
, hands down, is the best new series to be released this summer. Zendaya honed in on her capacities as an actress through her complicated yet layered work as Rue, marking a pivotal transition within her career. The series as a whole excelled through its breathtaking cinematography, energetic soundtrack, and charismatic performances depicting raw adolescent behavior in a manner that hadn't been shown to American audiences before.
DC:
Reef Break
was like a great summer read you take to the beach, with a strong female protagonist and a wonderful cocktail of sun surf and well yes the third thing.
BH90210
's delightful concept gave us a reboot/reality show all rolled into one. The cast playing heightened versions of themselves was a genius idea. It pleased the die-hard fans and gained a new audience as well.
DM:
I enjoyed
BH90210
. It was a refreshing new show with brilliant actors and performers. Also
Mindhunter
, I liked the first season, but season 2 was better.
DR:
It was a rather busy summer so I did not watch much new programming this summer. My favorite new show of the summer was
The In-Between
with Paul Blackthorne on NBC, its an intriguing show that deserves a second season, it grabbed my attention quickly and never let go. A returning show that I was anxious to see was
Absentia
with Stana Katic, and a new show that caught my attention was
Why Women Kill
on CBS AllAccess. I admit I am still a little bitter that one of my favorite summer shows ever,
Salvation
was not renewed and that may have played a factor in my decision not to get too attached to anything during the summer.
LM
:
The Handmaid's Tale, Agents of S.H.I.E.L.D.
, and
The Boys
were must-watch.
KM:
Fleabag, Claws, The Handmaid's Tale, and Pose
AN:
I really enjoyed the CW's
"Two Sentence Horror Stories"
.
PS:
Why Women Kill
was definitely the show of the summer.
BW:
My favorite new show of the summer is definitely
Blood and Treasure
! It is such a fun summer offering with likable characters and engaging storylines. Honestly, this show would've have probably gotten lost in my fall programming shuffle so I am glad they put it in the summer where it thrived. My favorite returning show is
Agents of SHIELD
! Having it in the summer was torture to wait for, but perfect to rely on as the months went on. I can't wait for its final run next year.
JP:
My summer shows were
Stranger Things, Agents of SHIELD,
and
The 100.
I also use the summer to catch up on shows I missed out on, so I end up watching like a third of my fall TV in the summer, and then watch new summer shows in the off weeks of the regular season.
KL:
My favorite returning show of the summer was Series 2 of
Black Spot
on Netflix. The maybe paranormal, crime drama centers around a cop in an eerie French town in a mountain surrounded by acres and acres of forest. The crimes she investigates are by humans but really strange, and the show has you constantly on your toes, questioning if there are supernatural forces at play. The overarching story is about the cop trying to find a missing girl while coming to terms with her own abduction when she was a child, bringing her closer and closer to the woods around the town, which seems to have a life of its own. The show doesn't go all out with its supernatural elements, but it pokes and prods and teases you and makes you question what really is going on, it is so deliciously addictive. Not to mention, the photography of the nature around them is absolutely breathtaking.
Elsewhere, the summer was owned by Amazon Prime in terms of new shows -
The Boys
and
Carnival Row
were by far my favorite shows.
EC:
Two of the few shows I managed to watch from start-to-finish this summer were
Carnival Row
and
The Boys
, which both combine next-level production quality with enthralling, messy stories. Carnival Row kicks off a wave of new fantasy dramas sweeping in to help us forget
Game of Thrones
. ABC's wonderful
Grand Hotel
and the CW's
The 100
were other standouts. As many of us do, I also tried to catch up on shows from the regular season. (I ended up watching multiple seasons of
Schitts Creek
most days.)
AC:
Single Parents
started slow, but the cast and writing really came together as the season progressed. Also,
Superstore
's supporting cast is excellent, and the great season finale set up a lot of stuff for this coming season.
DU:
The Boys
(Great new show)
, Goliath, and Castle Rock
VG:
Supernatural
and
The Deuce
.
DC:
Gentlemen Jack
, created by Sally Wainwright is based on the diaries of the real-life Anne Lister, wonderfully portrayed in the show by Suranne Jones. This period drama starts us on the journey of the life and loves of Anne. It is a unique and well-scripted series about this character who defied the norm and refused to conform to what society at the time said she should be like.
DM:
For returning shows,
Grey's Anatomy.
I know I should quit, this is what I usually say to myself, but I got addicted to it and I can't stop watching. It has been one of the shows I watched in the original language (my mother tongue is Italian, by the way). Other returning shows: 1)
The Good Doctor
. A beautiful show, so genuine and pure. 2)
Lucifer
, because since Netflix saved it, the show has improved a lot.
A new show you need to watch is Amazon's
The Boys.
It's a great show with a good cast and a beautiful story. If you think all the superheroes are good, you will change your mind.
SO:
The new show from 2019 I would recommend is
Love, Death + Robots
from Netflix. It's a show with 18 stand alone episodes (some better than others) and with all kinds of animation formats and stories that cover exactly what its title claims, some with shocking twists and upsetting endings, but each episode is no longer than 17 minutes so you can watch some to past the time while you wait for your fall shows to start. As for the returning, I'm gonna say
Charmed
and
God Friended Me
. At first I was a bit skeptical about Charmed. The first few episodes I was trying to find references and make comparisons to the original show, but then the story started to go to its own direction. From that point, you can really feel it's something completely new and different.
God Friended Me--it was a very pleasant surprise to find a show so refreshing that deals with topics such as faith, family, friendship, helping each other and doing good in a contemporary world with millennials and social media. Every episode has left me with a smile (and a few tears) on my face.
GB: Euphoria
, of course. Great storytelling, amazing cast, visually stunning and captivating.
Returning show, I would say,
Single Parents
. It's so funny and entertaining. I'm glad it got renewed.
TC:
I'd definitely say
Roswell New Mexico
, as it brings an interesting twist on an old teen drama that caters more to adults with an intrigue that left me completely hooked. As for returning shows,
SEAL Team
is definitely worth watching, as well as
The Rookie
.
WK:
Viewers need to get caught up on
Greenleaf
, one of the best nighttime soaps to be released this decade - if not the most underrated. Returning for its fourth season, Greenleaf embarks on a rather risky journey by placing the titular family in such disarray - as a result of their previous dealings - that it makes viewers question the degree to which they can recover from such damage. Lauded by Lynn Whitfield and Keith David's stunning performances, Greenleaf carefully depicts the scandalous underpinnings of a black family within the world of megachurches. Centered on betrayal, corruption, and justice the series also explores the taboos surrounding church dynamics including family violence and conversion therapy which evoke enriching conversation.
Power
is another series that viewers should take the time to watch as it remains one of the most iconic black dramas of the 2010s. Entering its final season, Power probes deeply into the gritty world of drug trafficking through the eyes of anti-hero James St Patrick who finds himself torn between the illegal trade and a life beyond that. Driven by strong performances, enticing storylines, and a stunning NY backdrop - Power works for the simple fact that it remains consistent by gradually building upon the themes that were established without regressing or expanding upon them too broadly. For that alone, the quality remains superior to its contemporaries like Scandal and Empire by actively taking creative risks without losing sight of the series' core dynamics.
JC:
I think I'd have to go with
Legacies
. I'm a sucker for this supernatural world. As for the returning ones, I'd say
Supernatural
and
How To Get Away With Murder
. Both are headed towards their final season and I must say, my expectations are raised.
DR:
The one new show from last season that viewers need to watch is
New Amsterdam
. This intelligently written show has redefined the medical drama for me. It has an intriguing premise, a cast the genuinely clicks together and compelling storylines for all of the characters that make you want to tune in each week. My other returning show that viewers need to catch up on shares two things in common with New Amsterdam: good writing/storytelling and an outstanding cast. The second show is
Supergirl
, which has grown in each of its previous four seasons. Its fourth season was the show's best yet as it delivered great performances, tackled complex storylines and elevated itself in quality far beyond its other superhero counterparts.
And on further thought I would add
Manifest
to this list.
LM:
The new show you really need to go back and binge is
The Boys
- just so, so good! Viewers should try to catch up on
Supernatural
to watch its final season. I can't wait for the new season of
The Crown
!
PS:
How to Get Away With Murder
is a must-watch, especially since this is the last year with Viola Davis as Annalise Keating.
JH:
I recommended
Carnival Row
to a friend. I started watching and ended up binging the entire series over a Saturday. It's story isn't anything new, but I liked the characters and the world building. As for shows in their 2nd or 3rd seasons that I recommend
9-1-1, SEAL Team, Roswell, New Mexico, Black Lightning,
and
Titans
are all shows I've talked up to my friends and family.
AN:
Two Sentence Horror Stories
. I liked what they did with the concept, and I liked a lot of the stories-there were a few in particular that I thought had some genuinely creepy moments.
For returning shows, probably
The Good Doctor
and
How to Get Away with Murder
.
BW:
God Friended Me
comes highly recommended from me. I was so skeptical of this show just based off the name alone, but it is like a dose of goodness that isn't in your face about any message other than hope. The chemistry with the cast is fantastic and if the name puts you off, don't worry, they are not trying to convert you one way or another! The two returning shows would be
Superstore
and
SEAL Team
. Trust me when I say they are fantastic television.
CL:
The must-watch new show of 2019 is
Euphoria
. It's like nothing else on TV right now, it's gorgeously shot and Zendaya is a star. It's not always an easy watch (most good shows aren't) but it's definitely worth it. Two returning shows to catch up on:
Superstore
, because I feel like people are only just now finding out what a great little show it is ; and
Silicon Valley
. It's the last season, and it's a show that has succeeded in staying consistently good & hilarious while not being very high profile. Jared is reason enough to catch up on the show and keep watching when it airs again.
MJ:
Chernobyl
without a doubt for the new drama, utterly perfect storytelling that's up there with the best of them. And for fall TV, if you're not already watching
Peaky Blinders
(currently airing Season 5 and due to air on Netflix in the USA after it's UK run has finished) you really should be, it's period drama at its best. My other recommendation would be
Marvel's Runaways
on Hulu, back for Season 3. Get caught up on both that and
Cloak and Dagger
- they're among the more underrated corner of the Marvel pantheon - and will have a long awaited crossover this season.
EC:
Without a doubt
Killing Eve
and
Chernobyl
were absolute triumphs this year.
Gentleman Jack
too was a complete masterpiece that appeared from nowhere like a gift from the TV goddesses.These shows are so utterly perfect that I would classify them with
The Haunting of Hill House
as being shows that can ruin all other TV forever because nothing can compare. And
Fleabag
is, ironically, the most divine invention. Broadcast TV still holds a large part of my heart, and
The Resident
and
New Amsterdam
are not-to-be-missed. Also, the best thing I can recommend is that you catch up on
The Durrells.
The first 3 seasons are available on Amazon Prime, and the final season will air on PBS in the US this fall.
JP:
The new show of 2019 that I recommend the most is
Russian Doll
, especially if you like T
he Good Place
and are looking for a darker, more dramatic, but still really funny replacement for when the latter ends this fall. Russian Doll explores mental health, what we owe to other people, the importance of human connections, all with sharp writing, great performances, and a surprising amount of humor. As for returning fall shows, if you haven't watched
The Good Place
yet, this is the last chance to catch up before the finale. And I'm cheating a bit for this answer as I'm recommending all three of the CW fall shows from last year as well.
All American
is
On My Block
meets
The OC
with football;
Legacies
is TVD mixed with the earlier, lighter Harry Potter books; and
Charmed,
while a bit more heavy handed than the others and slower to find its rhythm, is an interesting update to the older series with a richer, more defined world and mythology that I'm eager to see what they do with in season two.
KL:
MARIANNE!!
Netflix has been meh when it comes to their North American content as of late, but their international shows are fire! Marianne is a French horror show that is kind of like a mixture of Stephen King's Haven and IT, about a horror writer who goes back to her home - a small, seaside town - after finding out that her writings are coming true. There she reunites with old childhood friends and they confront a witch who has come to life from her book. It is freaky as heck, but also some nice humor and character moments to balance things out. In terms of returning shows,
The Rookie
was a pleasant surprise when it debuted last fall season and it is returning for its second season in the weird timeslot of 10 pm on Sunday. Yikes!
Jack Ryan
, season 2 airing on November 1, had a terrific first season. John Krasinski as the titular character was so perfectly cast and the show from the beginning to end was tense and full of such high octane action.
AC:
I'm seeing a lot of
Batwoman, Sunnyside, Bluff City Law,
and
Stumptown
ads.
MJ:
I am more inclined to check out
The Unicorn
than I was before. Blame Walton Goggins.
VG:
Katy Keene, Nancy Drew, Evil.
My outlook doesn't change unless I actually watch the shows.
KM:
I am bombarded with
Evil
ads a few times a day, as well as
All Rise
. They have been airing hard and fast since early this summer.
Nancy Drew
pops up now and then as well. Also
Carol's Second Act.
GB:
Being a hardcore fan of the Kings, I'm pretty excited about
Evil.
AN:
Given some of the positive reviews for
Evil
, and the premise, I may be giving that one a look.
DR:
The one new show that I'm being overdosed on right now is
Bluff City Law
, like the network has a great deal invested in the show and are looking a little desperate right now in securing its success. I've been hearing a lot of good things about several shows that had sneak peeks dropped early and sadly not so good things about a show or two I was excited about.
JC:
Batwoman
is probably the show I've seen the most promotion for. I'm trying to limit the new shows I start, and I haven't changed my mind about that. But I have added
Emergence
to my maybe list. Something to check out over the summer if the online response is good.
BW:
Emergence
! It is as if ABC has knocked on my door asking me if I wanted to talk about the new show Emergence (I am still not going to watch though). Also,
Batwoman
. I feel like I could re-enact the ad with Kate Kane giving away her watch in my sleep. I will say that my outlook has changed on
Nancy Drew
for the negative and
Stumptown
for the positive.
CL:
This year I feel like I haven't really heard about any frontrunners. I'm excited (or rather intrigued) by what
Undone
will bring, and I will try
Katy Keene
,
The Politician
, and of course
The Morning Show
.
EC:
Less than a month ago, I wasn't even slightly interested in the Apple TV+ shows, but the promotional campaign and trailers for
The Morning Show
and
Dickinson
have guaranteed my eyeballs will be tuning in for a look. Each promo for
Nancy Drew
and
Batwoman
injects a skip into my step. Another extremely-hyped event is the annual CW DC crossover. This year's
Crisis on Infinite Earths
promises oodles of bite-sized portions of fan service. Less certain is whether or not a meaningful story will be found among all the cameos and handshaking. My expectations are that the event will prove to be an extended length promo for the individual series. My hopes, admittedly baseless according to the crossover track record, is that the events of Crisis will provide a needed reset for
The Flash,
a show that has declined in quality so much that season 1 feels like the remnant of another timeline that it actually is on the show.
JP:
Dickinson, All Rise,
and
Batwoman
I've seen the most promotional material for;
Stumptown, Evil,
and
Unbelievable
have gotten the most hype from critics and reporters; and I've seen the most fan hype for the new CW shows, unsurprisingly. I've switched my opinion on
Almost Family
. I was excited about the actresses they cast and to see what the show did with the premise, but everything I've heard from panels over the summer has made me think that the writers are going to really underplay how awful what the owner of the fertility clinic did to these women, and now I don't know if I'll watch it at all. On the flip side, the more that comes out about
His Dark Materials
, the more excited I get. I don't want to get my hopes up, because the movie disappointed me so much, but I can't help it. I'm so ready for this.
KL:
Stumptown
and
Evil
have been getting a lot of promotions and hype and for good reason. I was looking forward to those shows from the get-go and what I've seen in promotions hasn't disappointed, not to mention the early rave reviews from critics. Nothing has changed since the upfronts, although my anticipation may have increased for shows like
The Witcher
and
Mandalorian
, as well as,
Prodigal Son
,
Evil
and
Stumptown
.
AC:
Superstore
- I've been wondering what they're going to do with Mateo's situation.
JC:
Spring was so long ago. The
Supernatural
finale did stick with me, because it really showed that we're headed towards the end. The
Arrow
finale was just weird. I don't know what they're going to do with that final season. I don't remember many details from the
Grey's Anatomy
finale but I remember not liking it. And I almost forgot the ending that got me the most excited for the new season, the
Supergirl
one. I'm so excited to see what'll happen with Lena and Kara.
JH:
I've been seeing a lot of promos for
Batwoman, Bluff City Law, All Rise, Perfect Harmony, Evil, Emergence, Prodigal Son,
and
Treadstone.
VG:
Supernatural
'
s
finale gave me some hope for the final season. I will not skip it now.
DC:
Station 19
: can't wait for it to return. The last season of
The Flash
, right up to and including the finale, had me struggling to watch, though I undoubtedly will tune in again due to the crossover.
DL:
The Good Fight
's third season and its ending. I was quite surprised to learn that Rose Leslie is leaving for good! It would of been one thing for her character to skip season or come back in the back half in recurring capacity, but so far, The Kings have made no such claim and everything feels very final, especially since there have been no interviews from Rose Leslie either. It leaves a little bit of a weird taste in mouth, because Maia was basically Diane's redemption character, after not being so good of a mentor to Alicia Florrick during the run of
The Good Wife
. I find this rather abrupt and it makes me a little less excited for season four.
AN:
The
Criminal Minds
finale, definitely, both because I'm intrigued by how it ended and because of all the fandom debate surrounding that ending. I'm personally curious to see where they go with that, and, of course, how they'll wrap up the show as a whole. Same with
The Good Doctor
-I really liked the way last season ended for Shaun, and I'm excited to see what comes of that, too.
DR:
The biggest cliffhanger that has remained on my mind is the ambulance crash on
New Amsterdam
. We've learned at least one, possibly two characters may have died and the speculation on who that may be is running rampant on social media. This is primarily due to the fact that the show did such an outstanding job of getting and keeping viewers invested in these characters.
BW:
For season finales I would definitely say
Superstore
and
Chicago Fire
. For Superstore, I never thought they would go there and have Mateo detained, but it is such an important story to tell in today's current climate so I give them props for going there. Chicago Fire, not since the season two finale have I felt we could lose a core member of the cast. On a shipper note, I want Brett to ditch the Chaplain and explore her chemistry with Casey so I am waiting with bated breath and hoping that they both survive and Brett comes to her senses!
PS:
The finale of
Pretty Little Liars: The Perfectionists
didn't feel like a finale at all. I'm not sure I could skip future seasons, but nothing huge happened and the finale didn't stick with me at all. A big misstep I hope won't happen again (if it gets renewed). I absolutely loved the finale of
Roswell: New Mexico
and I can't wait for Season 2 next spring.
CL:
Superstore
's season finale was chilling, and demonstrates how much the show actually cares about these issues. It's a comedy but suddenly it didn't feel like one.
Grey's Anatomy
's season finale made me wonder if I really wanted to invest in an upcoming season after cliffhangers that didn't really make me care about their resolution, but I'll probably keep watching out of habit.
MJ:
I spent a lot of the summer catching up on shows like
Supergirl
and
Legacies
so the cliffhangers of both seasons are still comparatively fresh for me. But yeah, Legacies stuck with me for sure (showing the series' growth), as did
The 100
's, and although I was underwhelmed by Legends of Tomorrow I have faith that it's only a one-off disappointment from a normally excellent show.
EC:
Will Higgins accept Magnum's "proposal"? It's such a quiet cliffhanger note, and that's why I loved it.
Magnum P.I.
had a fairly explosive finale, but it rested on its core strength (the character bonds) to set the stage for season 2.
JP:
No big cliffhangers spring to mind, or maybe they're just losing some of their impact after I've seen so many of them over the years. As for a show that I feel ended in a way that makes me feel like I don't need to see the rest, the answer is
Arrow
, but in a positive way. I'm still curious about how the 2040 world pans out and really do enjoy those new characters, but I feel like the show did a (mostly) great job wrapping up all the present day stuff I'm interested in, Monitor interference aside. I kinda don't want to watch their final season because I don't want them to mess up or undo anything I enjoyed about season seven.
JH:
The finale of
Roswell, New Mexico
left me completely flummoxed. I have no idea how they're going to handle that season finale reveal in season 2. Can't wait to find out.
DR:
Ryan Eggold, Max on
New Amsterdam
; Freema Agyeman, Helen on
New Amsterdam
; Melissa Benoist, Kara/Supergirl on
Supergirl
, Chyler Leigh, Alex on
Supergirl
; David Harewood, J'onn on
Supergirl
; Katie Cassidy-Rogers, Laurel/Black Canary on
Arrow
; Tala Ashe, Zari on
Legends of Tomorrow
; Mariska Hargitay, Olivia Benson on
Law & Order: SVU
; Jodie Whittaker, the Doctor on
Doctor Who
; Catherine Bell and David James Elliott, Mac and Harm, on
NCIS: Los Angeles
; and the addition of Katrina Law to the cast of
Hawaii Five-O
.
VG:
Rami Malek in
Mr. Robot
. What will he do as Elliot post-Academy Award? That is something I never could've expected to think when the series began.
AC:
Katie McGrath as Lena Luthor on
Supergirl
. She knows about the secret identify now and is pissed, can't wait for the angst and drama!
WK:
I've lost touch with
HTGAWM
but I'm VERY excited to hear if not see what material they have up their sleeves for Viola. Given her talent and the impact that Annalise Keating has made on television, the writers need to do right by Viola and give her material that'll leave audiences shaken before she sings her swan song.
GB:
I'm pretty curious to see Stephen Amell play Oliver Queen for the last time. He's proven to be a great actor throughout these 7 seasons of
Arrow
.
DC:
Katie Mcgrath as Lena Luthor, newly hurt and betrayed. Will she become the main villain of the new season on
Supergirl
?
JC:
I can't wait to see Katie McGrath in the new season of
Supergirl
. I just know she'll knock it out of the park. And Viola Davis in the final season of
How To Get Away With Murder
.
DL:
Michael Emerson. He hasn't been on TV for a year or so since
Person of Interest
had it's fifth and final season. He's playing an antagonist on Michelle and Robert King's
Evil
. Obviously fans of Emerson's know he's good at this after his
LOST
role as Benjamin Linus, but what really gets me excited is that he may share intense scenes with
The Good Wife/The Good Fight
's Mike Colter.
EC:
Jennifer Morrison!!! It doesn't matter at all that
This Is Us
drifted out of focus for me. I will tune back in to see Morrison get some of those long, devastating monologues. Cote de Pablo's return to
NCIS
also has my attention.
A Million Little Things
just got more and more amazing over its first season, and I look forward to seeing what the entire cast get to do. Also looking forward to Rufus Sewell in
The Man in the High Castle
and the upcoming Agatha Christie miniseries
The Pale Horse.
JH:
Based on last season, I''ll go with David Boreanaz. It's easy to get those huge, impactful performances when you're on a show like
New Amsterdam
or
This is Us
, but Boreanaz proved in multiple episodes last season of
SEAL Team
that procedural shows can pack the same punch.
BW:
James Roday as Gary Mendez on
A Million Little Things.
He so perfectly blends the serious and funny sides of his character. I am really looking forward to his character and Allison Miller's Maggie exploring their new dynamic. I also can't wait to see how Ryan Eggold plays the fallout of the cliffhanger as Max on
New Amsterdam
. Finally, Max Theriot as Clay on
SEAL Team
.... his character was injured and lost a fellow SEAL to suicide and Max played it beautifully which makes me excited to see what he will do next.
JP:
The entire cast of
The Good Place.
They are all so amazing, and have I mentioned I love this show? I didn't really think like a third of these answers would be me fangirling about TGP, but here we are.
PS:
Viola Davis. She's extraordinary. I can't even imagine what they have in store for the end of Annalise Keating's journey. One of the most powerful characters on TV.
MJ:
The entire cast of
Peaky Blinders
is exceptional as always - Cillian Murphy, Helen McCrory et al (joined by Anya Taylor-Joy this season!) and I can't wait to see what happens to them next. If there was any justice in the world Murphy would have won an Emmy by now.
KL:
Michael Sheen will be returning again to network TV in
Prodigal Son
and to see him play a serial killer, my gosh, don't get me started.
AC: Superstore, The Morning Show, Zoey's Extraordinary Playlist, Black Lightning, Bob's Burgers
VG:
Creepshow, The Deuce, Mr. Robot, Watchmen, Transparent Musicale Finale
DC: The L Word
(new),
Station 19
(drama),
One Day at a Time
(comedy),
Supergirl
(returning), and
The Crown
(streaming).
DM:
Brooklyn Nine-Nine, Riverdale, The Morning Show, Grey's Anatomy
, and
Carnival Row
GB:
Single Parents
(comedy)
, Evil
(drama)
,
Dickinson
(new show)
, Chicago Med
(returning show)
, and Modern Love (
streaming show).
JC:
Motherland: Fort Salem, Looking For Alaska, A Million Little Things, Single Parents,
and
Supergirl
CL: The Morning Show, Silicon Valley, Superstore, The Politician, Riverdale
DL:
The Mandalorian
(Streaming, Drama, New),
Evil
(I'm classifying this as my Comedy entry, since the Kings' works tend to be Dramedies),
The Crown
(Returning, Drama),
Watchmen
(New, Drama), and
His Dark Materials
(Drama, New)
BW:
Comedy:
Superstore
, Drama:
SEAL Team
, New Show:
The Unicorn
, Returning Show:
Mayans
MC
, and Streaming Show:
The Man in The High Castle
PS:
Comedy:
Modern Family
, Drama:
How To Get Away With Murder
, New Show:
The Morning Show
, Returning Show:
American Horror Story: 1984
, and Streaming Show:
Lizzie McGuire (revival)
TC:
Modern Family, This is Us, Prodigal Son, Magnum PI
and
The Crown
EC: American Housewife
(comedy)
,
Batwoman
(new show)
, A Million Little Things
(drama)
,
The Durrells in Corfu
(returning show), and
Carmen Sandiego
(streaming with season 2 coming Oct. 1st).
WK:
For my lovely TV basket, on the comedy side it would definitely be
Black-ish
. That show always puts a smile on my face whenever I watch it. Between the chemistry among the cast and the relevant topics that get highlighted, there's already so much to take away from the show. Not to mention, the guests this season are on point (Loretta Devine... The GIRLFRIENDS reunion!).
For dramas, I'll say
AHS: 1984
. Now, AHS as a whole has been touch and go for the past few years but there's something enticing about its story this year. I've always been a fan of classic slasher flicks so the season's homage to Friday the 13th and Halloween could work so long as the writers remain creative and invested. Plus I'm obligated to support Angelica Ross in anything she does, so the green light was already given.
Wu Tang: An American Saga.
I adore hip-hop stories (which is why I'm still bitter about
The Get Down
) and to be quite honest, it was about time we finally got to see the origins surrounding one of the most influential if not iconic groups to grace the 90s. I'm a fan of both Ashton Sanders and Shameik Moore so I'm very happy to see the both of them in leading roles. Not to mention the 90s setting, the NY backdrop, and its KILLER soundtrack is bound to have viewers invested.
JH:
This is an evil question.
Comedy
:
Young Sheldon
_ (I don't watch that many sitcoms. This is one of the rare ones I watch regularly. I didn't expect to like this show as much as I do.)
Drama
:
Roswell, New Mexico
(This show continually surprised me with it's refusal to follow teen drama cliches.)
New Show
:
Emergence
(I'm most interested/curious about this series. There are a couple of other new shows high on my list to check out, but I'm most curious to see how this one turns out.)
Returning Show
:
SEAL Team
(The quality of this series improved so much in season 2. If you like action....check it out.)
Streaming Show

: Titans (This show was one of the biggest surprises last season.)
MJ:
Streaming Show:
Peaky Blinders
(counting it as streaming as it's a Netflix original in the USA)
New Show:
His Dark Materials
Returning Show:
Marvel's Runaways
Comedy:
The Good Place
Drama:
The Expanse
DU:
After Life
(Comedy),
Watchmen
(New Show),
The Kominsky Method
(Streaming),
Goliath
(Drama), and
AHS:1984
(Returning)
JP:
Comedy - Difficult choice among
The Good Place
,
Brooklyn Nine-Nine
, and
One Day at a Time.
Drama and New Shows -
Stumptown
and
Nancy Drew
. I'm combining these categories for a PI package, as I'm hyped for both series. Also, Robin Sparkles is back on my TV - yay!
Returning Show -
All American
, because if more people don't start watching I don't get any more of it, so please do. I want more Coop in my life.
Streaming Show -
The Great British Bake-Off
. Everyone should have this calming, sweet series in their life.
SO:
The Good Place, God Friended Me, Prodigal Son, Magnum P.I.
and
The Man in the High Castle
KL:
Comedy:
The Morning Show
. I don't watch much comedy, but this Apple TV+ dramedy looks like it could be a major hit. With a cast that includes Jennifer Aniston, Steve Carell, Reese Witherspoon, Gugu Mbatha-Raw, Mark Duplass, and Billy Crudup, how can you go wrong? I also love journalism-centric shows, so the story is even more of a plus for me.
Drama:
Evil
. I am a sucker for paranormal shows and with
Supernatural
ending, there will be a need for a replacement to scratch my itch. Evil could potentially be that show.
Returning Show:
The Rookie
. The Nathan Fillion led cop drama explores themes and issues that are very human and relatable, and the chemistry between all the leads is spot on.
Streaming Show:
The Mandalorian
. This sci-fi western looks absolutely breathtaking.
DR:
Comedy – I have been disappointed in the state of comedy on TV for some time although I do plan on giving
Perfect Harmony
on NBC a try. The premise sounds fun.
Drama –
New Amsterdam
– I know I'm sounding like a broken record about this show, but I cannot stress enough how good and underrated this show really is.
New Show – There are several new shows I'm looking forward to watching – including
Batwoman, Stumptown, Emergence, Prodigal Son
, Helen Mirren as
Catherine the Great
.
Returning shows – I can't pick just one, I am excited for the return of
Supergirl
, the record breaking 21st season of
Law & Order SVU
, the long-awaited reunion of Mac and Harm on
NCIS Los Angeles
, resolving the cliffhanger of
New Amsterdam
, and watching the build up to the ambitious CW
Crisis on Infinite Earths
crossover. And I must admit I am looking forward to the return of my favorite guilty pleasure show – the
Masked Singer
.
Streaming show – Looking forward to
Picard
on CBS All Access, and more of the deliciously funny and wicked
Why Women Kill
also on CBS All Access.
AC:
Don't feel like you have to watch everything. It's okay if you catch up on something weeks, months, or even years later. Even if you do get spoiled, you can still enjoy a show.
GB:
Enjoy it, and remember that everyone is entitled to their opinions. If someone doesn't like the shows that you like, that doesn't make them your enemy. Let's all be respectful and share our thoughts without being mean to one another.
VG:
Don't lose your cool on social media every time something remotely dramatic happens. Learn to meditate more. Also, don't binge watch more than your schedule can handle.
DC:
Basically avoid social media. You can almost always accidentally come across a spoiler you didn't want to see.
KM:
Take it SLOW. There will be a barrage of old and new shows coming at you in the next few weeks, and you don't need to watch them all at once. Start with what you really want to see first and record the ones you may find interesting later. If you feel like surfing websites covering shows you watch, try and stick to sites that are known to be really good about labeling spoilers, like ours (😊) . Be clear when talking to friends that you want to remain spoiler-free about shows you haven't watched yet. Real friends don't spoil.
DM:
Just avoid social networks, especially during the episodes. Social networks are the worst when it comes to spoilers because people like to live comment and everything.
WK:
Do the best that you can to refrain from the internet until you've actually watched the episode. Or, you can flag particular articles, discussions, etc for when you're ready to be a part of the conversation. It's also important to be reasonable with yourself. You can't watch everything and certain shows take precedence over others. Just know that you can go back to the one when the time aligns.
DR:
The best advice I could give is believe half of what you read, little of what you see in craftily edited short promos, and don't judge a new show by a single episode – give a new show at least 2-3 episodes to find its feet and characters. If you want to avoid spoilers, stay off social media or mute words/shows so you don't see related content.
JC:
If you want to avoid spoilers, stay off Tumblr until you've watched the episode in question. Trust me, I learned this the hard way. Also, if you plan on watching a lot of shows like me, try to make a schedule to keep track of things. Use sites like Trakt to keep track of what you've watched (I'd be lost without it). And of course, use
SpoilerTV
.
DL:
For Spoilers, stay off social media! LOL. But if you are looking for general information or a way to sample all of the new shows, you can always visit SpoilerTV.com and our
YouTube
channel to check out cast and trailers!
AN:
I think it's important to have a particular group of fellow fans you feel most comfortable talking to about shows. Discussion among a large group of fans can be good, of course, with lots of room for different opinions and fun interpretations of characters and all that good stuff. But it can also lead to a lot more fandom drama and it can cause people's views and thoughts to be drowned out. You need that quiet little corner for yourself and any other people you most enjoy talking to, in case you do encounter or need a break from any possible drama.
And if you do encounter obnoxious fans, <b>do not</b> engage them. No matter how much you may want to correct them or call them out or whatever, it's not worth the time and effort. Just ignore, block if needed, and if somebody's behavior is really going above and beyond the pale, don't hesitate to contact or report to any moderators on sites that have them, too.
JH:
Sanity? I got hooked on television before the invention of VCRs. When I had to do something extracurricular I missed my show and had to wait for the summer to catch up. (We also had no choice but to watch commercials.) Now we have the greatest invention EVER (after indoor plumbing and air conditioning)---the DVR!!!
For conversations, I very very strongly recommend the SpoilerTV website. What SpoilerTV provides is a place where people are free to express their opinions about their shows without being berated or bullied. I have seen posts from people noting that the were attacked when they expressed an opinion on another website or on Twitter. That kind of behavior is not condoned on SpoilerTV
CL:
If the show is truly good, a spoiler won't (and shouldn't) ruin it. Of course, it's more interesting to find out and be surprised during the episode, but ultimately the shock value isn't what is going to impact you the most. If you really want to avoid them, well... don't go on social media! Comment sections of reviews/recaps are great for conversation about the episodes. As for retaining sanity, well... find other shows to watch (preferably ones that air all in one go) when yours suddenly go on hiatus for 3 weeks and leave you deprived!
PS:
Watch LIVE, it's the best way to avoid spoilers and keep your favorite show on the air. If you can't watch live and you're afraid of major spoilers, just stay away from social media until you have watched the episode. STAY AWAY. No matter how hard you try not to read, you'll get that spoiler if you're online.
MJ:
Muting show-related words is your friend on Twitter if you can't watch them when they air.
SO:
First, if you're a fan of watching or sampling too many shows you'll need a calendar to schedule them and don't miss those you really want to watch, also an app like TV Time or CineTrak can help so you stay organized with your shows and not to die trying.
As for spoilers, I think if you really don't want to know anything about a certain show, storyline or character you should avoid social media until you watch the episode, or at least be aware of the people or accounts that could spoil you and try to stay away from their posts or even block them.
You can find interesting conversations in the Spoiler TV comments sections were you'll surely find people that may agree or disagree with your opinions but in a polite manner. The important part here is that you enjoy this wonderful time of the year. (
Editor's Note
: *Round Table Title Credit)
BW:
SpoilerTV is the place to go for civil and interesting conversations. I know I say this as one of the writers, but it seriously is! Our community is the best and if you want to have fruitful and meaningful dialogue, visit the off topic chat or one of the many show threads and you'll find a safe space for all things TV. For keeping track, I recommend a tracking app (TVTime is my favorite) to tick off what you've watched and what you still have left to enjoy when time allows.
JP:
My biggest tip is that Fall TV should be fun, not stressful. If you have too many shows, remember that streaming is a thing, and that networks usually keep up to five episodes on their sites. Catch up when you can, including after the season's over if you have the right streaming service. Also, if a show isn't doing it for you anymore, walking away for a while or even permanently is always an option. Muting words or tags on social media, or staying off those sites altogether, is the best way to avoid spoilers. And remember, you're allowed to like whatever show you want for whatever reason you want, and to engage in fandom as much or as little you want to in any way you want to, as long as you don't mistreat anyone for having a different opinion. Whether it's in the comments of SpoilerTV, looking through tweets about the show to see if someone has similar thoughts on an episode, or telling your favorite author on A03 how much you like their fanfiction, it's all good. Find whatever makes TV and fandom fun for you and then do it.
DU:
This is the simplest and ONLY way to avoid spoilers. Stay indoors, shut the TV off, pull out your modem, cut your phone line, put your mobile phone in the bin and finally wrap your head in Tin Foil.... Then each week just turn on your TV just for LOST 😏. Rinse and Repeat for 16+ weeks and then resume normal living.
EC:
Thank you for reading our round table. We'll be posting discussion threads with polls for most new episodes or seasons (cough Netflix, Amazon, and all those other crazy kids) on the night they are released. Those posts stay up so you can comment on the episode whenever you watch it. We look forward to all the conversations this year's buffet of Fall TV will inspire.