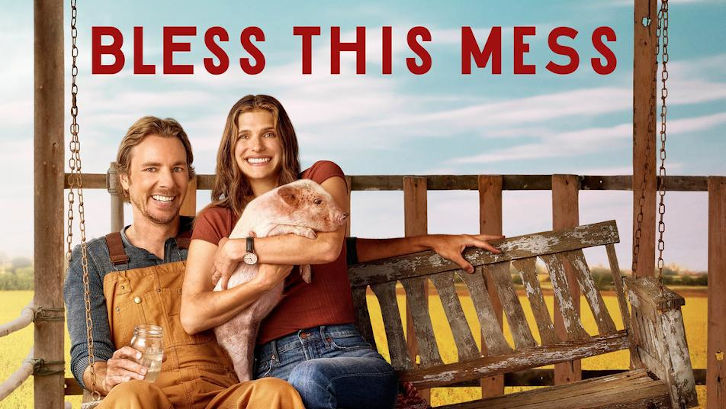 The oh-so-eccentric citizens of Bucksnort, Nebraska are back! The lighthearted ABC comedy, Bless This Mess, is officially back on air after its freshman season. To give a quick refresher to those of you who haven't quite caught up on its six episode long first season, Bless This Mess follows New York City natives Rio (Lake Bell) and Mike (Dax Shepard) Levine-Young as they transport themselves all the way across the country to a small town in the middle of Nebraska with a bustling population of 457 people. Despite their optimism to press restart on their life and plant their roots in a more peaceful city, they are swiftly hit with the realization that they are going to have to put in work to be seen as anything but outsiders. Last season ended with Rio and Mike proving to their abrasive neighbors, Kay (Lennon Parham) and Beau (David Koechner) Bowman, that they were here to stay by saving their barn from a fire. The show picks up in season two with the Levine-Youngs optimistic that they are going to finally be considered locals, but like most things in Bucksnort, things don't always go according to plan.
The season premiere,
459
, begins with the town bustling over the opening weekend for the Nebraska Huskers. Town sheriff and convenience store owner, Constance Terry (Pam Grier), is tasked with drawing the name for one family to host the party for the big game, and surprise, surprise, Mike and Rio win the lucky draw. The cold open for this episode immediately brought us back to the lighthearted fun energy that made season one so enjoyable. Instantly, I felt as if I had a personal invitation to become an honorary citizen of Bucksnort.
There were multiple laugh-out-loud moments throughout the episode that kept me completely engaged throughout the span of the twenty-two-minute comedy.
Bless This Mess
has rightfully earned its place in my heart as a comfort show that you can depend on for laughter and a happy ending. After a solid first season, I was curious to see where season two would take us, and I was very pleased see that the story took us right back to what makes this show so enjoyable in the first place: seeing the unbreakable bond that every citizen of this small Nebraska town has with one other.
By the end of the episode, the town's population sign was officially changed to 459 to initiate the Levine-Young family into official Bucksnortians (or whatever they'd like to be called!). After a season one where Mike and Rio were definitely treated like outsiders, I'm excited to see how the plot lines shift and character relationships evolve to account for the fact that they are officially seen as real members of the town and not just "those New Yorkers!" Ultimately, I enjoyed the episode, and I sincerely hope that the rest of the season feels just as bright and exciting as
459
. How did you feel about this season's opener? Was it enough to keep you waiting for more? Sound off in the below and be sure to tune in Tuesday nights at 8:30 PM to keep up with
Bless This Mess
!