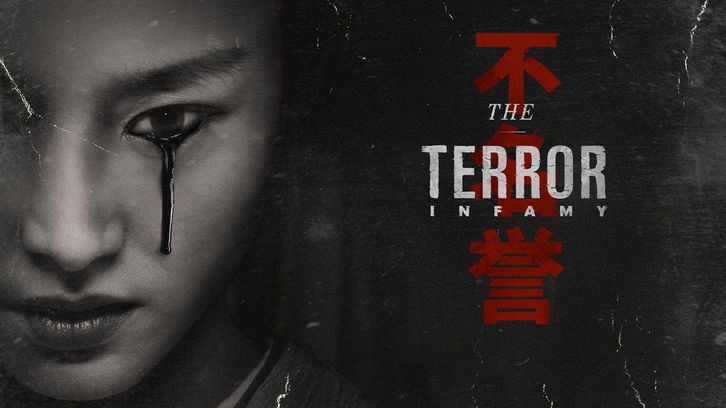 Beware: This Review Contains Spoilers!
So far, the second season of AMC's
The Terror
has used familiar supernatural tropes to fuse with effective historical storytelling. It hasn't always worked as the character Yuko is well performed by Kiki Sukezane, but feels shoehorned into the narrative thus far. I have even unfavorably compared her to the Carice Van Houten's character, Melisandre, in
Game of Thrones
. The creators have relied on jump scores and some gore, as if to undercut the dramatic tension that a slow build narrative usually affords. It is as if they do not trust the audience to stick around long enough find out what the demonic spirit, the yurei, has to do with our protagonist, Chester's, unborn child. The ratings have shown that this commercial grab was probably in vain as the first season's audience has almost completely evaporated.
But none of that means that
The Terror: Infamy
isn't compelling enough to warrant appointment viewing as far as I am concerned. While it is clear that season does not have pull the first season possessed, I still want to see how any it ends up.
This episode, 2x03 Gaman, is starting to right some of the wrongs of the previous episodes. Here, the interactions between Chester and his pregnant girlfriend, Luz, are now starting to feel natural. Luz's decision in the precious episode to follow Chester to the interment camp didn't feel authentic to me, as if the actors didn't believe it themselves. Here, you can see they are growing into very compatible scene partners. It was also nice that Asako, Chester's mother, is starting to treat her better seeing that she is bearing his child and all. The thing that bothered me in this episode is Chester's hypocritical decision to join the military. It is clear that he isn't being noble as much as trying to get away from his family, his heritage, and everything he knows. This bothers me since his father, Henry, has suffered b/c of the USA and the fact that his son is joining their armed forces probably doesn't settle well with him.
Speaking of Henry, Shingo Usami is still stealing the entire season away from everyone else with his naturalistic performance. One thing that surprises me so far is how little they using George Takei's character, Yamato-san, this season. I assumed he was one of the main characters when his casting was announced. His performance was very subtle and satisfactory with this episode, but he was not given much to do other than question the presence of a vengeful spirit when it is obvious at this point that Yuko's appearance was indication enough that there is such a monster among the prisoners.
Not surprisingly, we are also starting to learn that certain characters have a history with Yuko, including Furuya-san, who met his fate at her hands in the forest at the end of the episode (fantastically, btw). The mystery is what did Yuko do to have had a cruel fate placed upon her soul after her mortal life? Did they drive her to a ritualistic suicide? Interesting how both Furuya-san and Yoshida suddenly remembered her before they died. I am guessing that is going to lead to something. Is this tied to Chester's baby? Do the residents of the Internment Camp actually enjoy sleeping in the beds all day? Only future episodes will tell!