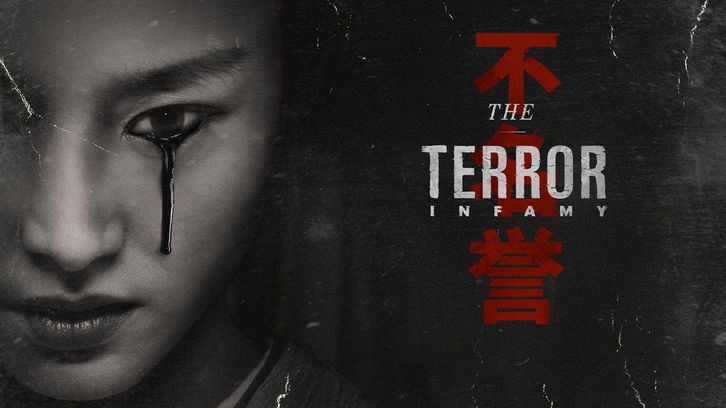 When I think of this episode, all I can see is....
ice fishing
...
Only two episodes into the second season of AMC's
The Terror
(subtitled
Infamy
) and I am sure that the writers were more obsessed with crafting a realistic view of the Terminal Island concentration camp (or War Relocation Center) than extrapolating actual supernatural terrors onto the audience.
This episode, 02X02: "All the Demons Are Still in Hell," takes great lengths to make Derek Mio's Chester Nakayama character more likable and compelling than the previous did, which made him seem like a dull observer more than anything. Kiki Sukezane's Yuko still feels like she was tacked on by the creators to fulfill some artificial rule about creepy characters in a supernatural historical series. The romance between Chester and Cristina Rodlo's Luz is starting to feel more organic and less....well, scripted here. The fact that Luz leaves her child behind to join Chester in the concentration camp does seem pretty far-fetched, even for a horror series. The scene where she gives herself up to the FBI agent gives her a dramatic purpose and will probably foreshadow her demise since it was possibly written to make her seem more sympathetic than she previously did.
Like the previous episode, it is Chester's father, Henry (Shingo Usami) who steals the show. We see him in a cell, ice fishing (yes, that ice fishing I referenced above), confronting the traitorous Nick, and continuing to convince the authorities that he is not a spy. Why did we not see Kai Bradbury's Nick sink into the ice? Again, possible foreshadowing for the demonic spectre that is still far away from Terminal Island. The final image of the American flag waving gave me more creeps than any demon they are conjuring on this show.
As for the actual spirit we are are patiently waiting to see more of in the show, it seems to be haunting Wilson Yoshida, who has a secret connection to Chester (b/c Chester needs to have some darkness that makes him actually interesting as a protagonist). He definitely has a history with Yuko, but was possessed by her and commanded to start some nastiness with a solider to get himself killed by armed guards. Again, the horror elements here feel shallow and not as compelling compared to the historical content on display here.
It is clear that Max Borenstein and Alexander Woo are building up to something here in the supernatural realm, but getting there so far is like watching two evil twins that look alike but have polar opposite personalities and mix like oil and water.
And, still, I watch in dreaded awe...