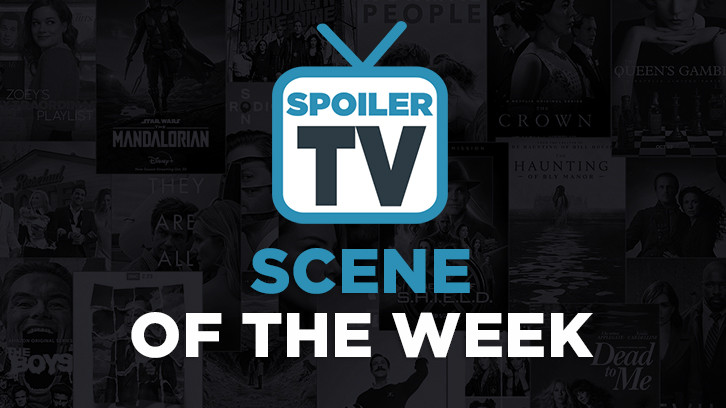 A weekly feature in which we're trying to find the most compelling, best acted, written, directed and just generally great, memorable scenes that we've seen in past seven days on TV.
BH90210, "The Photo Shoot", August 21, 2019, Actors: Shannen Doherty, Tori Spelling and more
The Scene: The photo shoot
Shirleena:
Shannen Doherty and Tori Spelling show up at the last minute to the photo shoot and the cast recreate the famous cast photo.
KILLJOYS, "Three Mutineers", August 23, 2019, Actors: Hannah John-Kamen, Aaron Ashmore, The Scene: Johnny and Dutch clear the air
Justyna:
First of all, I'm so glad to finally be caught up with this series. I certainly missed it, both the story and the characters. But none more than Johnny and Dutch. The relationship between these two is easily my favorite one on the show and this year they've been struggling with the false reality they were placed in and the impact of this experience on their bond. But in this scene I think they finally found their way back to each other. They were never truly on a different side but the distance between them was heartbreaking. Dutch's admission to D'avin in the previous hour showed just how much she misses her gravity, her best friend. It made this moment feel even more powerful and heartwarming in the end. When the prison fight is over, Johnny and Dutch use the opportunity to discuss where they stand. Dutch is afraid that their time as "husband and wife" is tearing their real relationship apart, but instead Johnny admits how he truly feels. He's a great Killjoy, but maybe that's not a job he wants for the rest of his life. He misses the memory of their quiet life in Westerley (not any romantic relationship) but is worried that if he ever left his current life he would lose Dutch. Of course she finds a way to comfort him and reassures him that he could never lose her. There's so much heart and laughter in their conversation that it only makes me realize how much I've missed their banter. A friendship and love like that is so rare to see, it makes me appreciate this one even more. As always, Hannah John-Kamen and Aaron Ashmore are wonderful together. Kudos!
MINDHUNTER, "Episode 9", August 16, 2019, Actors: Christopher Livingston and more
The Scene: Wayne Williams is arrested
DarkUFO:
Wayne Williams is apprehended at the bridge after dumping a body.
PENNYWORTH, "Shirley Bassey", August 18, 2019, Actors: Danny Webb and more, The Scene: John Ripper's motive is revealed
Prpleight:
In the wake of Esmè's death Alfred retreats into grief. John Ripper, a crime boss Alfred owes a favor to, stops by to force Alfred out of the house. I never believed Ripper was doing this out of the goodness of his heart. He lets Alfred know that Esmè was murdered to hurt Alfred. Of course Alfred's first question is 'who'. Ripper offers to point Alfred to someone who can answer his questions, for a price. Although that price was never mentioned only revealed as the episode continued. The CIA ordered a hit on the leader of The Raven Society. I assumed, until Alfred removed his mask, that the British government was behind the hit on the leader of the No-Name League. Alfred killed the leader of The No-Name League for John Ripper. Despite that surprise, the last thing I expected from all the machinations and intrigue was to discover that John Ripper wanted Thwaite for his lover, the Widow Mrs. Thwaite.
POSE, "In My Heels", August 20, 2019, Actors: Angel Bismark Curiel, Indya Moore
The Scene: Lil Papi and Angel propose to each other
Saloni:
Lil Papi and Angel propose to each other at the same time. It was an extremely moving, romantic and significant moment. Indya Moore and Angel Curiel really brought their A-game.
SUCCESSION, "Vaulter", August 18, 2019, Actors: Jeremy Strong and more
The Scene: Kendall tells the staff the truth
Saloni:
Kendall lets the Vaulter staff know he was stringing them along and they've all actually been fired. It was such a pivotal scene because it reflected the harsh reality and job insecurities of working in the digital media space right now.
THE TERROR, "All the Demons Are Still in Hell", August 19, 2019, Actors: James Saito and more
The Scene: Yoshida steals a rifle to commit suicide by cop
DarkUFO:
After seeing the demon, Yoshida attacks a guard and takes his rifle to basically commit "suicide by cop" as the other soldiers, after several warnings, shoot him.