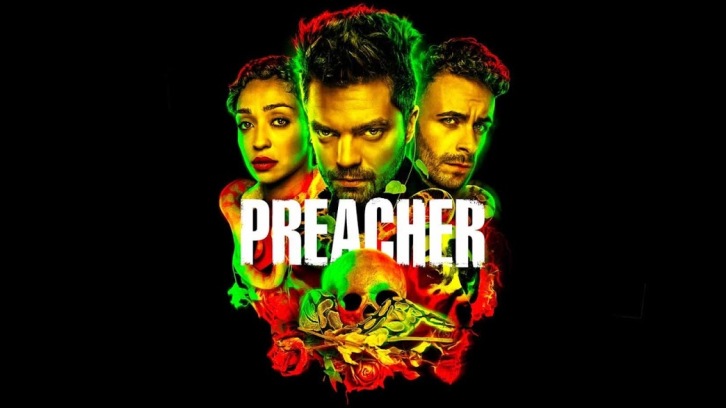 Search and Rescue felt like the second part of last week's Deviant, but thankfully out of the two it was the stronger episode even if it couldn't match the heights of the two part premiere. We picked up with Jesse and his pilot, who we learn in this episode is called Steve, on their way to Australia with the Saint of Killers and Eugene not far behind. This episode did what it set out to do and by the episode the major players were located where they needed to be, even if it wasn't the most exciting episode of the series.

The questioning of Jesse's faith continues with the plane that Jesse and Steve are on being downed in midair by a cackling God, who appears at the start of the episode to remind everyone that he's in control and is pushing pieces around in the order that he sees fit. Even though the plane goes down he doesn't want Jesse to die yet, so this is merely a test - to see if he's worthy. This isn't Jesse at his most broken yet and God has larger schemes in mind for him. However, Jesse is first forced to contend with Steve and once again is put through the ringer as to the consequences that come with using his powers. Steve's over optimism leads to him annoying Jesse too much, and by taking away Steve's lack of pain Steve doesn't notice his dangling arm being chewed to pieces by a shark in the water until it's ripped off. Steve's witnessing what Jesse's doing to him all the while and becomes convinced that not only there is a God, but it's Jesse, no matter how much Jesse is insistent that he doesn't blame Steve for not believing in God. Eventually, Steve dies - and is given a funeral by Jesse - who arrives in Australia mad as hell. It's a pity that we couldn't have had Ditch Davey stick around for longer, as his character has been one of the most fun and charismatic additions to the show at such a late stage in proceedings.

Back in the Grail HQ we're put through another fairly repetitive escape escape attempt and recapture from Cassidy that sees the show running through the motions at this point. The cool elevator scene where Lara - not realising Tulip was in the elevator - held the gun to Cassidy's head - shows again that for every time Preacher takes two steps back there's always at least one step forward that it has to offer, making sure that no matter how repetitive the scenes feel there's always some charm about them that mainly comes through Joseph Gilgun. The scene where he finally took care of Frankie was brutal and leaned into the Silence of the Lambs influences in style, as was seeing his dispatch and the regeneration of his angel buddy allowing both of them to finally escape the safety of their cage was a highlight. Hopefully Preacher won't find another excuse to put them back in the cage again - as Cassidy is far more fun let loose.

We're met with two new arrivals to the Grail HQ this week in the form of Emissaries Hitler and Jesus, the latter making his first appearance on this show because Preacher can't resist throwing another spanner in the works. Frankie is of course a big fan of Hitler, but that's no surprise considering what we know of the character. Jesus it seems is here to see his descendant - being kept in the dark about the Clone plot, and ends up joining Tulip on an escape attempt to free Cassidy. Despite some more Lara-related complications, they get to his cell - but it's too late, and Cassidy and the Angel are gone. Much of the episode revolved around characters like the Angel telling Cassidy that he and Tulip are in love with each other, and that's why Tulip came back so many times for him, as if the point needed mentioning again. The Angel isn't dissuaded by the argument that Tulip is in love with Jesse, believing that the two are made for each other. Tulip's storyline was for me, one of the best of the three this week - because the show as ever is at its best when it allows these actors to play off against some of the show's most lively creations.

Starr may be the Allfather but as far as his underlings are concerned he's not using the Grail's resources to the best of his ability and is informed about a plan to put an apocalypse in motion by 2020 aka, next year, through supplementing infiltrators in positions of power across the globe. But Hitler could be a factor that he has to take into consideration as well, as the man is unimpressed by Humperdoo despite his 'gifts', and that's where we end the episode with all the pieces seemingly in place. The novelty of seeing the Saint of Killers and Eugene travel through the entire Earth to get to the other side arriving seconds after Jesse abandoned his boat instantly ramps up the tension and anticipation for this Sunday's episode, which is sure to be a firecracker as plenty of reunions are in store. Hopefully it will be worth all the set-up that this show has taken to get to this stage, and the sooner it stops running in circles, the better.