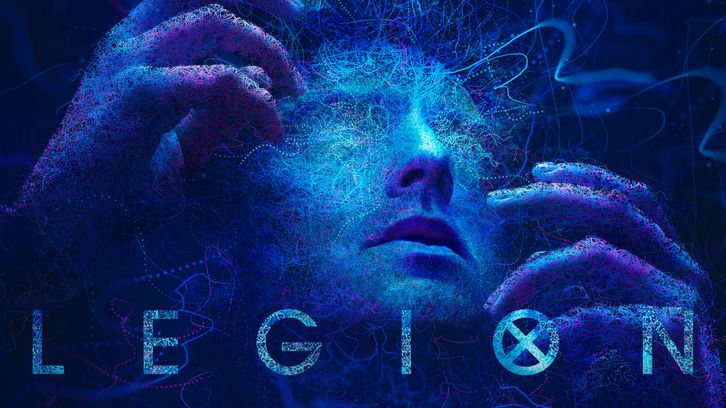 For three years viewers have followed Noah Hawley through his often uncanny and highly philosophical-pondering X-Men spin-off Legion, as viewers have debated not only the true nature of the characters' reality, but the characters themselves.

It's never been a straight forward series full of easy objective answers, but instead a complex dizzying array of new age concerns, hinging on great existential supposition, through an artistic lens of 1970's psychedelic and horror cinema, defying most superhero conventions. And so it's not so much of a surprise that
Legion
would end it's series in the realms of the great unknown.
For leading protagonist David Haller (
Dan Stevens
), it was a story about a boy who felt abandoned by his parents, had a parasite mutant: The Shadow King (
Navid Negahban)
stuck in his head that frightened him death as child, that lead to some other future version of his love interest, Sydney Barrett, (
Rachel Keller
) to propose that he would one day end the world.
"This is the end."
Season three then pitted David against his former friends and love interest, as he tries to find a solution to change everything, while unearthing that his mind contained many versions of himself known as Legion. David also does find a solution in form of Switch, a mysterious time traveler whose only just learning the ropes of time herself.
Season three then came down to perpetuous cycles of violence and war where the mission became about saving the future of baby David, whether anyone agrees about anything else or not, as all of the remaining characters time travel back to the time where David's father, the iconic X-Men character also known as Charles Xavior left for Morocco to meet The Shadow King.
"The End."
The final episode then does what
Legion
does best, it doesn't accumulate to tradition superhero flare where there is a clear good guy or bad guy or where despite that some characters maybe aren't still 100% honest with themselves in terms of looking at things from another's perspective or don't feel a need to question the bigger picture, things are deescalated and turned on there heads by simple act of change of one of the series most non trustworthy characters.
"What it all means is not for us to know."
Charles Xavior and Adult David's era of The Shadow King begin to fight on the astral plane, while Adult David and Charles' era Shadow King also fight on a separate space of it. Charles takes a chance and listens to the the more mature version of Amahl Farouk, who is willing to make a deal that will change everything, as he no longer wants to fight!
"It's for history to decide."
David, who has desperately needed to enact his revenge for three seasons, gets a bit shafted, as his father explains what he has done, but where David is truly defused by his own anger is in a simple act of Charles taking responsibility for his past actions and expressing his deep love to David.
"All we can do is play the parts as written."
The older Shadow King then shows his younger 'petty" self what he has learned, and despite the imperfectness of being held accountable for his past actions, this is enough to change the younger Shadow King to have some respect for the Hallers and promises to let Charles return home and leave David alone.
In the meantime Kerry & Cary and Syd had been fighting off the time demons to try and protect Gabrelle and baby David from being destroyed, but ultimately it is Switch that dies only to be reborn in her new form, a fourth dimensional being that gets to know represent all the universe and/or time(s). She's reunited with her father figure and despite that she was terribly abused by almost all of the characters, is now stronger more understanding individual for it. She tells her father she will be ready to travel with him after she does one last thing.
"All we can do is know ourselves."
Oddly instead of going back to explain to David, she goes back to Sydney to tell her "The Universe" values her and all of her friends that have all suffered. She calls away the time-eating demons, and tells her that despite that this Sydney will be gone, a new great Sydney will arise.
The characters then have there own little goodbyes to each other before perishing. Cary's and Kerry's feeling the most deserved, while Syd's and David's is seemingly as unsatisfying as ever! "
I didn't think you would help me."
, David tells Syd, while they look down at baby David. Syd replays by telling David that she didn't do for him, but for the baby. David does his best to genuinely accept this. Ultimately David is looking for a last bit of empathy for a women he once loved, doesn't find it directly, as Syd agrees, she will be better without David. The two fade into the ether, while Charles and Gabrelle reunite and embrace a new future.
As beautifully painful and still full of questions, occasional misdirection, and imperfect characters as
Legion's
ends with, it's that bitter sweetness of a promise of better tomorrow, seemingly no matter how we get there, and that we only ever need time to grow and learn to do so, is
Legion's
greatest gift it could ever give us without being untrue to itself; never telling viewers who they are, that their inherently wrong because they have made a mistake, or can't ever change.
It's an ending that isn't much settled and could be easily criticized for it's open-ended aspects on mental illness and abuse, but I think if a viewer was looking for a serious commentary about our contemporary standards for how we think (as a society) we should be dealing with those issues, this was never going to be that series, but an interpersonal journey inward about how any of us can come to interpret the world and all of it's potential facets around us; and the different ways we can choose to respond to whatever we do or don't understand it, each other, and ourselves.
But that's not to say that perhaps one day
Legion
couldn't
come back
in a new form, taking on a new journey of sorts.
After all
, maybe we only ever get to know ourselves and knowing ourselves just happens to take all the time in world. We just have wait and see what the future holds for Noah Hawley and if there are new parts he wants his characters to play, once he has written it's new universe.