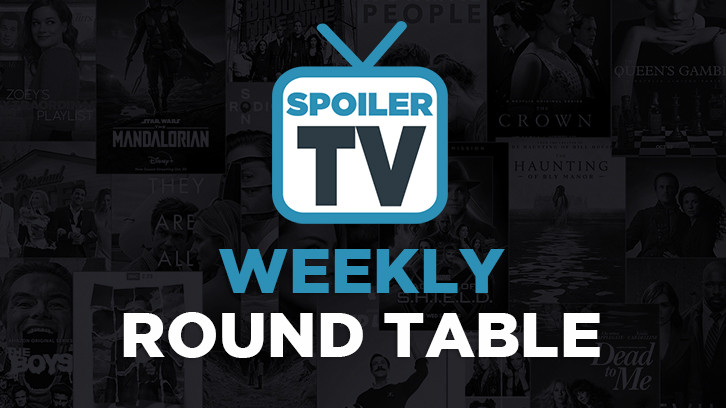 Hello and welcome to a new edition of SpoilerTV's Weekly Round Table. Joining me this week is Klutzy_Girl, Kollin Lore, Giulia Del Buono, Jamie Coudeville, Cecile, Abby Crafton (AC), Milo M-J, Claire (CS), William (WK) and Vaughan Grey (VG). You just have to sit back enjoy the read and join the discussion in the comment section down below.


Another year and another SDCC done and dusted! What was your favourite piece of news / announcement to come out of SDCC this year?
Klutzy_Girl: All the Marvel news! I told myself after Endgame that I was still going to watch their upcoming movies but I wasn't as excited. As it turns out, I lied - Saturday's announcement has me impatiently waiting for Phase 4. All the casting news and movies/TV shows sound so interesting, and I hate that we have to wait so long for them. Most excited for The Eternals, Thor, and Shang Chi. The Supernatural panel was also one of my favorites considering it was its last, and it was emotional.
Kollin: The most jaw-dropping news had to be Blade getting his own MCU movie with Mahershali Ali in the titular role. That mic drop just came out of left field and was the perfect way to end the anticipated Hall H, Marvel panel.
Giulia: I'm gonna have to say Natalie Portman as Thor (I don't like saying female Thor) and Tessa Thompson announcing that she will need a queen by her side, making her the first openly queer character in the MCU. I had tears in my eyes! It was such a special moment! I am also really excited for "Eternals". That cast is insane!!
Jamie: My favorite(s) had to be the Marvel lineup news. Scarlet Witch being in Docter Strange 2, Natalie Portman returning as Thor, Tessa Tompson confirming Valkery is LGBT and all the release dates (even if they're still far away).
Cecile: Since most of the news are Marvel related and Marvel content doesn't interest me, I'll admit I tuned out pretty quickly in that regard.
AC: Brandon Routh playing Superman again for the Arrowverse crossover. It was probably inevitable ever since he was cast as Ray Palmer all those years ago for Arrow, but still cool.
Milo: It's impossible not to leave out the sheer importance of the MCU announcing their next slate that will no doubt define the first half of blockbuster cinema of the decade (and this isn't an exaggeration now that Endgame is the king of the box office) but one thing that surprised me the most was the announcement of Top Gun: Maverick, in talks for a while and although I only saw the original after learning of the sequel's existence, it gave me an excuse to watch one of the most enjoyable - if heavily flawed - films of the 1980s, and now, having watched the film and the Top Gun: Maverick trailer LOTS of times, I'm fully on board for this long overdue sequel. And I'm also absolutely here for Brandon Routh reprising the role as Superman for the upcoming Arrowverse crossover.
WK: So VERY excited to hear about the Blade reboot. It was a shame to see the franchise overlooked on so many different occasions considering the impact it had for Marvel as well as its significance within black culture. I'm crossing my fingers for an R-Rated take so the film can maintain the essence of its predecessor.
VG: Sorry, I couldn't care less about SDCC so I will abstain.
A number of trailers debuted at SDCC as hype and anticipation for a number of shows continues to build. Which trailer impressed you the most and what show are you most looking forward to?
Klutzy_Girl: I loved the His Dark Materials trailer, along with Watchmen! Both shows look great, and I absolutely can't wait for Dark Crystal.
Kollin: Gosh, there were so many trailers that impressed, it's hard to pick out one. His Dark Materials, Watchmen, Dark Crystal, The Witcher, Picard...Carnival Row is one under the radar show that looks breathtaking. The Expanse making its Amazon debut looks amazing in the tease. There's never been a year where I have anticipated this many shows over a 6 month period and the trailers for all of them did not disappoint. All the networks are just really ramping it up.
Giulia: "Westworld", for sure!! I am a huge fan of the show and season 3 seems to be very different from the first two seasons. Plus, Aaron Paul and Lena Waithe have joined the cast... count me in!
"His Dark Materials" had a very interesting trailer. I didn't know what it was, I don't know the story, but the cast is absolutely incredible and it all looks thrilling!
Jamie: I'm torn between the Westworld trailer and the Impulse trailer. The first is highly anticipated by many, especially now that things seem to be headed in quite a different direction. And Impulse is such a great but underrated show. The promo got me really excited about the second season.
Cecile: Ahh, so many awesome trailers, it's hard to pick just one! I can't wait for His Dark Materials, which looks great. I'm going to need a more precise release date than "This Fall" but hey, at least it will air this year and not 2020. Otherwise, the last IT: Chapter 2 trailer, Westworld's, and Dark Crystal's all look fantastic and I'm really excited to see the final products.
AC: The news that got me more excited than I ever thought I'd be about a cartoon was the Ducktales trailer and poster for the back half of season 2. Ducktales is a fantastic show with writing that is more clever and funnier than it has any right to be. And now they're bringing in characters from the other 1990s Disney afternoon shows to expand their universe! It's like I've returned to my childhood but better, since I don't have homework or my mom yelling at me to clean my room.
Milo: So many trailers! It's been non-stop. I did like the short teasers that we got for the new seasons of The Man in the High Castle and Preacher but one thing that really stood out to me was the phenomenal His Dark Materials trailer, which captured the spirit of the books in a way that the movie never did.
VG: His Dark Materials. It's almost made up for the New Line executives cancelling the final two films in the trilogy (in spite of The Golden Compass being a huge international hit) a decade ago...almost.
Big Little Lies aired its second season finale on Sunday. What did you make of it? Do you think this season lived up to the heights of season 1 or was the show returning one giant mistake?
Klutzy_Girl: This season as a whole has felt off because of the behind the scenes drama but Laura Dern, Zoe Kravitz, and Meryl Streep knocked it out of the park, especially in the finale. And we don't need a season three at all - would totally be fine with the show ending the way it did - but after that cliffhanger, I'm a little interested in one.
Giulia: I was one of the people who thought that BLL did not need a season 2. I thought that season 1 was so excellently done that it could easily end with a cliffhanger. But then the news of Meryl Streep joining the cast was revealed and I was like "gimme season 2 NOW!". I liked season 2, there's a very different take. The writing isn't as strong as season 1, but the actresses really stepped up their game and gave incredible, breathtaking performances. I am mad that Andrea Arnold allegedly did not have as much creative control as she wanted. I hope HBO will release the material that was cut, because that's basically diminishing a director's hard work and passion. Overall, I thought it was a great season 2. I don't even have to talk about Meryl Streep and how amazing she was, because that just goes without saying.
Jamie: I don't think it was possible to live up to season 1. Mainly, because season 2 was additional to the story. And I wouldn't be surprised if they announced that there will not be a third season, because aside from the cliffhanger, everyone's stories were pretty much wrapped up. But it was a great season. Meryl Streep was a great addition.
Cecile: Considering who's in the cast I didn't think I'd ever feel let down by the show but... the last few episodes weren't great, unfortunately. These seasons are only 7 episodes long and yet some still felt like filler, which is a shame what with the talent involved. Meryl was fantastic though, and the season was entertaining but it could've been so much better. It kind of felt like Fantastic Beasts compared to Harry Potter. The world is there, but the heart & soul aren't.
Milo: I'm behind on Big Little Lies Season 2 but so far so good, even if all the behind the scenes drama seems to be causing chaos this season. It was never needed and could have done with letting Andrea Arnold get free reign on the series completely - but the cast are strong enough to carry it and so far the drama is strong despite its flaws.
Claire: I was glad that BLL received a season 2 order, but after the disjointed mess that I've watched for the last 7 weeks I'm not so sure. Don't get me wrong, the performances (especially Dern, Streep and Kidman) were phenomenal and the visuals were gorgeous, but it was all over the place. I just did not get the point of Bonnie's mom and her offensive voo doo storyline and how Bonnie's story was so incomplete and nonsensical at times. I mean why have Bonnie spend half of the season in a hospital room with her comatose mother? This was also a waste of a neat dynamic that had been playing out between the mother and daughter. Maybe if they have another season, they can get rid of a few of the editors and stick with ONE director's vision! It was a travesty how they mucked up director Andrea Arnold's beautiful work. I think that this may have been a fatal mistake to season 2 and why it definitely did not live up to season 1. But even at its worst, BLL was still better than most...
High points: Renata Klein's batting practice on her cheating husband's man cave toys and Mary Louise and Celeste's courtroom showdown...
WK: BLL S2 was completely unnecessary. There were barely any gains from the new installment as the plots for the most part were either choppy or poorly conceived. Celeste's storyline was the saving grace of what culminated into a convoluted mess. When an ensemble cast places its weight on one performer to truly carry the series, there's a clear problem.
Renata morphed into a caricature as her storyline was not only riddled in cliches, but lacked depth. Madeline's arc was frivolous compared to the more pressing matters that the other women faced (not to mention, she was just plain annoying and too self involved). Jane was relatively quiet despite experiencing a major emotional blow from last year. Lastly, Bonnie's characterization was just offensive and lazy. The way they purposefully marginalized her character compared to the others, while poorly depicting the dysfunctional relationship Bonnie had with her mother made it apparent that the producers hadn't consulted with black inclusive writers.
When you decide to include a black character in an otherwise white series, there's a responsibility to attend towards such unique experiences as a means of maintaining authenticity. BLL incorporated hastily flashbacks to showcase the trauma Bonnie endured, while only acknowledging her blackness once. Such dynamics deserved to be fully capture to understand its full impact on Bonnie. Also, the mystical elements that were incorporated were racist by reinforcing the tired magical negro trope. Not impressed.
VG: No. The whole season was a dramatic letdown. Then again, season 1 was extremely overrated in the first place. It's already been said by the previous commentators, but the way the characters were written was cartoonish at best (they even had Nicole Kidman's Celeste compare herself to superheroes in the finale) and just obnoxious at worst (too many examples to site). When they hired Andrea Arnold as director of season 2, I had high hopes, but not even Meryl Streep could make the writing bearable. I realize David E Kelly played to his strengths and nothing he writes can be changed since he is so powerful, but he should have stuck with network TV and leave HBO prestige TV alone IMHO. The reports of the behind the scenes power grab against Andrea Arnold are not a surprise and the final televised edit kind of insulted the audience's intelligence. The acting and directing were fine enough, but when the scripts don't work, the work suffers as a whole. The whole point of the season felt unrealistic since Perry's death in the season 1 finale could be considered both self-defense and accidental in the first place, so why these women are so worried about potential jail time for it is a little beyond me aside from giving themselves (and the audience) closure...and AT&T/HBO decent summer ratings.
Ahead of the first season dropping this week, Amazon have already announced that The Boys has been renewed for a second season. With the show getting a slightly mixed reception from critics, do you think Amazon are jumping the gun with this?
Klutzy_Girl: No. I think Amazon knows what they're doing and they obviously liked the show. Looking forward to it!
Kollin: Slightly mixed reception? Most of the reviews are overwhelmingly positive, save for a few reviewers who are known to be trolls like those dudes from Slash and Forbes. I don't think Amazon is jumping the gun, they must know they have a hit on their hands, especially amidst the positive things that many of the credible reviewers are saying. It's also a good way to market The Boys, makes it seem like a big deal now that it got an early renewal.
AC: With DC Universe cancelling Swamp Thing fast and the Netflix Marvel shows gone, it was probably good PR for Amazon to do a quick renewal of a superhero show.
Milo: If Preacher was anything to go by then we're in for some more insanity and weirdness of The Boys and especially given so many shows cancelling midway through their first seasons or leaving audiences on a hook without telling them the fate of their shows (like Cloak and Dagger is still waiting for a season three confirmation), getting a headstart encourages audiences to check it out knowing that they won't be let down if the show doesn't make it past season two. That said, it doesn't make it immune from cancellation - I'm still bitter at HBO for pulling the plug on Vinyl after an early renewal.
VG: No. I feel it could be a big hit, at least for the 1st season. Amazon doesn't need the money and should take more chances like this since they have been on a cancel-spree of late. The comics are entertaining, it has a built-in audience thanks to Preacher, Eric Kripke always does interesting work, and the cast is fantastic. Then again, after what happened when Cinemax renewed Outcast before it premiered a few year ago, anything is possible. And Amazon did just cancel The Tick after a hit 1st season and a diminishing 2nd season....so...
That wraps up another WRT. Drop us your thoughts in the comments below and adios, until we read again.....