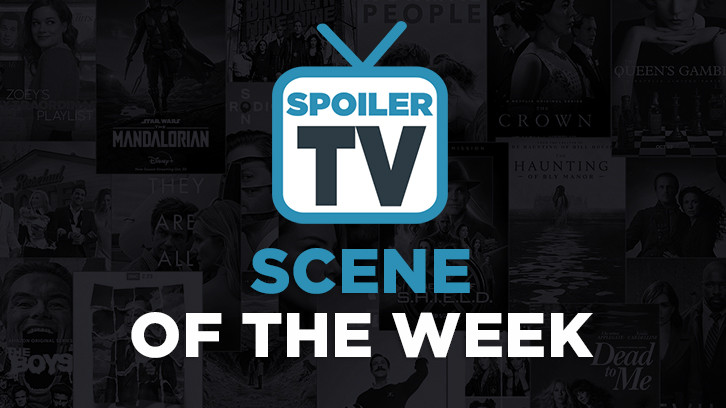 A weekly feature in which we're trying to find the most compelling, best acted, written, directed and just generally great, memorable scenes that we've seen in past seven days on TV.

AGENTS OF SHIELD, "Collision Course (Part I)", July 5, 2019, Actors: Clark Gregg, Chloe Bennet, The Scene: Daisy and Sarge talk
Justyna: How strange it is to see these two interact now, Daisy and a man with Coulson's face. There must be some sort of connection between Coulson and Sarge. All the little similarities, the phrases that May noticed a few episodes ago, they all seem to be leading towards a surprising reveal. It's probably why I found this scene to be most interesting. It's still so hard to read Sarge, to see his true intentions. He's determined to destroy Izel but his motives remain unclear. Throughout the hour we learn more about his past, only pieces, perhaps not entirely true, but it all starts with this conversation. Even though he's not Coulson it's interesting how Daisy was the one who was able to reach him enough to learn something, starting from the enemy's name. She's angry and confused, she has a hard time trying to process this new reality. The viewers know just how much Daisy cared about Coulson so her attempt to explore the possibilities beyond the random (and cruel) coincidence is more than understandable. Both actors did a really good job with this scene, especially with the way they portray the completely new dynamics between their characters. Collision is almost approaching, can't wait to see what's next.

BIG LITTLE LIES, "She Knows", June 30, 2019, Actors: Nicole Kidman, Meryl Streep, Laura Dern and more, The Scenes: Celeste slaps Mary Louise & Renata and Gordon go to bankruptcy court
Claire: Mary Louise gets bitch slapped by Celeste! I knew as soon as I saw this scene that it would be one of my picks for SOTW. I do not advocate violence of any sort, but this mother-in-law from hell had it coming. She shows up to Madeline's Halloween party for the kids, uninvited, and announces she's moving into the same apartment building as the woman that her son raped and conceived a child with. And then has the nerve to sarcastically ask Celeste if that was her idea of foreplay, in reference to Celeste having confided in her that she and Perry had a violent sexual relationship. Unbelievable!
Laura B: Renata and Gordon go to Bankruptcy Court. Laura Dern just did such a wonderful job here with Renata facing off against their menacing trustee, who takes everything from Gordon's Rolex, to their Tesla, and even Renata's wedding ring. You could just feel all of the pain and anguish she was feeling, as the man sitting opposite to her sternly gloated in the face of her misery.

GOOD TROUBLE, "Doble Quince", July 2, 2019, Actors: Hailie Sahar and more, The Scene: Jazmin's grandfather gives her the dog tags and they dance
Luana: I guess we couldn't expect someone to suddenly be able to love both his grandchildren without judgement after so long, but this scene was still so sweet and sad at the same time. It highlighted the fact that merely being held and accepted by someone you love comes so hard to so many, and that's just heartbreaking.
Jamie: Regardless of what happened afterwards, this was such a sweet moment and almost made me cry.

LEGION, "Chapter 21", July 1, 2019, Actors: Dan Stevens, Bill Irwin
The Scene: Cary bends to David's will after he takes the drug (picked by Laura B)

STRANGER THINGS, "Chapter One: Suzie, Do You Copy?" & "Chapter Four: The Sauna Test", July 4, 2019, Actors: Millie Bobby Brown, Dacre Montgomery, David Harbour, Finn Wolfhard and more, The Scenes: The gang confronts a possessed Billy & Hopper takes Mike down a peg or two
Justyna: Such a great show! There's dozen of memorable scenes that I could highlight in this article from the first half of the season alone but in the end I had to go with the sauna test and the confrontation against possessed Billy. This is when the insanity and the action truly start and the entire sequence is incredibly tense, genuinely scary and wonderfully done. The group manages to trick Billy and lock him up in a sauna at the local swimming pool where he works. As the temperature rises it's clear how much it's affecting him. The line between Billy and the Mind Flayer begins to disappear and things escalate very quickly after he gets free. But first we hear Billy asking Max for help, trying to tell her what he's done but also saying that he's not in control. It's strange to see him in such state. Not only he's not a good guy, he was one of the villains during the previous season. But he's still Max's brother and it hurts her to see him in such pain, she wants to help. She never gets the chance, though, because when the Mind Flayer takes over Billy doesn't hesitate to attack the whole gang. It's great to see Eleven fight, her powers save the day but it's not nearly as easy as the kids expected. For a moment there it looks like Billy might actually be able to kill her and everyone is terrified to see their plan go horribly wrong. Luckily Mike manages to distract Billy for long enough to help El find the strength to defeat him. All the actors are wonderful during the sequence. Special shout-out to Millie Bobby Brown and Dacre Montgomery. Kudos to the whole cast & crew for all their work on the show!
Milo: The gang confronts a possessed Billy. In one of the most exciting and tense episodes of the season, Stranger Things continued to deliver on the high stakes as well as the 80s nostalgia, pitting Eleven and co against a Billy under the influence of the Mind Flayer in a terrifying sequence that caused things to go almost terribly wrong for the gang very quickly. Also picked by Laura B
Zandarl: Eleven versus possessed Billy. After trying to sauna the mind flayer out of him Billy escapes and it's up to Eleven to stop him from killing all her friends. Stranger Things has once again delivered a brilliant season with a mix of humour and macabre that it does best. My favourite scene will be posted in next week's picks and I can imagine it was a few others' favourite as well.
Claire: Hopper takes Mike down a peg or two. Tired as we all are with Mike and Eleven's nonstop kiss fest and Mike's lousy attitude, Hopper has a good, old-fashioned heart-to-heart with the annoying as hell kid who is dating his daughter. I loved it! Season 3 of Stranger Things is probably my favorite so far.

SWAMP THING, "The Price You Pay", July 5, 2019, Actors: Crystal Reed, Andy Bean, Derek Mears, The Scene: The ending
Justyna: It's such a small moment at the very end of the episode but it took me by surprise. Abby and Alec (as Swamp Thing) find themselves back in his lab where she reaffirms her plan to find an answer to what's happened to him. He's not only losing hope but also begins to truly lose himself, feeling a growing connection with the green and the swamp. He's trying to hold back on understanding the green because he fears it will make him forget the person he once was. And he will also lose Abby. It's quite incredible how much these two depend on each other after spending so little time together. Abby has truly become the only remaining connection that Alec has with his old life. And here's where the strangest thing happens. A unique flower grows in Swamp Thing's hand and it affects the air around Alec and Abby. Somehow its properties lead to Abby being able to see the real Alec instead of Swamp Thing standing right in front of her. That's certainly an interesting concept to explore and a way for Abby and the viewers to see Alec and the actor portraying Holland again. I don't expect it to last for too long but I'm curious to see what's going to happen next.

THE HANDMAID'S TALE, "Under His Eye", July 3, 2019, Actors: Alexis Bledel and more, The Scene: Emily has to confess her crimes
Luana: This scene was so well done, we know exactly what she's been through and why she did the things she did, but going from a war zone where she has had to do unspeakable things just to survive, back to some sort of normal life when she has to live with what she has done, what the world she was in, called for. I love how they take the time to explore the psychological effects such things can have on people, it's honestly one of the best things this show has.

THE INBETWEEN, "Kiss Them For Me", July 3, 2019, Actors: Harriet Dyer and more, The Scene: Cassie talks with Edina's daughter
Jessica: Cassie talks with Edina's daughter in an effort to help her remember her mother how she was before she became addicted to substances. This scene was extremely well done. The emotion drawn from Cassie's own experience with her mother was felt in such a surprising way here. It seemed a bit cathartic for Cassie to share and offer this kind of help to her. I got quite emotional myself listening to her connect with the young teen to explain what it's like to go through something so traumatic at such a young age.

THE ROOK, "Chapter 1", June 30, 2019, Actors: Emma Greenwell and more
The Scene: Myfanwy discovers her powers
Luana: Even if, as I imagined, Starz managed to make this a very slow paced show somehow, I still always find it cool when people with powers start to figure them out, and even though it was no surprise, it was interesting to find out Myfanwy was responsible for all the dead bodies lying around her when she woke up.