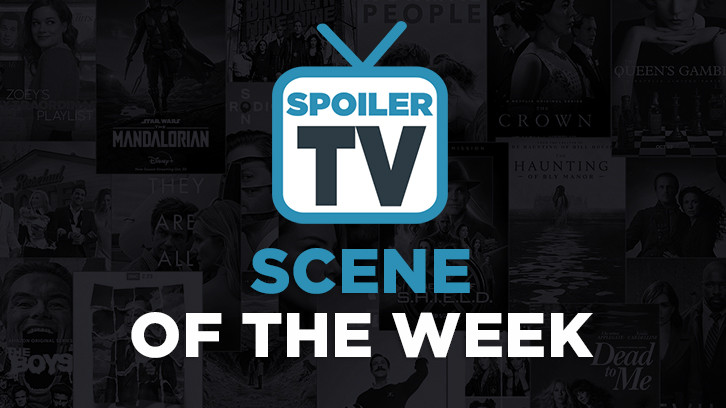 A weekly feature in which we're trying to find the most compelling, best acted, written, directed and just generally great, memorable scenes that we've seen in past seven days on TV.

AGENTS OF SHIELD, "From the Ashes", June 26, 2019, Actors: Clark Gregg, Chloe Bennet, The Scene: Daisy changes her mind about Sarge
Justyna: Throughout the episode we follow Daisy's struggle with her own feelings about Coulson's death and Sarge's strange presence. Despite everyone asking her to take a closer look and consider whether a part of Coulson still lives (as Sarge) she refuses to accept this as a possibility. Daisy has always had a hard time confronting the loss and sudden change in her life, so it's not surprising to see that she never allowed herself to read Coulson's goodbye letter. When she finally does the reality hits her even harder and she's determined to figure out the mystery of Sarge and end him once and for all. She takes a great risk, she asks him to let the rage in, antagonizes him against her, until finally the only choice left is to confront him and kill him using the weapon he prepared for Izel. It's a difficult task, to face someone who looks exactly like the person you love, but it becomes impossible when Daisy finally sees Coulson in Sarge's behavior. As strange as it is there is clearly a part of him that remembers her and the entire team. He even calls her by her old name (Skye), and it's clear how much this means to her. Daisy's reaction is deeply emotional and beautifully acted by Chloe Bennet. The look on her face, when she understands that Sarge was about to sacrifice himself, something that Coulson would have done, says it all. It's not only a confirmation for Daisy, but also for the viewers. A part of Coulson still lives on and is strong enough to keep Pachakutiq contained, at least for now. This felt like a reunion between Daisy and Coulson and as someone who used to love the relationship between these two, I couldn't help but highlight this scene. This part stole the hour for me and it was another great one. Kudos to cast & crew for all their wonderful work. Special shout-out to Clark Gregg and Chloe Bennet who are incredible together.

ANDI MACK, "We Were Here", July 26, 2019, Actors: Joshua Rush, Luke Mullen, The Scene: TJ and Cyrus become a couple
Jamie: While I would've liked this to have happened a bit sooner and a with a bit more actual talking (and a kiss), this is still a huge thing for a Disney show. It's a shame that this was the series finale. I'm really going to miss this show.
Klutzy girl: As much as I would have liked for Cyrus and TJ to admit they liked each other and kissing, the fact that they even held hands is a big step for Disney. I'm hoping this opens the door for other LGBT characters and couples on the channel.

BIG LITTLE LIES, "I Want to Know", July 21, 2019, Actors: Nicole Kidman, Meryl Streep and more, The Scene: Celeste questions Mary Louise on the stand
Justyna: Celeste has certainly not been the most stable character on the show. She's been through so much physical and emotional pain that it feels impossible for her to just carry on with her life. That is why her testimony in last week's episode wasn't the greatest way to reassure the judge that she's perfectly capable of taking care of her children. That's also what makes this moment even more impactful to me. Celeste does incredible job in this questioning, she's a lawyer, she points out the facts, asks the right questions and stays calm throughout the scene. Mary Louise has been verbally taking down all the people around her this season but this time she does not get to do that to Celeste. Instead her daughter-in-law turns the tables on her and starts asking about an event from young Perry's life - a car accident that caused his brother's death. It's Mary Louise's behavior that is put under the microscope, the way she wasn't able to keep her children safe, how she influenced Perry and certainly is one of the reasons he became the man that he was. When Mary Louise calls Celeste a liar she stays strong and asks about Jane before playing a horrifying video which proves that Perry abused his wife and their children witnessed that. The fact that they're the ones who filmed the attack was probably the most painful part. A hit that I didn't see coming. Everyone's reactions to the video said so much, if there were any doubts about Celeste's story that wasn't the case anymore once the video started playing. Even Mary Louise isn't able to say a word anymore. It's traumatic but the scene is a win for Celeste, a story of survival, a mother fighting for her children. It's also a masterclass in acting. Nicole Kidman and Meryl Streep are especially wonderful in this moment, but the rest of the cast also taking part in the scene is a great support. Kudos to the entire crew of the show for all their memorable work.
Laura B: Celeste takes on Mary Louise in court.
Claire: Mary Louise gets her comeuppance from Celeste during the courtroom showdown. Celeste takes Mary Louise down from the high horse that she has been riding all season and it felt satisfying to see ML being called out for her role in this mess. Her son, Perry, didn't become a wife beater without a little help from mom.

GOOD TROUBLE, "Twenty-Fine", July 23, 2019, Actors: Emma Hunton, Josh Pence, Zuri Adele and more, The Scenes: Davia and Dennis sing together & Malika and her friends perform
Jamie: Davia and Dennis sing together. Aside from the fact that these two are super talented and that this was a beautiful cover of that song, there was so much emotion in this scene. I can feel the show building to something for these two and I can't wait.
Luana: Malika and her friends perform. This scene was so powerful and intense, I can't really find better words to describe it. This is not the first time it has been said, but this is definitely something in need of constant repetition. It just highlights the importance of art in the redefinition of beauty and the box it has been put in by some. I love how this show continues to litigate these issues, among so many others, and it's what makes Good Trouble truly special.

JANE THE VIRGIN, "Chapter Ninety-Eight", July 24, 2019, Actors: Yara Martinez, Bridget Regan and more, The Scene: Luisa saves the day and kills Rose
Luana: Jane the Virgin is coming to an end pretty soon, I just can't believe there's just the double finale left, but I'm glad I was able to leave my prejudice at the door here and enjoy this wonderful ride. I also think this was the perfect time to wrap up Rose's story and her sick love for Luisa. Speaking of which, Luisa's journey has for sure been a rocky one, but I'm so glad she was finally able to redeem herself and be officially invited back into Raff and Jane's life.

JETT, "Rosalie", July 26, 2019, Actors: Lucy Walters, Christopher Backus, The Scene: Rosalie holds Bennie hostage
Sandi: The show has a habit of leaving the audience in the dark as to what is going on between characters after leaving them in an intriguing scenario, none more so than when Rosalie turned on her kidnapper-cum-rescuer a couple of weeks ago. Rosalie's break was scary to witness through this extended scene as we finally came to understand her character through the ever-widening eyes of the hogtied Bennie as he endured the descent through her unhinged mind. He was warned that this obsession he had would become a problem, and I'm not entirely sure that danger is over now he has managed to free himself from the physical restraints she put him in. He is the one man Charlie depends on to be the fastest on his feet if any trouble comes his way, but if Rosalie is holding Bennie's attention instead then will he still be able to defend his boss when called upon.

LEGION, "Chapter 24", July 22, 2019, Actors: Rachel Keller, Dan Stevens
The Scene: Syd tricks David (picked by Laura B)

THE 100, "Ashes to Ashes", July 23, 2019, Actors: Marie Avgeropoulos, Bob Morley, Eliza Taylor and more, The Scenes: Bellamy and Octavia talk & Clarke plays Josephine
Justyna: I'm so glad to see Octavia's path towards redemption. It's not going to be easy, it will take time, but she appears to be aware of that since she's started to take small steps towards rebuilding her broken relationships, first in the one that matters to her the most - with her brother. During the hour these two finally have an opportunity to talk and Octavia makes the most of it when she attempts to apologize, fully aware that the words "I'm sorry" are simply not enough. She recognizes that he was right to leave her behind, she knows that she'll have to prove herself and earn her brother's trust, but she believes that the anomaly allowed her to come back for him and she has no intention to give up on their bond. Octavia even admits how lost she felt without him, without her rock she got trapped in the darkness and couldn't see a way out. It's the most emotional moment of the episode. It's both heartwarming to see Octavia reaching out to Bellamy and heartbreaking to see his response. It's clear how painful it is for him to keep his distance but after everything that's happened he knows that actions speak louder than words and from his perspective he hasn't seen any real change in his sister yet. Even though the two didn't embrace or shared "I love you" like they used to, this moment was still a great progress in their relationship. Just talking to each other and Bellamy seeing Octavia as his sister again, that's a ground to build on. I remain hopeful that these two can still be a family despite all the horrors in their past. Marie Avgeropoulos and Bob Morley gave beautiful performances in this scene and kudos to Bob Morley for directing this great episode. I can't wait to see more of Octavia and Bellamy in the next one.
Milo: I've really enjoyed Octavia's arc this season and her character hasn't been given an easy route to redemption. Seeing that scene between both Octavia and Bellamy play out fit perfectly with the themes of the season about the characters trying to learn from their past mistakes and do better. It might not have been the most action packed moment of the episode, but it was one of the more heartfelt and emotional scenes. Give me more of that dynamic between The Blakes and Clarke, too.
Luana: Clarke plays Josephine. Eliza has been killing it and this is all we needed to see before this specific arc ended, to see Clarke play Josephine to perfection but with still enough of her own personality in there and her concern for Madi to show she's still Clarke. I know this particular story is coming to an end but I have found it one of the best arcs of this show in a while and just in time to begin the wrap up of the show to perhaps give us the satisfying conclusion we're all hoping for.

THE BOYS, "The Female of the Species", July 26, 2019, Actors: Antony Starr, Dominique McElligott and more, The Scene: Homelander and Queen Maeve let the plane go down
Sandi: The bad side of superheroes has never been done so deliciously evil before, and Tony Starr makes for a superb villain at the head of corporate crime fighting superhero squad, The Seven. The total disregard for life he shows after being the cause of the plane's eventual crashing out of the sky is callously apathetic, but it is Dominique McElligott's reaction to this incredulous behaviour which really sells the cruelty of the situation further.

THE HANDMAID'S TALE, "Witness", July 24, 2019, Actors: Elisabeth Moss, Joseph Fiennes, Bradley Whitford and more, The Scenes: June convinces Lawrence and his wife to go through with the ceremony & June stands up to Fred
Claire: June and the Lawrences' are in the master bedroom, being forced to perform the sexual ceremony and June looks at them both and says: "how long did you think it was going to take before this world that you helped to create came for you, too?" It was beautiful retribution. And I think that June is finally getting through to Commander Lawrence and will end up with a true ally. Glad to finally see some forward momentum in this season! Elisabeth Moss, Bradley Whitford and Julie Dretzin who is a fabulous addition to this season. I love seeing her story, dealing with mental illness in a place that forbids psychiatric medications, play out. Also how aware she is of everything; telling June that her husband is a war criminal and rightly so. So many of these wives seem to have their heads buried in the sand so Mrs. Lawrence is a refreshing change up.
Laura B: June helps the Lawrences through the whole ordeal they thought they could avoid.
Sandi: June tells Fred "At least it wasn't you." I was going to go with the previous scene of having the Lawrences being forced into the ceremony right up until this line from June. The fact that the last time June was raped was by Fred and Serena in order to induce childbirth is not something that anyone had forgotten I'm sure. Sometimes it's the small victories that count, and with these five simple words she managed to wound his manhood, pride and dignity in no short order. Armed with the secret knowledge that this enforced act from the Waterfords also brings together the last part of the plan of getting the Gilead children freed, it's no wonder June found renewed strength to stand up to him and say these words.