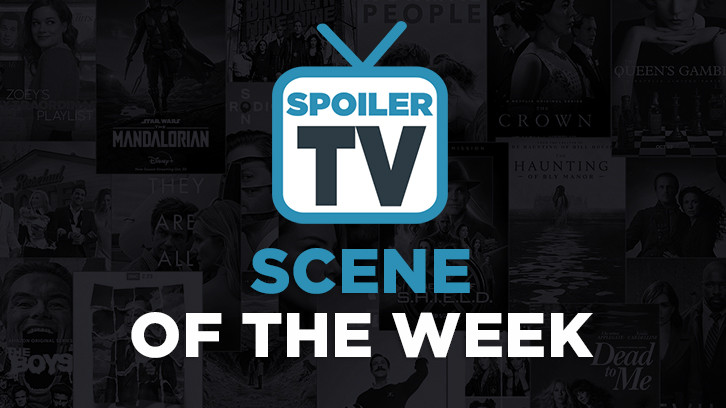 A weekly feature in which we're trying to find the most compelling, best acted, written, directed and just generally great, memorable scenes that we've seen in past seven days on TV.

AGENTS OF SHIELD, "Collision Course (Part II)", July 12, 2019, Actors: Winston James Francis, Chloe Bennet, Ming-Na Wen, Natalia Cordova-Buckley and more, The Scene: Everyone shows up in Sarge's truck
Justyna: It wasn't easy to choose just one scene from this excellent episode. Agents of SHIELD once again proves why it's one of the best TV shows out there. In the end it's the moment when the entire team is reunited in the Sarge's truck and Jaco makes his decision, that left me affected the most. First of all, the sheer look of surprise and joy on Daisy and May's faces when Fitz and Simmons open the door, was absolutely heartwarming. They're relieved to see their friends, to see Fitz actually alive, so glad to be reunited. Then there's also Mack and Yo-Yo and it feels like the whole gang (well, almost) is finally back together. Another thing I absolutely loved about this part was Deke embracing Fitz, calling him "Bobo" and Fitz being confused about his presence and unsure how to respond. FitzSimmons family overall was comedy gold here for sure. And finally, there's Jaco. While the team is busy with the reunion he slips away, takes the bomb with him and proceeds to return to Izel's ship. His actions are noticed by the rest but he's already made up his mind. He chooses to sacrifice himself to destroy the monster responsible for killing his family and the others quietly stand and watch him say goodbye. It's clear that there's sadness and respect for "the Big Guy", despite all the circumstances surrounding his arrival. I very much enjoyed Jaco's interactions with the team, especially Yo-Yo and later Mack, and would have loved to see more of him. While his actions most likely didn't bring the results he wanted I do hope he died peacefully, thinking that he completed his mission. Despite his problems with Sarge, he did want him to know that, maybe so they could both finally rest. Such an important scene, on so many levels. From joyful, through hilarious, to thoughtful and mournful. Beautifully done and truly memorable moment in another stellar hour. Kudos to cast & crew for all their great work.

BIG LITTLE LIES, "Kill Me", July 7, 2019, Actors: Zoë Kravitz, Adam Scott, Darby Camp, Crystal Fox, The Scenes: Elizabeth tells Bonnie to kill her & Chloe hugs Ed
Laura B: The season keeps continuing to spiral down to much darker place than the first season, as everyone grapples with Madeline's lie to the police about what happened to Perry. This has been the most difficult for Bonnie, since she's the one that ended Perry's life. But this scene of Elizabeth asking her daughter to terminate her life after getting a stroke, makes that all so much harder, as we've been warned over and over that Bonnie is "drowning", but even more so, because little bits of flashbacks and some conversations Bonnie has had with both her parents point to her mother being an abusive alcoholic. I'm not sure if Bonnie could live with another life on her hands.
Jessica C: Chloe sees her father preparing food in the kitchen and walks over to give him a hug. Ed drops what he's doing and returns her affection. This moment between them is very simple, but watching Ed still express some sort of emotion in this moment contrasting the cold & distant approach he's taken with Madeline, was beautiful and heartbreaking at the same time.

ELEMENTARY, "Miss Understood", July 11, 2019, Actors: Jonny Lee Miller, Ally Ioannides, The Scene: Sherlock offers to help Cassie
Dahne: Sherlock tells Cassie that if she really wants to change, he'll help. I love how this final season of Elementary is bringing back some of the old cases. Cassie's story was a big plus for me because she was more on Sherlock's level than a lot of the criminals he put away. Add to it that she was just a teen and it made for a memorable case. Now, she comes back and inserts herself in his life, which allows him to see how her intellect has made her isolated. It's a feeling Sherlock can relate to, and while he is still suspicious of her, he opens up anyway. He lets her know that he struggled too and yet he was able to craft a niche for himself. He offers to help her do the same, if she really wants to put crime behind her. While I'm not sure I still would trust Cassie, it was great to get follow-up to a previous case and to watch Sherlock once again mentor someone like he did when Joan first became a detective.

EUPHORIA, "Shook One Pt. II", July 7, 2019, Actors: Jacob Elordi, Hunter Schafer
The Scene: Nate and Jules meet by the lake
Alejandra: The acting in this scene has made it one of the most tense scenes on the show so far. Also picked by Marko

GOOD TROUBLE, "Unfiltered", July 9, 2019, Actors: Emma Hunton, Josh Pence and more
The Scene: Davia has dinner with Dennis and her mom
Luana: Emma Hunton killed it in this episode, you could see her pain, and how uncomfortable she felt, even though Dennis was trying to be on her side he only managed to make things worse. I love how they explored Davia's relationship with food and her mother, even showing the behind-the-scenes of her social media persona.

JANE THE VIRGIN, "Chapter Ninety-Six", July 10, 2019, Actors: Gina Rodriguez and more
The Scene: Jane tries to come to terms with rejection
Luana: I can especially pick this scene because I know she got lucky in the end, but Gina killed it here when she thought this was it, that perhaps this thing she gave her life to perhaps had been the wrong path to choose, and that has to be a heartbreaking moment in the life of anyone so I'm glad they got to show it.

LEGION, "Chapter 22", July 8, 2019, Actors: Stephanie Corneliussen and more
The Scene: Gabrielle can't find baby David's face
Laura B: Legion finally began to give us our X-Men sendoff by showcasing the backstory of Charles Xavier and Gabrielle, as David unsuccessfully makes contact with his parents in the past. There's a lot of questions still to be had, but this scene of Gabrielle not being able to find baby David's face, thanks to The Shadow King, was a truly disturbing scene that I don't think I'll be forgetting any time soon!

SCREAM, "The Man Behind the Mask", July 9, 2019, Actors: Roger L. Jackson, Tony Todd
The Scene: The fight between "Hook Man" and Ghostface
Popcultureguy: I really appreciated that this show was self-aware and fun enough to know that, if you have Tony Todd in your cast as a man with a hook for a hand, you have a set piece where he has a "Freddy vs. Jason"-style fight with Ghostface.

STRANGER THINGS, "Chapter Eight: The Battle of Starcourt", July 4, 2019, Actors: David Harbour, Millie Bobby Brown, Gaten Matarazzo, Dacre Montgomery and more, The Scenes: The sacrifice & Dustin and Suzie sing "Neverending story" & Eleven reads Hopper's speech
Justyna: It's incredibly hard to highlight just one scene from the second half of season 3 of this fantastic show. I could name a few scenes from the season finale alone, especially the final few minutes with all the goodbyes and Hopper's speech. It's impossible not to be moved by his words, the thought of his loss and Byers' family's (including El) departure from Hawkins. But since this emotional part is already mentioned below let me highlight the painful culmination of the fight against the Mind Flayer. I absolutely need to believe that Hopper is still alive but seeing him quietly accepting his fate and letting Joyce know it's okay to close the portal was such a tragic moment. Even more powerful when intertwined with the fight happening above them. Billy's sacrifice hit me harder than expected. He wasn't a good guy or a likeable character really, but I did feel for him in the end. His final act being taking back the control of his body and physically stopping the monster from hurting El was certainly the best thing he's ever done. A true sacrifice. Max's reaction to his death was genuinely heartbreaking. These two did not have a good relationship but it's clear how much she still cared for her brother. In the end he made the right choice and this is how she gets to remember him. Losing Billy in such a harrowing way and Hopper's disappearance right in front of Joyce make for the most tense, heart-rending and memorable goodbye. And the aftermath was equally impactful, starting from El as she realizes what happened to Hopper and ending with the last word in his letter. It's been such an eventful journey with this show. I already miss it and can't wait for more. Kudos to the entire cast & crew for all their work.
Zandarl: It's tense, Hopper and Joyce need the code to get the keys to shut down the machine and close the portal to the inbetween. The mini mind flayer (though not so small) is chasing the gang in the car. Dustin on the radio knows his beloved Suzie will know the answer which is the number to opening up the safe but she isn't happy as not having heard from him. So she makes him sing their song. Then seeing the reactions on everyone's faces and the various cut scenes as they all heard it over the radio was hilarious taking the edge of the tension which had been building.
Milo: One of the best moments of the season and the series so far paired Dustin and Suzie in a musical number that brought their characters front and centre for the whole cast to hear in a way that felt very much similiar to The Magicians' perfect Under Pressure number. Felt like Stranger Things pushing out the boundaries and succeeding in style, showing the heart and care that the creators have for their characters.
Laura B: Eleven reads Hopper's speech. After a delightful blast of a third season, the last two episodes push for a rather emotional ending! The voice-over monologue and flashbacks of Hopper writing the letter intercut with scenes of El reading the letter and watching the gang say goodbye, as Joyce, Will, Jonathan, and El leave Hawkins, was very powerful way to end the season.

THE 100, "What You Take With You", July 9, 2019, Actors: Marie Avgeropoulos, Henry Ian Cusick, Eliza Taylor and more, The Scenes: Octavia confronts her demons & Kane's goodbye & Clarke takes over
Justyna: Three important stories were being told during the hour. Since the highlights of two of them are already covered below, I'm happy to choose the part focused on Octavia. So much can be said about this character, she's certainly one of the most complex and developed members of our main group and her relationship with her brother was probably my favorite one on the show for most of its run. Things have certainly changed, more than once, when it comes to Octavia, but it was a fascinating scene, watching her confront her demons and the past. A memory or a vision of Pike forces Octavia to truly understand the severity of her actions, the painful consequences of her choices. Some of them for the better good, others - not at all. No matter where you stand when it comes to her time as Blodreina it's hard not to feel for her in this moment. The part where she reminds me of who she used to be, a warrior, but a noble and understanding one, Bellamy's sister, one of The 100, like a daughter to Indra, the Wonkru's champion. Two things stood out to me the most in this scene. One is Pike's brief mention of the fact that he was trying to earn his redemption when Octavia killed him. The fact that never truly hit me until this moment. Certainly makes you wonder about how things would look like from the perspective of all the people that died because of many of our main characters' actions. To follow Kane's words: "we've all done awful things" and only a few gets to have another chance. Second thing, the breaking point that truly makes the difference for Octavia has to be the memory of Lincoln and his death. It feels like forever ago and yet he remains such a big part of her character, an inspiration to do better. It's hard not to be moved by the flashes of his death intertwined with the vision of Pike's execution. Great editing and wonderful performances by Marie Avgeropoulos and Michael Beach. Kudos! Can't wait to see where Octavia goes from here. Blodreina no more, welcome back Octavia Blake.
Jessica L: Over the past six seasons, viewers have watched the relationship between Kane and Abby evolve, as the pair went from enemies to friends and eventually lovers. These two have been through so much together, and Abby had spent the entirety of season 6 trying to save the man she loved, so it was that much more heartbreaking for her to have to say goodbye. An already teary goodbye became even more impactful as Abby envisioned the original Kane, played by Henry Ian Cusick, during their final moments. I loved the callback to the first season, as Kane told Abby that he was trying to make sure they deserved to survive, a nod to when the council was deciding on whether or not to cull people on the Ark. And it also broke my heart when Indra and Raven said the traveler's prayer and then Indra told Kane that his fight was over. It was the perfect way for the characters and viewers to say goodbye. Also picked by Marko
Luana: Clarke takes over her own body. We've been waiting for this and it was just as badass as we expected, at least now she can fully fight for her own life without having to take a backseat anymore. And it was also nice to see Josephine recognize she needed to give Clarke control to get out of the situation they were in, the fact that Clarke also learned a thing or two from her parasite is just a big plus.

THE HANDMAID'S TALE, "Unfit", July 10, 2019, Actors: Elisabeth Moss, Ashleigh LaThrop, The Scene: June watches as Ofmatthew snaps
Jessica L: June watches as Ofmatthew goes off the deep end in the supermarket. June had spent the majority of the episode turning the other handmaids against Ofmatthew and making her life unbearable, so it wasn't surprising that Ofmatthew went to such extremes in the end. However, it was the look of pure enjoyment on June's face that packed a powerful punch, showing just how much she has changed over the past 2½ seasons. June had such a crazed look on her face, smiling with glee as Ofmatthew pointed the gun at her. With the slightest of nods from June, Ofmatthew then turned the gun on Aunt Lydia before being shot by another guard. As two of the guards dragged Ofmatthew out of the supermarket, leaving a trail of blood in their wake, June just continued to watch with no feeling of remorse for what she had done. If this scene doesn't epitomize exactly how much trauma the handmaids experience in Gilead, I don't know what does.