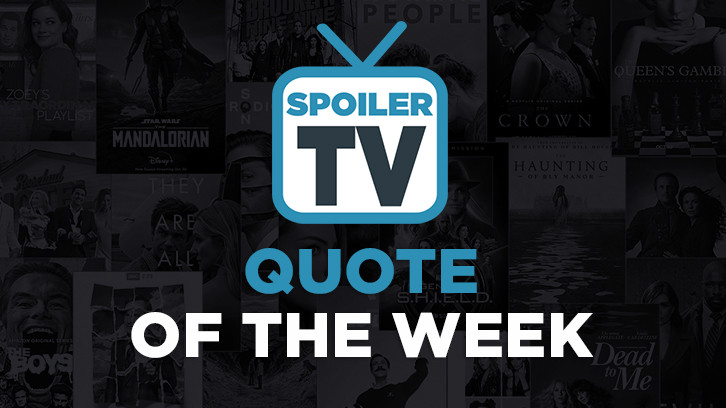 A weekly feature highlighting the best quotes on TV as picked by the Spoiler TV team. We'd love to hear your picks too so please sound off in the comments below.



1. David: "You haven't lived until you've tasted 16th century churros."
2. Maggie: "And I would love to drive something other than a 1999 Toyota Tercel but god only gives us what we can handle."
3. Stick: "The woman in the front row? She threw me off too! Zombie contacts. I'm going to have nightmares." (Abby Crofton)
1. Lexi: "I had this terrible dream that I was thrown into hell and this angel, who sounded a lot like Chuck, was screaming about me befouling his bedroom." Danny: "That wasn't entirely a dream."
2. Lexi: "I always assumed I'd be the one to get us killed. I'm filled with so many contradictory emotions."
3. Lexi: "We're just enthusiasts, really. 'We give a dam.' That's our club motto." (Jessica Carnes)
4. Lexi to Danny: "I thought you were dead and I'd never get to tell you I was right."
5. Danny: "What? Thought you'd be getting to punch old Nazis?" Lexi: "No." Danny: "Sorry, Lex, time is a cruel mistress." Lexi: "I mean, couldn't there be just one too-angry-to-die Nazi left for me to send to hell?"
6. Lexi: "Fabi is….is dead. My mother's dead. Everyone I love dies." Danny: "Everybody dies, Lex." Lexi: "The people closest to me die too soon." (Dahne)
1. Maya: "Maybe you've taken this thing as far as you can." Rami: "I haven't taken it anywhere. I'm sitting in a basement." Maya: "You made a point. People heard you. Get out of this dungeon, dust yourself off, and find a new way to fight because I'm sorry but this one's over."
2. Maya: "You're not wrong but you're also not gonna get Rami back." Trey: "Rami wouldn't want us to do the thing you're thinking about doing." Maya: "Of course, he wouldn't. That's why he's worth fighting for. Bad people win when good people won't get down in the mud with them."
3. Asa: "You look good. You stopped to change on your way here." Glenn: "Sometimes I do like to wear regular clothes, and if you're gonna do this for me, don't do it because you like my outfit." (Dahne)
1. Mina: "You have trust issues." Sherlock: "You have truth issues."
2. Watson: "So, in spite of everything, all of her lies, all of the bad things she does, you like her, don't you?" Sherlock: "She possesses a singular intellect. It would be a shame to see it go to waste." Watson: "And you have a soft spot for singular intellects." Sherlock: "She's no Moriarty." Watson: "Not yet."
3. Sherlock: "You're wrong about my family. My mother died when I was young. My father was never much of a father at all. To one extent or another, I've always been alone." Mina: "You have Joan, the people you work with." Sherlock: "Yeah, but in the grand scheme of things, their presence in my life is a new development. It's one I cherish, and while they deserve the lion's share of the credit for that, it's also thanks to something I did. I became a consulting detective. I was, for a time, the only one in the world. I invented a role for myself. I found a way to take my difference and turn it into something I could use to contribute." Mina: "Say you're right about me. I want to change. I want to contribute. You're saying I have to become a detective?" Sherlock: "No, that was my solution. No doubt yours will be different." Mina: "So what do I become?" Sherlock: "I have no idea, but if you really want to be a better person, I could help you figure it out." (Dahne)
1. Brian: "He worries too much and so do you." Cassie: "You worry about me. I worry about you. I hear this is how families work."
2. Cassie: "Sometimes we stay mad because it's easy, not because it's right." (Dahne)
1. Dylan: "You know, when I was a kid, music was my safe place. Then it was the CIA and now it's you and the family we're gonna have. Nothing is more important."
2. Andy: "Come on. We talked about this. No whiteboards in the dining room." Dylan: "I've broken down our options into categories, subcategories, and sub-subcategories." Andy: "Like they're suspects in a murder investigation," Dylan: "Think about it as a birth investigation."
3. Julian: "What exactly happened last night?" Lizzie: "After you snuck out, Jasmine and I had a few. And by a few, I mean bottles." Julian: "Drinking on a school night? How very un-Lizzie of you." (Dahne)
1. Cat: "I'm here if you need me. Hey, send up a flare when you decide to rejoin the human race, okay?"
2. Cat: "Let's cut to the chase. What do you want?" Doug: "You used to like a little foreplay." Cat: "You used to not try to kill me." Doug: "Every relationship has its ups and downs." Cat: "Okay, I don't have to play your games anymore. Bye Doug. Love and kisses to the boys in D Block."
3. Doug: "See, this is what I miss, playing chess with you." Cat: "I miss it too. The problem is both of us cheat. I'm gonna find out whatever you're up to and I'm gonna drive a stake through you with it, once and for all." (Dahne)