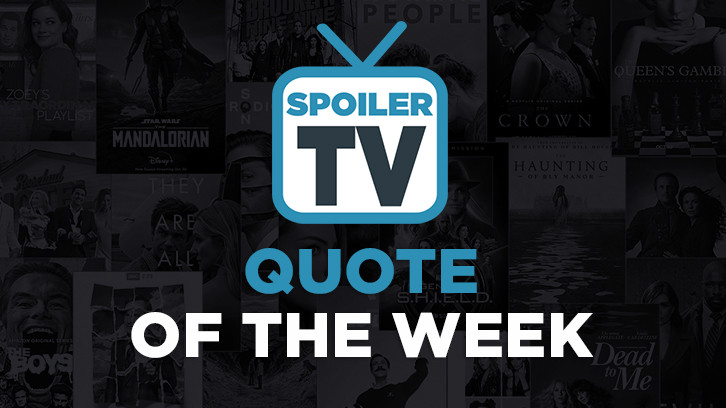 A weekly feature highlighting the best quotes on TV as picked by the SpoilerTV team. We'd love to hear your picks too so please sound off in the comments below.




Agents of SHIELD
-
1. YoY: "What do you remember?" May: "Jaco took the bomb and blew the aircraft out of the sky. We got back to the lighthouse, had beer, whiskey, made toasts. Davis was hammered. You and Mack were obviously about to have sex." (off Yoyo's reaction) "You asked what I remembered." (Prpleight)
2. Deke: "Just sayin' the Other You thought it was a fear dimension." Fitz: "Yeah, well he wasn't the smart one." (Prpleight)
3. Daisy: "He's surrendering himself." May: "He's trusting his team." (Prpleight)
Big Little Lies
-
1. Celeste: "We're not family, Mary Louise." (Jessica)
2. Ed: "Well, like I said before, you can't just wave a wand. But that was pretty f**ing close." (Jessica)
3. Celeste: "It's my fight, Your Honor. I ask that you let me wage it." (Jessica)
Blood & Treasure
-
1. Alina: "Who is your contact?" Danny: "Wa enta Malak." Alina: "That means 'None of your business.' " Danny: "Oh. Does it?" Lexi: "That's my bit. He…he just stole my bit." (Jessica and Dahne)
2. Lexi: "Do you see what you've done to me? I'm all soft and weak now. I'm useless." (Jessica)
3. Lexi: "The only time in my life that I've really been happy, truly happy, it's been with you." (Jessica)
4. Simon: "Suffice it to say, you cannot trust them." Lexi: "And we can trust you." Simon: "Well at least I'm upfront about being untrustworthy."
5. Gwen: "I broke into Fabi's apartment and I stole a bunch of secret files from his office. Father Chuck said I could do it." Danny: "Wait ...what?"
6. Lexi: "You know, I always thought I would feel better when Farouk was dead, but I just feel numb."
The Code -
1. Glenn: "I don't know how to do this. I want to take some of the pain you're in and make it mine, but I don't know how and I...seems it doesn't work like that. I see you here and I wish so many things for you and I don't know how to do any of them and I'm not used to feeling that way. And I hate it, so I'm just trying to focus on the next thing that they tell us to do.
You will get better. You'll feel better. You'll make...you'll make new plans and you will get back to your unit." Adam: "Mom, the reason I was pushing myself so hard in rehab, it's not so I can get back to my unit. I want to get out of here so I can take the medical separation." Glenn: "You're leaving the Marines?" Adam: "You know what I think about at night. How many people just like me have done a tour in this bed? I was 4 years old when we started fighting Afghanistan. How many legs have people like me given up? How many hands are gone? How many brains that don't work? Did you read that the president's talking about total withdrawal." Glenn: "There's different projections." Adam: "The Taliban's gonna be cutting people's heads off in downtown Kabul inside of 6 months. My leg, all the other body parts we threw onto that bonfire, none of them meant anything. I don't want any part of it, not anymore."
2. Maya: "You never come out and say anything, Rami. You rule us all with the dark art of implication."
3. Abe: "Mr. Ahmadi, welcome home." Rami: "Thank you sir. All it took was complete and utter capitulation." Abe: "Well, welcome to the Marine Corps. I have to say I pictured the moment of your return a little differently. Have you seen the end of An Officer and a Gentleman?"
Elementary
-
1. Sherlock: "When my message reaches the appropriate parties, agents of the Crown will call that encrypted cell phone." Watson: "Why give it to me?" Sherlock: "Because I trust you. And I want to show that I'm worthy of your trust in return. I lied to you once about Odin. I won't do it again."
2. Joan: "I mean, as a native New Yorker, it hurts to say but Boston has great teams pretty much across the board."
3. Bell: "You really think she's talking to her suppliers about her dogs?" Joan: "I don't know. Pet owners will talk to anyone about their pets. Our mailman knows Clyde's life story."
Killjoys
-
1. Johnny: "Did you give him the bad customer sugar?" Dutch: "Two scoops." (Prpleight)
2. Dav: "This is gonna be like punching toddlers. Can we just talk?" (Prpleight)
Reef Break
-
1. Cat: "Just how crooked is your boss?" Petra: "Crooked enough to get things done on the Reef, but not so crooked that I can't get up in the morning and go work for him."
2. Jake: "Your running mate nearly got you killed. He would have let you die just to protect himself." Petra: "Well he is a known quantity and for the moment, my necessary evil." Jake: "Yeah well, back in my sunnier days, I'd have said that no evil was necessary." Petra: "But now, not so sunny, huh?" Jake: "Oh, it's getting brighter again."
3. Dylan: "Man, Cambridge was a bad investment."
4. Wyatt: "He's been saying it for the past hour, I now know how to play dumb in Thai."