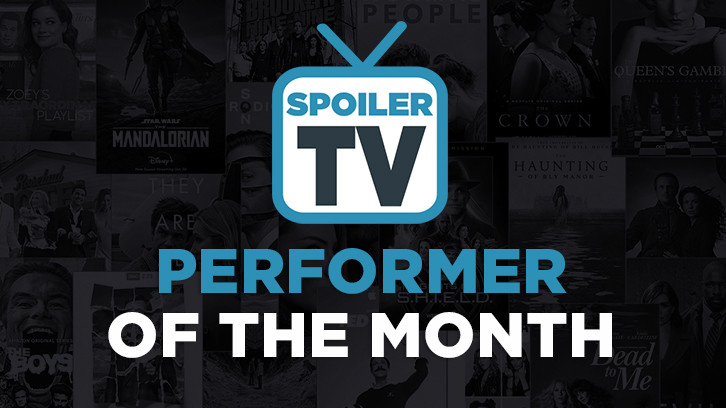 May has proven to be a month full of unexpectedly diverse and complex performances. It will be a truly interesting battle to see who will make it to the Top 10 this month.

The 2018 round turned out to be a year of surprises. It will be exciting to see who will win the title each month. Remember that the winners from this year will be eligible for the 2019 Performer of the Year contest in January 2020. The 2018 Performer of the Year winners are noted below and their winner articles will be out sometime later this month.

Before you take off to nominating please read the new rules very carefully.

2018 Staff's Choice Performer of the Year: Sandra Oh
2018 Reader's Choice Performer of the Year: Alycia Debnam-Carey

January Winners:
Readers' Choice: Jared Padalecki (Sam Winchester) - Supernatural
Staff Choice: Andre Braugher (Captain Raymond Holt) - Brooklyn Nine-Nine

February Winners:
Readers' Choice: Jensen Ackles (Dean Winchester) - Supernatural
Staff Choice: Hale Appleman (Eliot/The Monster) - The Magicians

March Winner:
Readers' and Staff Choice: Camilla Luddington (Dr. Jo Karev) - Grey's Anatomy

April Winners:
Readers' Choice: Matthew Daddario (Alec Lightwood) - Shadowhunters
Staff Choice: Jodie Comer (Villanelle) - Killing Eve

May Winners:
Readers' Choice: Tom Ellis (Lucifer Morningstar) - Lucifer
Staff Choice: Chyler Leigh (Alex Danvers) - Supergirl

Please note that a performer can now only win once per year and a show can only be represented by two winners per year. No exceptions will be made for any performer or show, so please use thoughtful consideration when making your nominations. You will have to fill out the submission form for each nominee you submit. You can submit the document up to 5 times, but each entry must be for a different performer or all of your other nominations will be disqualified. The Top 5 most nominated actresses and Top 5 actors will be placed in the poll next week to determine the Readers' Choice Performer of the Month.

Because of its 2 wins already this year, Supernatural performers are no longer eligible for nomination in 2019. The 2 winners that have already won will be included in the 2019 Performer of the Year contest in January 2020, so they do still have one additional chance at winning.

After you place your nominations take a moment to use the comments section to discuss your nominees with others. Episode number for the nominees is critically important, so discuss with others why you think a performer deserves to be recognized for a specific performance within a single episode.

Nominations will run until July 7th at 6 pm ET. The poll will post on July 8th at 6 pm ET.

Last month it became obvious that the best format for entering the episode number is season number then episode number. So you can either enter the episode number as 101 or 1.01. Either will work on the form and both will be accepted.