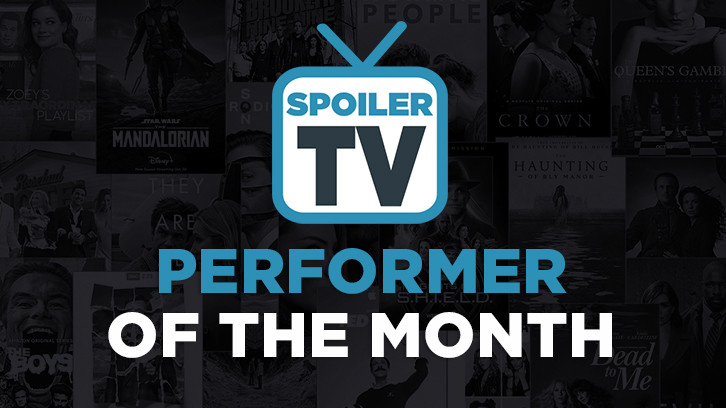 Results:

This was a wild round of voting with the top spot on both sides changing hands multiple times. The ultimate winners lingered in the shadows for the first bit of voting before surging ahead to never again be caught.


Suranne Jones is a beloved British actress known for taking on complex characters and delivering unrivaled performances. Her portrayal of the real-life Anne Lister on HBO and BBC One's joint venture,
Gentleman Jack
, may end up being her most prolific role to date. Her performances throughout the first season continually defied expectations. Ultimately it was her emotional and heartfelt performance in the season finale,
Are You Still Talking
(1x8), which earned her the title of SpoilerTV's June Readers' Choice Performer of the Month. It was an intense episode that tried Anne in every way imaginable and Jones stepped up to every challenge thrown at her character. Then came the big moment when Anne was reunited with Ann Walker (Sophie Rundle) and the whole tone of the episode changed allowing Jones to tap into Anne's snarky playful side. Jones captured every humorous, heartbreaking, and heartwarming moment with a tour de force performance making her a very worthy winner of this title.
For the audience to feel the impact of events unfolding on screen, they need someone to represent the human reaction within the story.
Chernobyl
(1x5) finds its anchor in Jared Harris's eloquence. As Valery Legasov, Harris conveys the depth and scope of the tragic horrors unfolding throughout the series. The finale
Vichnaya Pamyat
revolves around a trial, but it's also a test with high stakes. Harris plays a man revealing the whodunnit of a mystery while knowing the answers he gives will endanger himself and others. For more than one reason, his character is on borrowed time, and Harris's compelling performance reflects the weight of responsibility and sorrow that Legasov carries. Harris holds the pathos with an unyielding grip, accentuating it with his character's reluctant courage. For making the excruciating appear effortless, he has been chosen by SpoilerTV's Staff as June's Outstanding Performer of the Month.
The winner articles for Suranne Jones and Jared Harris will be out later this month. In the meantime, please feel free to use the comment section to discuss these two worthy winners and their impressive fellow nominees.
Original Post
Thanks to all of your nominations we have an outstanding list of nominees. These 10 outstanding performers will now battle it out for the title of SpoilerTV's Readers' Choice Performer of June.
2018 Staff's Choice Performer of the Year: Sandra Oh
2018 Reader's Choice Performer of the Year: Alycia Debnam-Carey
January Winners:
Readers' Choice: Jared Padalecki (Sam Winchester) - Supernatural
Staff Choice: Andre Braugher (Captain Raymond Holt) - Brooklyn Nine-Nine
February Winners:
Readers' Choice: Jensen Ackles (Dean Winchester) - Supernatural
Staff Choice: Hale Appleman (Eliot/The Monster) - The Magicians
March Winner:
Readers' and Staff Choice: Camilla Luddington (Dr. Jo Karev) - Grey's Anatomy
April Winners:
Readers' Choice: Matthew Daddario (Alec Lightwood) - Shadowhunters
Staff Choice: Jodie Comer (Villanelle) - Killing Eve
May Winners:
Readers' Choice: Tom Ellis (Lucifer Morningstar) - Lucifer
Staff Choice: Chyler Leigh (Alex Danvers) - Supergirl
Please remember that a performer can only win once in 2019. After that win, they will be ineligible to win again in 2019, but they will secure a spot in our year-end Performer of the Year contest.
Now comes the hard part where you can
only vote for 1 performer
. The poll will be live until
Thursday, July 11th at 6 pm ET
. After you vote be sure to make a pitch in the comments section for what the performer you voted for most deserves to win.