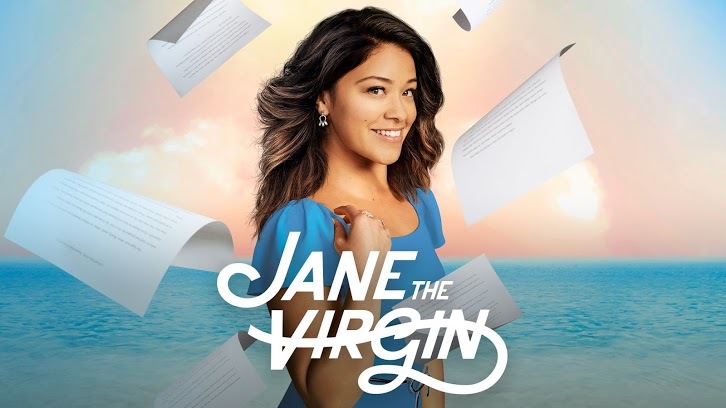 Jane the Virgin
"Chapter Ninety-Six" was written by Ben O'Hara and was directed by Viet Nguyen, whose other credits include
iZombie
,
Lucifer
, and
Dynasty
. This is O'Hara's first writing credit, but he's been a writer's assistant on the show for 58 episodes. Once again, this episode feels like we are moving toward a place where things may wrap up – but does that happen with a telenovela? Things are also heating up as we move toward the end of the season – and – SOB! – series. Rose's (Bridget Regan) plan is put in motion just as it seems that Jane's (Gina Rodriguez) life is finally on track. And a shout out to Jaime Camil (Rogelio), who is always a joy to watch and really puts the meta in meta!
The episode opens with the Narrator (Anthony Mendez) doing one of the things the show loves to do – tease us by telling us that at 30 years and six months, Jane's life would change forever – and then jumping back in time! Happily, we quickly learn that Petra (Yael Grobglas) and Magda (Priscilla Barnes) survived the crash – but Magda is hurt worse and eventually has to lose her leg. Petra confides in Jane that her first thought after the accident was for the twins (Mia and Ella Allan), but she realized they'd be fine because they'd have Jane as a Stepmom – and that was one of the major threads in the episode.
Jane is rearranging the house to make everything equal for the twins – much to Rafael's (Justin Baldoni) delight when Jane is suddenly overwhelmingly inspired to finish her novel – to the exclusion of everything else for the next three weeks – including the episode title! Finally, it's
Jane the Virgin Stepmother Who Just Finished Her Novel!
Rafael loves it and so does Marlene (Melanie Mayron), but Marlene's lover, the Agent, passes on it. Jane then sends it out to every Agent she can, but she's soon convinced that the manuscript isn't even getting past the assistants – and she would know because she used to be one!
Meanwhile, Petra asks Jane to help with the twins. She has a long list of rules for them that the therapist has suggested to give them boundaries and help them to feel safe. Petra is determined to make them stop lying. Jane – who loves a list – is on it. Unfortunately, it doesn't go quite as smoothly as she'd like and the twins lie to her to get time on their iPads. Jane reaches out to Petra for guidance but tells her not to tell them – which Petra does.
The next time Jane comes to get the twins, they call her "lame Jane" among other names and then run away, make faces at her, and knock over a woman's (Julia Parker) luggage. The woman assumes Jane is the nanny and tells her to take control of her kids. Jane if rightly furious and tells the woman not to assume she's the nanny because she's Latino! The girls back her up – after a fashion – they say she's not the nanny – she's the Evil Stepmother!
Meanwhile, Rogelio and River (Brooke Shields) nervously observe testing being done on their Pilot. The executives (Dale Waddington and Rueben Grundy) are happy with the results and just need a few tweaks before sending the pilot to the networks. Rogelio, however, thinks that it's a disaster! The scores were great for the young leads and he's sure that he and River will be turned into side characters! The two decide to reedit the screener before it goes to the networks.
They are going to have to pull an all nighter, so Rogelio calls Darci (Justina Machado) to cover his turn with Baby. She agrees but tells him that he's going to owe her. Rogelio and River are finally satisfied but when they go to send the cut, they discover that River's assistant PJ (Eden Sher) has already sent off the first one! The two come up with an elaborate plot – which is hilarious – to get the right tape to the secret retreat.
Xo (Andrea Navedo) tries to get Rogelio to give Jane a pep talk when she's ready to give up on her dream. At first, he's consumed that his own career is over, but quickly pulls himself together for Jane. He tells her an elaborate story about how he got the scar on his arm. I loved this sequence as Camil is fabulous in it. It turns out that he got his big break because he was stalking a famous director – who then banned him for life – but it got him enough notoriety to get his first job – on The Passions of Santos. But I loved Jane continuing to break in at points and say "and that's when you got the scar" – and Rogelio's "no!"
The two then devise a plot for Jane to break into an Agent's office and get her manuscript on the pile of weekend reading for the Agent. She'll go in as a delivery person. And again, Rogelio has charts and diagrams! At the last minute, Rafael calls, and Jane has to take the twins – and bail on the plan.
Similarly, when Rogelio is about to head out on his hilarious plot, Darci shows up at his door with Baby to collect on his debt. She makes him take Baby – and reminds him that these are the moments that you don't get back – when the baby is young. It's exactly why he wanted to have a baby in the first place because he missed those moments with Jane.
In the end, the twins want to help Jane carry out her plan. When the security guard (Josh Latzer) questions who they are, the twins say they are the daughter of one of the executive, and Jane claims to be their nanny! She explains to them that in this context it's ok because she is using the guard's bias against him so that it's subversive. In the end the plan works, and the three are excited – so cute! But Jane then explains that lying is always bad and wrong – and she punishes herself.
Jane decides that this is her last chance. If the Agent doesn't pick up the book, she has to be realistic and just find another career. Writing will just be a hobby. The Agent calls the next morning and passes. Jane is devastated but determined to move on. And then, Mateo (Elias Janssen) suddenly pipes up and says that he loves Jane's book – and starts reading from it!
When River calls to tell Rogelio how the mission went, he ignores her call because he's watching Baby take her first steps! He's discovered, finally, that family is more important than his career. Eventually, River does tell him that PJ went in to deliver the cut but never made it. Rogelio tells her that he's ok with it. He's decided that he wants to spend more time with his family, so maybe being a supporting character is exactly what he needs at this point in his life. He tells her that he's happy to be the spice, not the dish. And I loved how meta this is. Camil is truly the spice in Jane the Virgin.
River is not happy! She doesn't have the same relationship with her daughter that he has with his. Rogelio is shocked to learn that River has a daughter and even more shocked to find out her daughter is PJ – Pond Juniper Fields!!!!! River tells him that PJ hates him – for that name if nothing else! Rogelio promises to help River reconnect with her daughter – it's his new mission.
Petra is unhappy with Jane that she didn't tell her about what happened with the twins. Jane finally blows up and says that she isn't the nanny and she needs to have her own relationship with the twins if they are to feel safe and loved. Really, I thought that Petra also had a point. This is parenting, not high school. A parent does have the right to know what happened – and needs to know in case there are repercussions. The two are interrupted when the hospital calls to tell Petra that Magda has taken a turn for the worse. The doctor tells Petra he needs her wishes to unplug Magda in writing – an emoji of a plug and thumb in a text aren't enough!
Petra heads to the hospital with Jane. Petra does look sad when she finally takes Magda's hand, but she tells Jane that she's sad that she doesn't feel anything. Her mother was a horrible selfish person who made her life miserable. Jane tells her that it's ok to cry for herself because Petra deserved better. Petra explains that it's why she's so strict with the twins. They lie – like Magda. Jane tells her that they'll be fine because they have all of them as their family.
They are interrupted when Jane gets a call from a huge Agent who wants to represent her!
Naturally, just as they are about to unplug Magda, she comes out of it! She's ALIIIIIIIIVVVEEE!!!!!
Meanwhile, Luisa (Yara Martinez) at Bobby (Tommy Dorfman) and Rose's urging has gone to Rafael to ask him for their father's tie tac – as a momento of happier times. Rafael tells her no way, and if she wants it, it's likely for Rose, so he's taking it straight to the police. Unfortunately, what they really wanted was for Bobby to get the combination to Rafael's safe so that they could then steal their father's watch, which also contained his fingerprint! The fingerprint opened the door to a vault full of cash! As the episode ends, we see that the other part of Rose's plan involved all those other women she'd enlisted – and they are all wearing her face now?!?! What IS she up to!
Great performances this week from Rodriguez and Camil – as well as Mia and Ella Allan who are just terrific as the twins. Jane finally has her novel finished and a big Agent – is her career finally taking off? What will Magda do now – can Petra ever be free of her? And what exactly is Rose up to now? What did you think of the episode? Let me know your thoughts in the comments below!