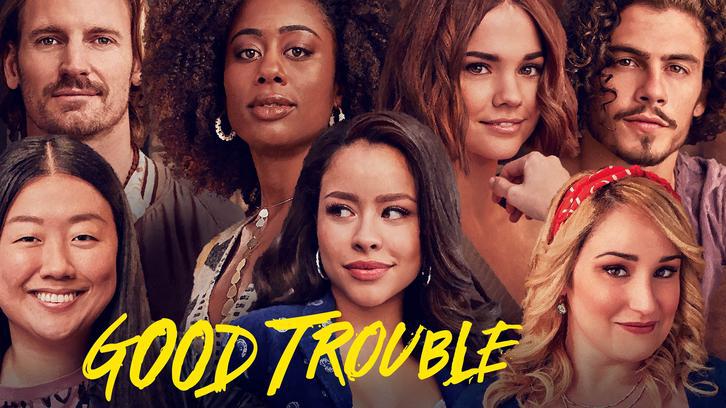 Life got in the way and I didn't have a chance to do a proper review for last week's episode so here comes a quick double review instead.

Last week it was Jazmin's double quince and that episode had a little bit of everything in it. Callie was trying to figure out her next move career wise but also not telling Jamie about Jazmin's party because she hadn't told Gael about them. We got to see more of Gael's family and more of his ex Elijah. Mariana's app was finally up and running but they encountered a few problems that were concerning in the fourth episode.

This week Davia and Dennis were more involved as Davia's mother was in town. We get to see both present day scenes but also flashbacks from the last time that her mother was visiting and stayed at the Coterie. Callie started a new job as research assistant and she was also trying to help Malika's father in this episode since he was getting evicted from his apartment.


Favorite character:
Doble Quince
–
I would say Jazmin because she was amazing in this episode but if I have to go with anyone from The Coterie, then it's Gael. I liked how he tried to help his sister and that he came out to their parents because he felt that it was time and that it was necessary to do so. He truly loves his sister and it's very heartwarming to see that. He just wants his sister to be happy and truly herself, which I think is so nice to see.
Unfiltered –
Davia all the way. I still don't like that she texted Jeff in the end because I don't think that she should be with him. I think she should cut him lose but I honestly don't see her doing that unfortunately.

Favorite scene:
Doble Quince -
When Gael and Jazmin's grandfather shows up. That scene was just so sweet and I was so happy for both of them that he showed up and told them that he doesn't care because he loves his grandchildren. I also loved the dancing scene, it was just so beautifully done and I couldn't help but smile when I saw that scene.
Unfiltered –
Honestly, any scene with Davia in it. This episode just truly belonged to Emma Hunton because she was incredible. I loved how you could feel every single emotion that Davia felt thanks to Emma's acting. I cannot even imagine what it was like to grow up with a mother who made her daughter feel the way that Davia's mom made Davia feel.
Favorite quotes:
Double Quince -
Jazmin: You came out to our parents.
Gael: Yeah. So, what are you doing for all the major holidays?
Unfiltered -
Davia to Dennis (This quote broke my heart): I don't want to tell my mom what I really think about her because it will hurt her. I don't want to make her feel the way she makes me feel.
What did you think about these two episodes of Good Trouble? Please, let me know your thoughts in the comments below.