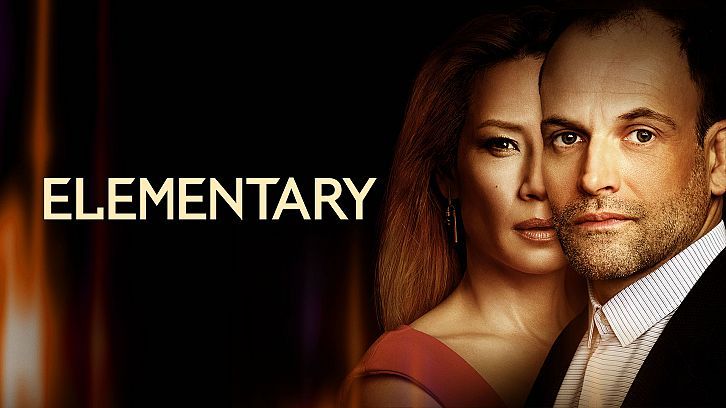 Episode: "From Russia with Drugs"
Directed by: Michael Hekmat
Written by: Sean Bennett
Air date: July 4, 2019
As for the case of the week, a man is found lying dead on a pile of cash, which starts a conversation about a possibility of toxic money with traces of fentanyl being the cause of his death. It's a small thing but I like how confident Sherlock was in his assessment and how he was proved right in the end. The banter between Holmes and Det. Bell regarding this topic was a nice touch. A simple way to show how two people can disagree with each other but still be respectful about it. There was also a glimpse of Sherlock's internal struggle with hiding the truth about Reichenbach and his organization. The most interesting part of the case for me was probably Holmes visiting another familiar face - a known Russian spy named Olga Berezhnaya. Formerly a stripper and now disguised as a teacher, she owes Holmes a favor for not revealing her identity so she shares an important lead with him. She also makes him a witness to an explosion in the middle of the city, quite a memorable conversation, I have to say. In the end however, it's all about the money. Once again people are willing to go to extreme measures just to keep their wealth and their company prospering. There were some clever twists involved in this one, but most likely I won't be returning to this hour anytime soon.
Episode: "Miss Understood"
Directed by: Michael Smith
Written by: Bob Goodman
Air date: July 11, 2019
As for the case itself, Heather Foley was killed because she was a police informant and was close to helping the cops stop an organized crime ring dealing in stolen baby formula. I have to say, I would never think that baby formula could actually be used in such a way, so the reveal about this crime ring was pretty shocking to me. Everything about it sounded familiar, like any other drug organization, everything but the product itself. The scale of shoplifting showed in this case was also quite something. Seems that there truly are no limits to how far people are willing to go in the name of the financial gain. Thanks to Cassie's involvement in the case, however, this one is certainly one of my favorites in a while. A great opportunity well explored by the writers and the creators of the show.
Episode: "On the Scent"
Directed by: Christine Moore
Written by: Jeffrey Paul King
Air date: July 18, 2019
Regarding the case of the week, an artist named Caroline Gibbs is murdered at her own house and the police suspects that it might be a work of a serial killer known as The Ghost of Brooklyn. What's interesting about him is the fact that there doesn't appear to be a pattern to his actions and everyone believed him to be retired or dead after ten years of no activity. After the conversation with a relative of one of The Ghost's victims there starts a doubt regarding the original conclusions of the investigation from 15 years ago. My theory was that someone out there might be intentionally leaving his DNA behind to keep killers from jail (probably for profit), but it turned out that the whole thing was nothing more than an accident at work. There is no Ghost of Brooklyn, there never was. Instead a man working at Northeast Med Tech, the company responsible for making the DNA kits used by the police department, obliviously contaminated swabs due to his condition (hyperhidrosis). The investigation takes a turn when it's revealed that the victim was selling drugs and also took into her care a dog that used to be a part of K9 unit. "Weed-sniffing dog being fostered by someone who sells the stuff." In the end Caroline's murder was all about taking her dog and using him to steal a shipment of marijuana from one of the cartels. The man behind it is a brother of the cartel's lawyer. Certainly not the best plan or the criminal, but an enjoyable hour overall.
1. Sherlock: "That's one thing I like about people in your profession: punctuality. I've never met a spy who is late."
Olga: "Old habits die hard."

2. Sherlock: "Who is this Scrooge McDuck?"
Joan: "Picture your father but as a duck."

3. Sherlock: "Perhaps if your mouth is busy, you won't lie as much."

4. Cassie: "Maybe connecting with one person, even for a short time, was that important. But I guess that's something you wouldn't understand."

5. Joan: "Since when do I need to be shielded from the truth?"
Sherlock: "I didn't do it to shield you, I did it to spare you."
Joan: "From what?"
Sherlock: "From having to lie to everyone else. Odin is the reason the captain was shot and we can't tell him. Or Marcus or anyone else, for that matter. Knowing a secret of that magnitude, kno-knowing the truth about an attack that almost killed a friend and keeping silent, it's... corrosive."

What did you think about "From Russia with Drugs" & "Miss Understood" & "On the Scent"? Any favorite scenes or quotes? Feel free to let us know in the comments. As always, thanks for reading!