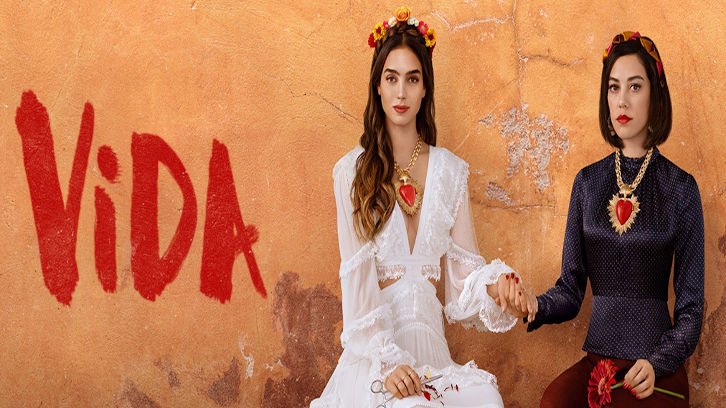 Many things can happen at a wedding: the food can be great, the guests are fun to be around, something unexpected might occur. And maybe someone can use it for putting things in a new perspective, a clearer one.
The third episode of season 2 of "Vida" had a little bit of everything: closure, new beginnings new trajectories.


It was a glorious moment for Emma at a wedding. Cruz invited her and she said yes. At first, I was skeptical too. I never thought Emma would say yes to going to a wedding with someone she's seeing. But then she went and the best scenes of the episodes, in my opinion, took place there. Emma meeting Nico for the first time (already in love!); having a very serious conversation about what it means to label ourselves and if and when it's necessary; Nico already being iconic and straightforward and elegant and nice.
Lyn has organized a loteria at the bar, in an effort to turn Vida into a "
swanky insta-famous lounge
". I smiled a little when she said it, because of the way she said it, but also because she's really putting herself out there to change as a person, as a daughter and a sister. And yes, those are very different things. Is it working for her? Not so much, I'm afraid. I felt so bad for her when, at the end of the loteria, she was told to "
just stick to being pretty
". That was so hurtful and mean and unnecessary for Lyn. Why would she do that? That's why she feels so unadequate sometimes: other people make her feel like she is not enough and that's just awful. People making assumptions of you as a person without really knowing you are only making it worse for the people they judge.
Speaking of judging, Emma and Cruz break up exactly for that reason. I really didn't like Cruz's behavior at the wedding. She shamed Emma for her sexuality and her choice not to identify. Where does it say that we have to put labels on ourselves and the others? If you find one that suits you, fine, but if you don't, that's fine too. No one should be judged for being themselves. Cruz embarassed Emma, Nico helped her in so many ways, so I'm officially rooting for the two of them. The conversation that they have while waiting for the car is too sweet and important and it needs to be listened to carefully. Nico barely knows Emma, but she understands how judgement works and how it can hurt people.
And then there's Mari, who introduces Tlaloc to Johnny and then gets a job as caretaker for Eddy. She's the right person, because she's just kind and likes helping people. I am sure Mari will do great things, because, and I've said it before, we need more people like her in the world, someone who wants to actually change it for the good.
Favorite line:
Emma: "
I'm sorry I don't abide by your dated categories of queerness. I'm sorry that you think I'm confused or indecisive, because I have a wide range of what I can get off to
".
What did you guys think about this episode? Let me know in the comments below!