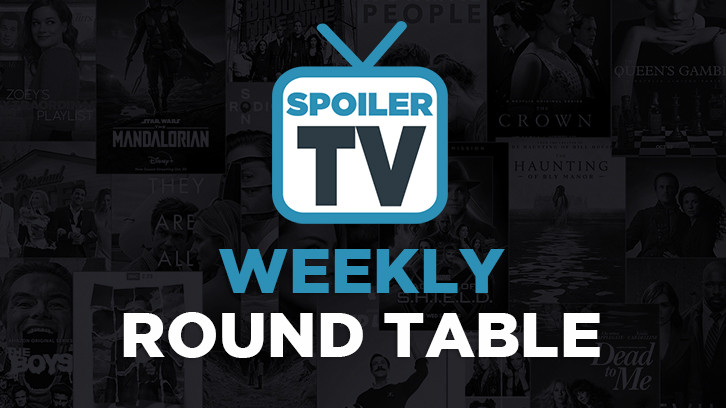 Hello and welcome to a new edition of SpoilerTV's Weekly Round Table. Joining me this week is SarahR (SR), William (WK), Jessica Carnes (Jl), Claire (CS), Zandarl, Milo, Kollin Lore, Abby Crafton (AC), Jamie Coudeville, Prpleight, Thomas Cori (TC) & me (Yon). You just have to sit back enjoy the read and join the discussion in the comment section down below.



SR: I am quite surprised by DC Universe, their Tv show Titans seemed to be a hit and was looking forward to a different type of DC show, it definitely raises a few questions as to the future of the streaming service. My immediate thought for new streaming services is what is the point? Wouldn't it maybe be better to add it to an already popular service and gain lots of viewers quickly, instead of having to build a following from scratch? I wouldn't be surprised if come next year, especially after this cancellation, DC Universe is either almost gone, with most shows on another service or 100% gone.
Kollin Lore: I think it is a damn shame as, based on the first episode, Swamp Thing is a really good show. In fact, I'm kind of outraged, and I think I echo the sentiments of many a viewer. How the DC Universe has been handling all their properties has been shaky at best and that will not bode well for their long-term future.
AC: The weird cancellation eroded the trust people might have had in the platform. I've seen plenty of people wondering why they should spend money for shows that could be cancelled at any moment (literally!). I can't see it being around for the long haul. More likely it'll be absorbed by the Warners service, which is having it's own issues with content and pricing.
Jamie Coudeville: It was weird. I don't think I've ever seen a show get cancelled that quickly. I think the DC streaming service is just struggling in general. I really hope that this doesn't hurt Stargirl's chances, because that's the show I was really excited about. But it's odd how they only release one show at a time. It makes sense that people wouldn't want to subscribe to something like that when you have Netflix releasing shows every week.
Prpleight: Well either the show's got serious quality issues or it's a completely financial decision. I'm inclined to believe it's a financial decision. It's disappointing. DC decided to on a very specific, relatively small audience. I expected they'd have a plan that took that into consideration.. (If the subscriptions missed even that number the... yeesh) Regardless, perhaps three new series during their first year, wasn't the smartest idea. (I wonder if the people pitching the concept inside DC were using Comic Con's numbers as the base for their calculations. A HUGE mistake, considering comics have not been the major revenue draw for Comic Con for years. I hope they can reset and stay alive while they make some reality adjustments. I like DC Universe (even though I don't get there every day).
TC: I feel like DC made a bad decision from the beginning when they decided to open their own streaming platform. Many people already have subscriptions to Netflix, Hulu or Amazon Prime and won't be willing, or have the resources to pay for yet another streaming platform that only has 2 or 3 shows that they are interested in. Much like Titans, the rest of their new shows should have been released through already established platforms, with an already established audience rather than starting from scratch in an already saturated market.
Yon: I've never attended San Diego, but I am inclined to agree from the amount of shows and movies over the years who've skipped San Diego but attended other cons instead? it's not the big event it once was. Sure it still draws in top crowds every year and there's lots of hype around the event, but the whole convention circle has really started to expand over the last few years and I'm glad so many shows, movies, studios and actors are taking that on board. For those who are unable to attend San Diego you no longer have to feel as though you're missing out, as you can attend a convention locally and still have a fantastic experience. The one thing I'll say that does still go in SDCC's favour is the fact it is right bang in the middle of summer when a number of high profile shows are just getting back into filming, and therefore it is still the perfect opportunity for them to wet the audience's appettite.
SR: As someone who has never been to Comic-Con anywhere (sadly), I wouldn't really know. I think the problem is that everything/almost everything can be streamed straight to YouTube and such, making myself think that companies would rather do that instead possibly.
Zandarl: Years ago I just missed comic con by about a week at that time you could still get tickets . We all remember the Big Bang Episode when sheldon and crew were clicking repeatedly to get to get tickets to the event and sadly couldn't . It's popularity was at its height. It's also worth noting in comparison E3 the big gaming con has had heavy hitters pulling out. Do companies believe cons are there best marketing strategy of us social media the bigger platform.
Milo: It's kind of a shame as I'm really looking forward to Birds of Prey and more but at the same time I never really followed Comic Con that much anyway, so for me at least, it was never a big deal. But Marvel will still be there - as will Disney, and maybe it was a good thing as DC can make their announcements at a separate date as Disney are likely to bring out the big guns with Disney+ & Star Wars.
Prpleight: Well if we weren't sure finances were the reason for Swamp Thing's cancellation, that seems to prove the point! I have to admit that I didn't pay any attention to Comic Con's attendance numbers from 2018. But I think to have a comic book company skip the con, is a pretty bad sign for Comic Con. I know that periodically, there have been arguments about Comic Con officially separating itself from the comic book industry, because it's genre movies and TV shows that has gotten the primary focus for years. Is this a sign that the comic industry agrees?
SR: Oh this is hard!! I love so many shows! I would say for new show, Evil as it's the one that has blown me away so far. It looks fantastic and I'm a big fan of Michael Emerson. For a returning show, I would say New Amsterdam. The cast are amazing and have great chemistry with each other, the plot for the 1st season was excellent as well, in my opinion.
WK: To be quite honest, I'm not really anticipating any upcoming series on broadcast television. I just feel like the concepts aren't captivating my attention like previous years. With the TV I do watch, I'm starting to realize that I'm leaning more towards streaming/cable programs because they're giving me the content that I admire. That being said, I'm eager to watch Why Women Kill. I love the idea of three different timelines, in addition to the mysteries that'll ensue from each story. I also appreciate the fact that two of the three leads are of color as well.
Jl: Despite being cancelled after its first season, Whiskey Cavalier is the new show I would recommend to viewers this year. It was funny and fun, and had an excellent plot with some extremely lovable characters. The returning show I recommend is Manifest on NBC. The show is multifaceted and has layers of mystery and depth that I can't help but theorize about endlessly.
CS: One new show that I would recommend is NOS4A2. It premiered June 2 on AMC so it will be on through the summer with 10 episodes. I was enthralled with the first episode and found Zachary Quinto and Ashleigh Cummings to be more than up to the task of headlining this thriller. I also love the Christmas theme mixed with horror. Joe Hill has definitely inherited his dad's (Stephen King) knack for storytelling. Can't wait for the next episode! Also can't wait for season 2 of Castlerock on Hulu slated for next year and season 2 of Big Little Lies on HBO this summer. Both are phenomenal and with Meryl Streep joining the cast of BLL, it's going to get even better.
Zandarl: New Show there are two , I am interested to see the direction Batwomn takes . The dark tone the trailer suggest might be unsuitable the tine slot though. Also been seeing a lot of stuff from poppy Montgomery about reef break which seems like it will be my fun show to watch for the summer .
Milo: I have two shows to recommend and both star one of the best actors currently working, Stephen Graham - that showcase his range as an actor. Shane Meadows' The Virtues aired in the UK on Channel 4 recently and with a PJ Harvey score it explored Joseph coming to terms with his past in a minimalist and powerful way that affirmed Meadows' status as one of the UK's best creators. At only 4 episodes long, it's riveting stuff. The other Graham show of course is Line of Duty - which aired its fifth season earlier in the year and is the best 2019 TV show to date, with the veteran crime drama earning new record viewing figures in the UK, making the "Who is H?" mystery as compelling as anything. If you liked Bodyguard and haven't seen the superior Line of Duty yet from creator and master of the twist Jed Mercurio, it's utterly riveting television that commands your attention from the word go.
One new show is Evil. If you haven't heard of it then you have been living under a rock as it has been getting so much buzz and for good reason. The show looks like it will be taking a fresh spin on the supernatural genre and on CBS of all channels, very promising.
Jamie Coudeville: The new show I'd recommend is Legacies. If, like me, you're a sucker for supernatural elements featuring teen drama, this is the show for you. As for the returning show, I'd recommend Agents of SHIELD. This show is on it's sixth season right now but has never lost quality in their storytelling.
Prpleight: Unlike previous seasons, there isn't a single show that has me telling my friends, you should check this one out. I read a few of the scripts for this season. There were a couple I was hoping got picked up, but they didn't. So, I'll have to watch pilots and see if anything keeps me tuning in. As for a returning show, I'll have to say Roswell, New Mexico. It would have been The Passage, but that got canceled. I pick Roswell, New Mexico, because so many of their story choices go against the cliches I've been watching for so long. I hope they keep that up and get even better in their second season.
TC: I'd say Magnum PI, because it's just the brainless, feel-good type of show that makes me happy after a long day at work and Roswell New Mexico which has made made me like the CW again. Now, if I want to appear smart, and recommend a more 'educational' show, I'd definitely say Chernobyl since it feels more like a movie than TV show. As for returning shows, I really enjoyed the second season of SEAL Team, especially the last 5 or 6 episodes and the third season of MacGyver, mostly because Peter Weller, Micheal Des Barres and Tristin Mays.
SR: I'm glad Lucifer is able to get an ending to its story, yes it may have lots of life left, however shows don't usually age gracefully and I'm sure fans would prefer two fantastic and worthwhile seasons from Netflix than 5 or 6 okay/mediocre seasons. You need a fine balance between, the no. of seasons and the plot, otherwise fans will stop watching and stop enjoying it. From what I've heard about season 4 was great, so I hope, for the fans, that the final season 5 is even better.
WK: I believe fans have the right to be upset. When you become invested in a story, it's easy to imagine the future it can take since the foundation that was already established is so satisfying. That being said, many long running series lose steam (Scandal, HTGAWM, Empire, OTH, etc). To the point that the later instalments take away from the quality that the initial run had to offer. I'd gladly take 4 great seasons instead of 5-6 mediocre ones.
Jl: It's completely fair that fans want more story for the shows and characters they're passionate about. But at the end of the day, I would rather see TV writers wrap up storylines how they envisioned them instead of continuing and potentially sacrificing quality in an attempt to extend their run.
CS: I think that the fans should be grateful that they got a few more seasons out of the deal. Maybe the era of long-running, 10 + season shows is dying out. And it's probably for the best. Modern Family was a terrific show when it premiered in 2009 and one of my favorites, but it was over for me about five seasons ago. I also felt this way about many beloved shows including The Office, but closure is nice and satisfying though not always attainable. I am still not recovered from the early cancellation of Freaks & Geeks on NBC after one season in 2000. It remains a travesty 19 years later!
Zandarl: I had a feeling if it got a fifth season it would be it's last . I love lucifer but I can't see where else they can go with this series. Ultimately I am sure it will be about can you save the devil with love in its final season .
Kollin Lore: Can't say if it has any life in it as I am still in Season 3 (which has been dragging a bit), but I do think fans should be happy. 5 Seasons is a solid run and the fact they'll be closing it off with a proper ending is more than anyone can ask for, really.
AC: Having proper closure is better than what a lot of other shows get. Plus who knows, a revival in a few years might happen.
Prpleight: From my perspective, the only people who know if the story they're telling has "a lot of life left in it" or not are the writers and creators. The audience loves it, enjoys reading or watching, but the decisions about the story are up to the writer not the audience. In the ideal TV world, if you're designing an arc story type series, you think through 5 seasons, as a starting point. So, basically, the only people who know the answer to that question are the writers. The worst thing that I've seen happen to my favorite shows is when they're extended purely because the network is making money. I've never seen that kind of "artificial" extension work.
That's it from us for another week! Feel free to sound off with all your thoughts in the comments below and adios, until we read again....