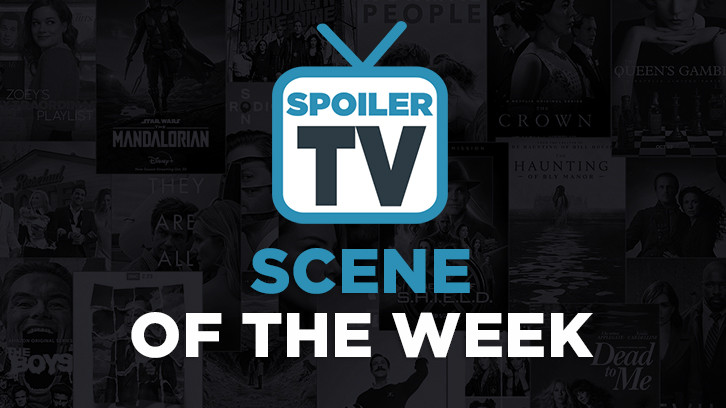 A weekly feature in which we're trying to find the most compelling, best acted, written, directed and just generally great, memorable scenes that we've seen in past seven days on TV.

AGENTS OF SHIELD, "Inescapable", June 21, 2019, Actors: Iain De Caestecker, Elizabeth Henstridge, Clark Gregg, Henry Simmons and more, The Scenes: Fitz learns the truth & Fitz and Simmons confront each other in a containment pod
Justyna: FitzSimmons are without a doubt one of the best acted and written couples I've ever seen on TV. This hour was all about them and it was one of the best episodes of the show so far. It's emotional, heartbreaking, beautiful, hilarious, dark, insane and absolutely one of the kind. Which is exactly why choosing just one scene from the hour feels almost impossible. I loved all the conversations, arguments, hilarious exchanges and the final confrontation in the containment pod where the two get to say everything possible and they still come out of the experience stronger together. Absolutely perfect for each other, truly unstoppable. Even their darkest versions locked in their minds find their way to each other. A true force to be reckoned with. In the end the moment I decided to highlight is the part where Fitz learns about the events of the previous season. Within a couple of minutes he finds out that another Leopold Fitz existed due to time travel, he married the love of his life and died saving the planet, and just in case that's not enough to process he also learns about Coulson's fate. The way this knowledge breaks his heart and mind is written all over his face. Once again Iain De Caestecker does an incredible job with his portrayal of Fitz. It's all simply too much for anyone to handle and Fitz has been through so much already. Even if this scene was focused on his character alone this would be a fantastic moment. And still, there's so much more to take in during these few minutes. We finally see the direct aftermath of Fitz's death last season and follow everyone's reactions to the news. Through Jemma's eyes we witness Mack's heartbreak and Coulson's hope that there's still a way to bring his friend back. Just seeing Coulson now is such an emotional hit, his presence is still felt deeply on the show and in moments like this I miss his character (his spirit and soul) even more. Finally there's Jemma. The way her voice breaks when she realizes that Fitz is about to learn about their marriage is painful to watch. Elizabeth Henstridge delivers another powerful performance as Simmons and it's impossible not to feel for her throughout the entire scene. This moment is deeply emotional but I couldn't possibly look away. It's meaningful on so many levels and drives FitzSimmons' story until the end of the episode. Kudos to Iain De Caestecker, Elizabeth Henstridge, Clark Gregg and entire cast & crew responsible for this memorable hour. Truly marvelous job by all!
Beth: FitzSimmons have it out in the containment pod. These characters have fought through time, space and heartbreaking separations to be together, but the biggest test was facing their history and the toll it has taken on them. As they screamed at each other it felt as though they were releasing the pain, hurt and anger and letting in the healing they both so desperately needed. In the past, their reunions are always brief with no discussion of the implications and it is on to the next world-ending issue, but here they were forced to confront the past and move towards a better tomorrow together. Elizabeth and Iain were sensational as usual.
DJRiter: This entire episode was a showcase for these two performers as Jemma and Fitz battle their own minds and fears. In a cathartic battle in the containment pod they were Fitz and Simmons at their very best. Never were they stronger together than the two of them going toe to toe arguing in the containment pod that ultimately ended up with them declaring their love for one another!

BIG LITTLE LIES, "Tell-Tale Hearts", June 16, 2019, Actors: Shailene Woodley, Nicole Kidman, Laura Dern and more, The Scenes: Jane tells Ziggy the truth & Celeste visits her therapist & Renata fights with her husband in the car
Justyna: It was such a powerful and absolutely painful moment to watch. I can't even begin to imagine how hard it must be to tell your child such tragic and awful news. It's one thing that Jane has to explain to Ziggy who his father is, knowing he is already dead, but it's an entirely different matter to reveal the circumstances of her child's conception. The second Ziggy asks Jane about the meaning of "salted" you can see Jane's internal struggle all over her face. She's not able to stop her tears but she's trying so hard, impossibly hard, to be strong for her son even though it completely breaks her heart to be forced to reveal the truth to him. She has to do it carefully, in a way he'll understand but won't be broken by it. She's as open as she can be, Jane holds him, comforts him and does her absolute best as a mother in this moment. Her strength here is exceptional and Shailene Woodley does a wonderful job in the scene. As does Iain Armitage with all of his quiet reactions and complicated feelings. Kudos to both actors & the crew for all their great work.
Lip: Jane tells Ziggy the truth about who his father is and that his conception was the result of rape. A very intense and emotional scene that showcased Shailene Woodley's talent.
Laura B: Shailene Woodley just gave such a wonderful performance here. There's something about Jane's reactions to tough situations that feels so relatable, but more so, of all of the parents, I think she deals with her son the best and there is something a little magical about her scenes opposite Iain Armitage, who also deserves some praise, being able to pull off Ziggy's more sweet reserved & mildly-curious nature contrasted by the self-agency of his 'Young Sheldon' role. It's quite impressive!
Marko: Celeste has a breakdown/through at the therapist's office. Nicole Kidman always gets me with the amount of emotions she is able to put into her scenes. Celeste's reaction to Perry potentially hurting Madeline was just heartbreaking. She gave birth to so much strength out of the pain and fear and it beautifully transferred to the screen.
Nikos: Renata protests to her husband who's just been released on bail for fraud after losing all their shared assets and she leaves him on the side of the road after he implies it's her fault for always wanting more. She drives off screaming "Will somebody give a woman a moment" as drivers honk at her. This entire episode is a showcase of Dern's explosiveness that makes her terrifying and yet so loveable at the same time. Someone give her a MOMENT.
Beth: The scene was oddly inspirational as Renata kicked her lying husband out of the car and drove away with a one finger salute bellowing "Will somebody give a woman a moment?"

IN THE DARK, "Rollin' with the Homies", June 20, 2019, Actors: Perry Mattfeld, Brooke Markham
The Scene: Murphy and Jess reunite
Marko: Murphy and Jess reunite at the skating arena. Their friendship is so precious and strong. Them being at odds this episode was hard on both of them but as true BFFs only one laughter was enough to bridge all their issues.

POSE, "Worth It", June 18, 2019, Actors: Mj Rodriguez and more
The Scene: Blanca tells the boys about her HIV status
Jamie: I'd been expecting this moment and it was just as emotional as I thought it would be. I loved how they were all there for her, truly a family.

THE 100, "Nevermind", June 18, 2019, Actors: Eliza Taylor, Christopher Larkin, Sara Thompson, The Scenes: Monty convinces Clarke to keep fighting & Clarke goes all Wanheda on Josephine
Justyna: I really enjoyed the entire episode focused on Clarke's internal struggle. This season is quickly becoming one of the show's best for me. There were several moments worth to highlight in the article, including the hopeful ending, but I decided to go with the turning point of the hour. After considering her loved ones' current situation and learning about the deal that Bellamy has made to protect them, Clarke is ready to surrender. She reveals the memory that Josephine's been after to her and finds a safe place in her mind to spend her final moments in peace. That's when a part of her subconscious mind manifesting as Monty shows up to change her decision. A part of her, likely inspired by her friend's words, wants to survive and stop the Primes. She understands just how dangerous they can be and in the end she refuses to surrender. I loved seeing Monty back, even if it wasn't truly him. He seemed very much like a person he was and just what Clarke needed in this moment. He's a part of her mind that truly wants to do better this time and she's not going down without a fight. It was inspiring and emotional to see an old friend and I'm so glad that Christopher Larkin chose to return to the show for this memorable episode. Kudos to both him and Eliza Taylor, as well as the rest of the crew for all their great work.
Marko: Clarke going all Wanheda on Josephine. The episode had many terrific scenes and powerful moments but seeing Clarke fight foe in her mind was tremendous. Josephine was no match for Clarke and Clarke going all savage was just so exciting.

THE HANDMAID'S TALE, "Unknown Caller", June 19, 2019, Actors: Yvonne Strahovski, O. T. Fagbenle, The Scene: Serena meets with Luke at the airport
Laura B: There is just something about Yvonne Strahovski's ability to play dangerously empathetic characters that only a few actresses can really do well. From the start we have known that Serena has, in some ways, been a villain, as she helped craft the world that is Gilead, but we also see her meander between that role and someone who truly cares about something, despite the hypocrisy of all the things she thinks she wants. This scene was one of those scenes, super intense, not knowing for sure how she would conduct herself, especially given how cold Luke was towards her, but she was perfectly endearing and cordial. And yet, she wouldn't defect given a second opportunity and she allowed herself to be a part of a rather dangerous propaganda piece humiliating June in the end! Just truly wonderful acting all the way through!

YEARS AND YEARS, Episode 6, June 18, 2019, Actors: Jessica Hynes and more
The Scene: Edith exposes the death camps
Milo: Edith exposes the death camps and leads the charge in a V for Vendetta-esque way. Jessica Hynes was brilliant in this episode and although it had all the feel of RTD trying to wrap everything up as neatly as possible in a way that he's done so often before, it felt earned and more than welcome. The starting of a war was every bit as awesome as one would expect it to be and the show upped its game once more for the finale.