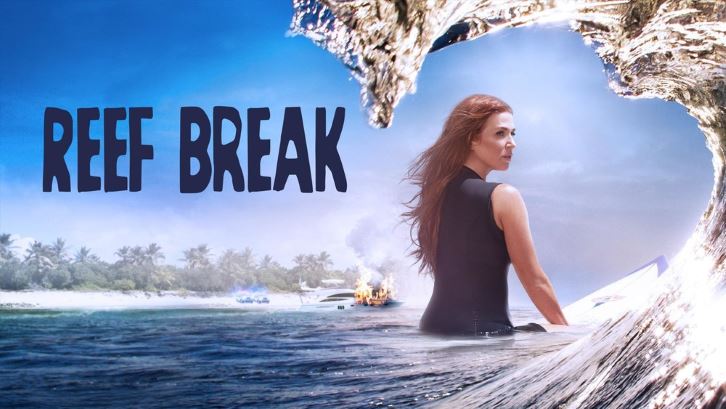 The first day of summer brought ABC's newest frothy summer offering with it. You'd be forgiven for not knowing, because ABC has forgotten to promote it. That's a pity. Reef Break is everything a summer show should be, from its sassy opening scene to its madcap closing shootout. Poppy Montgomery outshines even the sun-drenched setting with her portrayal of Cat Chambers, a fallen Reef Island local who escapes being a cliché by virtue of largely having her life together and still very much enjoying life on the edge. She's spent the last five years trotting the globe to catch waves. Her return home is to testify against her former boss Doug Jones being released on parole. Don't you worry that this part is too serious. For now, its main function is to introduce the sweet relationship between Cat and her husband Jake Elliot. Did I mention she discovered he was an undercover FBI agent on their honeymoon, which led to among other things Jones taking out a hit on the couple? The past is in the past, except not really. Cat and Jake might be separated, but their interactions are full of warmth. One almost expects Jake to bite the dust, but the show doesn't go there. Divorce papers or not, they are still a formidable team.

Seashells by the Seashore.
Cat goes out of her way to befriend local teenager Petra who openly despises Cat. Based on shared personality traits, I was ready to call it for Petra being Cat's daughter. However, it seems their history is darkened for another reason: Cat had to kill Petra's father Mike back in the day for reasons unknown. Whatever the story is there, it didn't keep Petra from accepting Cat's hospitality by the end of the episode.