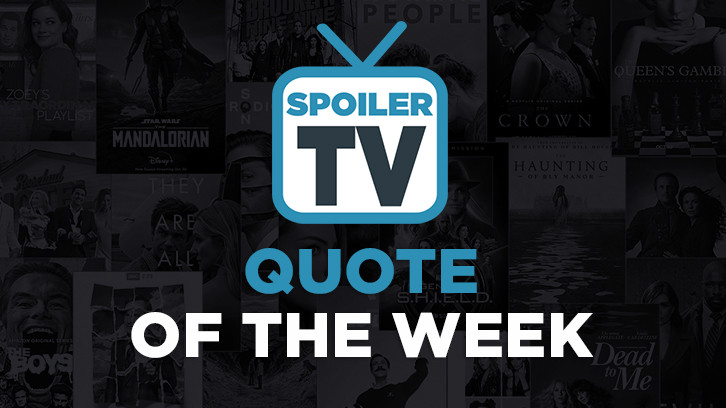 A weekly feature highlighting the best quotes on TV as picked by the Spoiler TV team. We'd love to hear your picks too so please sound off in the comments below.





The 100 -
1. Clarke/Josephine: "That Murphy is kind of cute"
2. Diyoza: "Would you like to know why your brother left you out here to die? Octavia: "Oh, shut up"
Diyoza: "You're a hurricane leaving a path of destruction in your wake."
3. Bellamy: "How are we on different sides of this?" Clarke/Josephine: "I know how they survive seems harsh. But from what I've seen, these people are happy. Their world works. We destroyed ours." Bellamy: "This isn't about us." Clarke/Josephine: "So we can judge them but not ourselves?" Bellamy: "You know I judge myself every day. I want to know the difference between us and them. I've seen the faces of the people I've killed when I dream, not in the mirror." (Maria Sol Garcia)
Agents of S.H.I.E.L.D. -
1. Sequoia: "You guys. I'm like seriously freaked out right now. Turns out the office is under attack and, like, nobody told me. You know, it's, like my life is on the line, you know and I just -- it really puts things into perspective. Like I'm, like, seriously like, realizing stuff right now." ("It's all the funnier because Sequoia spent the entire speech fluffing her hair." - Prpleight)
1. Detective Fabi: "You certainly took your time getting here." Lexi: "I just wanted to look presentable in case there's a mug shot involved."
2. Father Chuck: "Out of curiosity, how old were you when your ma died?" Lexi: I was eight." Father Chuck: "Is that when you started stealing?" Lexi: "Why?" Father Chuck: "Childhood abandonment leaves a person feeling unsafe, so they assert control however they can. You know, they see a thing they want,
they take it. They see a door that's locked, they open it. It's their way of saying to the world, 'You don't control me.'" Lexi: "Doesn't sound familiar."
3. Danny: "How honorable is it to protect a man without honor?" (Maria Sol Garcia)
The Code -
1. Harper: "You know you really shouldn't have that on your lap without a pillow. You're trying to conceive right? The heat from the battery pack is...um, bad for your...swimmers, sir."
Abe: "This is your big shot with IVF, right? You feeling good?" Trey: "I feel like normal lawyers don't have to share hotel rooms with their colleagues and answer questions about their feelings. I'm calling lights out."
2. Glenn: "Val, what's gonna happen to my son." Val: "Some fight. Some never come all the way back. It's too soon to tell which way Adam's gonna go."
3. Asa: "How are you doing?" Glenn: "Fine." Asa: "Are you?" Glenn: "We act like this is the end of the world, that's how Adam's gonna see it?" Asa: "You're still a person, Glenn. You pictured our son's life in a certain way. That picture is different now. It's okay to mourn what's gone." (Dahne)
1. Tom: "Asante, he comes from someplace irritating." ("Damien Asante is a transfer from Los Angeles which contrasts the Pacific Northwest backdrop of the show. Although Tom wasn't interested in partnering with Asante at first, it's great to see him come around to Damien after he played a significant role in helping to solve his case." - Jessica Carnes)
2. Damien: "You got a little bird at the morgue feeding you intel?" ("Damien is skeptical of Cassie's psychic ability, seeking her out and questioning her about what she knows. I'm interested to see if he will need to ask her for help with Sally Bishop, a loved one in the hospital under mysterious circumstances." - Jessica Carnes)
3. Cassie: "In the next few days, you're going to start to feel the world shifting beneath your feet. It'll be hard to keep your balance. When you lie down at night, you'll feel the weight pressing down on your chest slowly squeezing the breath out of you. Abigail wants you to know that's her." ("Cassie helping Abigail to redirect her anger and revenge on the man who deserved it was incredibly satisfying." - Jessica Carnes)